Justice and the Twin Goals
Justice institutions are vital to the achievement of the World Bank's twin goals to end extreme poverty and promote shared prosperity. Empirical studies demonstrate the critical role of justice for fostering a healthy business environment, enhancing growth, improving access to public services (particularly for the poor), curbing corruption and restraining the abuse of power. Justice underpins the political process by protecting individuals' rights, facilitating collective action and enabling credible commitment (WDR 2017).
Justice institutions include courts, prosecutors, public defenders, complaint mechanisms, anti-corruption agencies, ministries of justice, among others. These institutions are the foundation for the social contract between people and the state. They address breaches of law, provide redress for violations of rights, and facilitate peaceful resolution of disputes. They also oversee state institutions and enforce the state's role as regulator. When justice institutions operate effectively, accountability increases, trust in the government grows, and citizens and businesses can invest with confidence that their property rights will be protected.
The World Bank work on justice focuses on building accessible, efficient and fair justice institutions that are essential to sustainably reducing poverty and increasing shared prosperity. Strong justice institutions are key to governance as they perform many executive branch functions which the World Bank routinely engages. ​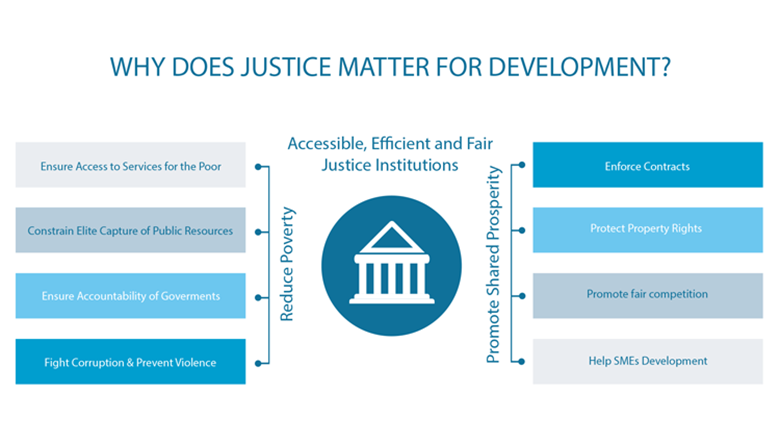 World Bank Expertise in Justice and Development
The World Bank has worked on justice and development around the globe for more than 25 years through more than 800 projects.
Over the years, the Bank's approach to justice has evolved from a program focu​sed on the judiciary – and courts – to a program that encompasses a broader, more inclusive concept of justice. Today, our justice and development work includes four key areas of intervention:
1) Support of justice institutions through targeted interventions that improve the specialist functions of the justice system, as well as its management, governance and oversight;
2) Legal empowerment, through the protection and proactive outreach to women, the poor and marginalized groups to understand and navigate their legal problems; ​
3) Justice in sectors through the strengthening of the regulatory frameworks and institutions of all those sectors critical for the achievement of broader development objectives; and
​4) Development of analytics and diagnostics to inform policy, promote dialogue among stakeholders and better target reforms.
The Bank's justice portfolio includes support to low, middle and high-income countries, from OECD countries to fragile states, and those emerging from conflict. It operates across all legal traditions including common law, civil law, Sharia and customary law.
The Bank adopts a multid​isciplinary approach when dealing with justice and development drawing on a wide network of experts, including judges, lawyers, economists, architects and social scientists, as well as specialists in the management of justice sector human resources, finance, infrastructure, data and ICT. In doing so, the Governance GP partners with experts across the Global Practices and the IFC, particularly on issues of commercial law, insolvency and regulatory governance.
The justice work program encompasses the full range of instruments available to the World Bank Group, including investment/project lending, results and policy-based lending, technical assistance, trust funds, grants, partnerships and reimbursable advisory services.​​​​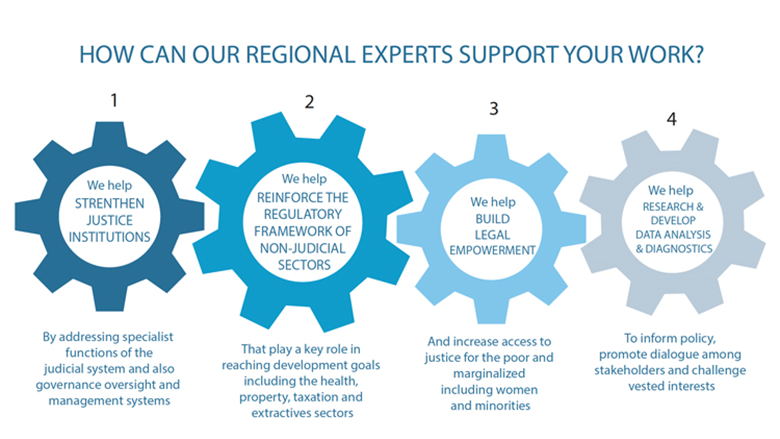 Justice Institutions
The Bank's efforts to strengthen justice institutions has helped client countries:
reform legal frameworks for the justice system, including commercial, criminal and procedural codes;
re-engineer processes to improve work flow efficiency, cut backlogs and reduce opportunities for corruption;
improve case management systems;
strengthen human resources and financial management information systems;
invest in court infrastructure and ICT to improve access, efficiency and transparency, and;
build capacity through training and peer exchange.
Supported the establishment and strengthening of specialist judicial institutions, such as commercial courts, anti-corruption courts, and ADR mechanisms, including mediation and arbitration.
World Bank projects in Serbia and Russia contributed to significant reductions in court backlogs, in the time taken to respond to applications and to process cases. In Kenya, the Bank has helped the judiciary to implement a case tracking system and to use its data to drive performance improvement. In Romania​, the audio recording of hearings has improved transparency and accounta​bility. In Albania​ and Colombia​, amongst others, judicial reforms have contributed to improvements in court user satisfaction and confidence in justice sector services. ​
Legal E​mpowerment
The Bank's efforts to promote legal empowerment have helped client countries:
Develop and strengthen legal aid systems, community-based justice and paralegal programs
Establish and maintain advisory and mediation services
Conduct legal information and legal literacy campaigns
Develop legal information websites
Reform legal education and
Circulate legal information in lay language
The Bank's work on legal empowerment typically focuses on poverty-related justice problems such as legal identity, land, displacement, access to basic services and gender-based violence.
For instance, in Afghanistan the Bank supported an expansion in the number of the legal aid providers. In Nigeria, the Bank helped create legal aid centers. In Bosnia and Herzegovina, the Bank is developing a lay guide for micro and small business owners to help them to navigate justice problems. In the Solomon Islands, the World Bank supported local officers who help communities manage conflicts​ that undermine security, development and social cohesion. ​
Justice in Sectors
The Bank's efforts to strengthen the regulatory frameworks and justice institutions have helped client countries achieve more efficient outcomes not just in the justice sector but also in all sectors that are critical to achieve the World Bank's twin goals, including health, tax, extractive industries and land administration.
For instance, in Colombia, the Bank helped to develop mechanisms to respond to citizen claims and grievances regarding health care. A project in Pakistan facilitated the litigation of tax cases, thereby helping tackle tax evasion and corruption. In Honduras, the World Bank supported community-based mechanisms to resolve land conflicts. In the Central African Republic the World Bank promoted compliance with the Extractive Industries Transparency Initiative. In Cambodia, the Bank supported the Arbitration Council to resolve labor disputes. In Mauritania​, a Bank project set up a Financial Intelligence Unit to help fight money laundering. In Sierra Leone​, the Bank has supported paralegals to address administrative law issues and improve the delivery of health services.​​
Analytics and Diagnostics
The Bank's justice work also includes the publication and dissemination of a variety of justice-related analytics and diagnostics. It ​undertakes analytic work to understand the challenges facing the justice sector, the institutional framework and the political economy context of reform.
Legal needs surveys, including in Bangladesh, Colombia, Kenya, and Papua New Guinea, have helped understand the justice needs of citizens. Recent Functional Reviews and Institutional and Expenditure Reviews in Serbia, Montenegro, Ukraine and Moldova have informed the reform agenda in those countries and set the baseline for future reform impacts to be measured. The Justice for the Poor program (J4P) has generated analytics on dispute resolution giving a voice to citizens even in challenging contexts of legal pluralism and weak formal institutions. The Doing Business survey includes a Quality of Judicial Process Index that assesses initiatives to improve commercial dispute resolution. Women Business and the Law (WBL) assesses key legal barriers to women's participation in the economy. The World Bank's Data and Evidence for Justice Reform (DE JURE) provides a global platform to expand the evidence base of 'what works' in justice reform.