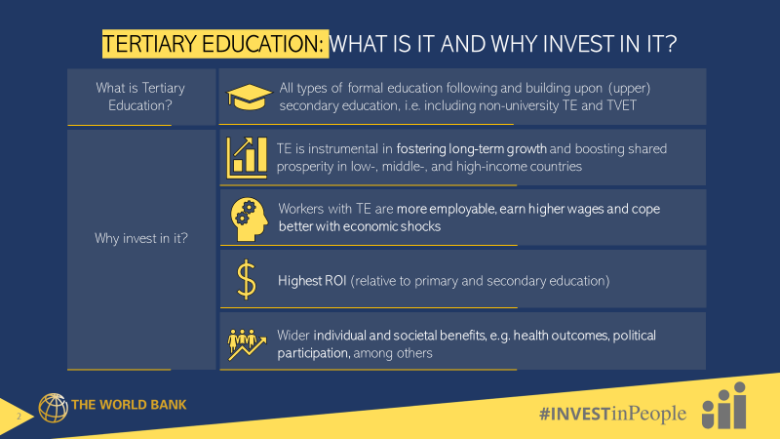 Tertiary education is both the aspiration of more and more young people around the globe and a fundamental requirement for employment in the industries that drive the global knowledge economy. As such, tertiary education provides unique opportunities for individual development and equality of opportunity as well as promoting shared prosperity. A well-managed, strategically oriented, diversified and articulated tertiary education system is vital for producing the caliber and diversity of graduates needed both for the economy that exists today and for economy to which a nation aspires. From providing skills for immediate professional application to building stages of complexity of learning toward post-graduate studies and research, tertiary education offers limitless avenues for social mobility and economic development.
Globally, tertiary education has made enormous advances, in particular with a view to expansion of access; however, there is an unaddressed reform agenda and given the crucial role the sector plays for equal, innovation—based and green growth and cohesive societies, this has become a pressing problem. This includes the following:
Globally, tertiary education is becoming the standard school leaving point with the majority of young people from the 20-24 age cohort enrolling in tertiary education in more and more countries. However, average enrollment in sub-Saharan Africa stagnates at below 10 percent.
Digitalization is perceived as the great equalizer in tertiary education – but at this stage it is also the great divider. With limited connectivity and access to devices, especially those students who need it most cannot profit from continuous learning at the tertiary level.
Most middle-income countries are struggling with a quality conundrum with significant resources being devoted to tertiary education, without visible increases in quality and with persistent skills mismatches.
Internationalization is needed to help countries, institutions, and individuals to connect to global developments and harvest the benefits of cross-country cooperation; however, besides its enormous potential, it is still the privileges of a small elite.
Universities in high income countries revamp their operations to become key lifelong learning players in a fast-changing environment where individuals need skilling and reskilling over a lifetime. However, most universities in middle-income countries find it difficult to part from being a provider of old-fashioned rote learning for a narrowly defined age-group.
Most importantly, while most countries recognize the crucial role the sector can play in their advancement, the tertiary education sector is in many cases a ship without a map and a compass – and subsequently without proper steering. If governance, financing and quality assurance as central steering elements are not put to work, reforms of the tertiary education sector will remain isolated and lack sustainability.
Adequate steering also means that the sector is considered in its entirety and not universities, technical institutions, colleges and tertiary TVET institutions in an isolated way. Only to the extent that countries and institutions provide and ensure quality in non-university tertiary education, this sub-sector will be perceived as a viable alternative by students and families and play the important role in terms of access, equity, applied research and support to local companies and communities it plays in some high-income countries.
The Tertiary Education Imperative
The persistent debate over investing in tertiary education for development comes down to two major questions—what are the benefits (why)? and what are the consequences of not? The benefits, as implied or noted directly above, include higher employment levels (lower levels of unemployment), higher wages, greater social stability, increased civic engagement, better health outcomes, and more. Even more significant and, perhaps, insightful, is examining what happens when countries underinvest in their tertiary education systems. Brain-drain and talent loss, limited access to applied research capacity for local problem solving, limitation to economic growth due to low levels of skills in the workforce, low quality teaching and learning at every level of education, and, perhaps most glaringly, expanded wealth inequality among nations, with those investing proportionately more experiencing resultant growth rates far outpacing those with lower levels of investment and strategic development.
Last Updated: Mar 10, 2021