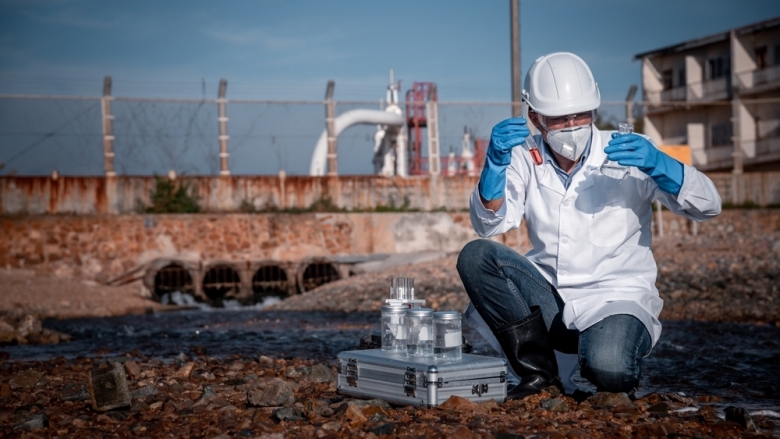 Industrialization, use of pesticides and nitrogen-based fertilizers, crop residues in agriculture, urbanization, forest fires, desert dust, and inadequate waste management have intensified environmental health risks and pollution, especially in low- and middle-income countries. At the same time, the global economy relies on deeply intertwined supply chains, sustained by more than 100 billion tons of raw materials entering the system each year. Intensive material consumption depletes natural resources and causes negative environmental impacts at every stage of the product lifecycle including production, use phase, and end-of-life. Global waste is expected to increase to 3.4 billion tons by 2050.
Pollution of all types hinder development outcomes. Air pollution, exposure to lead and other chemicals, and hazardous waste including exposure to improper e-waste disposal, cause debilitating and fatal illnesses, create harmful living conditions, and destroy ecosystems. Pollution stunts economic growth, exacerbates poverty and inequality in both urban and rural areas, and significantly contributes to climate change. Poor people, who cannot afford to protect themselves from the negative impacts of pollution, end up suffering the most.
Pollution is the largest environmental cause of disease and premature death. Pollution causes more than 9 million premature deaths, the majority of them due to air pollution. That's several times more deaths than from AIDS, tuberculosis, and malaria combined. Global health crises, such as the COVID-19 pandemic, are reminders of the strong linkages between environment and health and of the need to address such linkages systematically.
Air pollution is the leading environmental risk to health, causing 7 million premature deaths each year. This is equivalent to the number of people that have died from COVID-19 since March 2020. A recent World Bank publication found that air pollution cost the globe an estimated $8.1 trillion in 2019, equivalent to 6.1 percent of global GDP. More than 95 percent of deaths caused by air pollution occur in low- and middle- income countries. In individual countries, the economic burden of pollution associated with premature mortality and morbidity is also significant, equivalent to 5 to 14 percent of countries' GDPs.
Recent evidence points to the similar devastation caused by exposure to harmful chemicals, such as lead. In 2019, more than 5.5 million adults died from cardiovascular disease arising from lead exposure. 90% of these deaths occurred in lower- and middle-income countries. In the same year, children younger than 5 years of age lost 765 million IQ points. Lead exposure cost countries $6 trillion, equivalent to 6.9% of global GDP.
Indeed, individual studies for Argentina, Bangladesh, Colombia, Egypt, Ethiopia, Georgia, India, Lao PDR, Mexico, Myanmar, Nepal, Nicaragua, Nigeria, Pakistan, Peru, Slovakia, Ghana and Vietnam, at national and subnational levels, suggest that the costs of pollution-related diseases are mainly due to outdoor and household air pollution, and exposure to lead and other chemicals.
It is critical to address pollution because of its unacceptable toll on health and human capital, as well as associated GDP losses. Pollution management offers no-regrets options that can alleviate poverty, boost shared prosperity, and address the vital demands of millions of people for healthier and more productive lives. Pollution management can also make substantial contributions to climate change mitigation through actions such as reduction of black carbon and methane emissions, which contribute to both air pollution and climate change. In addition, pollution management can enhance competitiveness, for example, through job creation, better energy efficiency, improved transport, and sustainable urban and rural development.
Last Updated: Sep 19, 2023