Standing forests also address the impacts of climate change. They absorb greenhouse gases, regulate water flows and protect coastal communities from extreme events and sea level rise. In addition, they provide migrating plant and animal species routes to resilient habitats. Forests and trees are a cornerstone of addressing climate change.
The impacts of climate change—such as rising temperatures and increasingly unpredictable precipitation-- also means forests are more vulnerable to threats such as diseases or fires.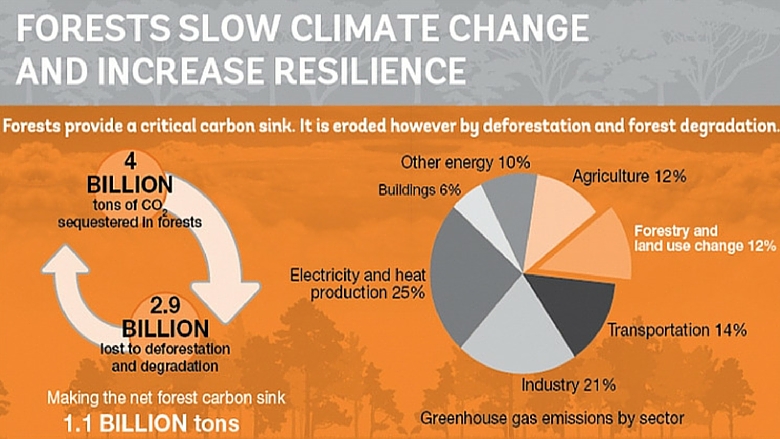 Infographic: Forests Slow Climate Change and Increase Resilience

Strategy

Better managed forests and improved use of land help reduce vulnerability to climate change and advance both mitigation and adaptation objectives. This synergistic approach brings multiple, substantial benefits in the land use sector, and guides the Bank's interventions on forests. The Bank's efforts on forests and land use also help build up developing countries' resilience to natural disaster and climate change. Just as importantly, these initiatives can help provide cleaner air and water, richer soil, biodiversity and more stable food supplies.

The World Bank Group's work at the intersection of forest and climate also focuses on increasing climate finance. As more funding resources are pledged to support this agenda, development partners are looking at the World Bank Group to scale up its activities and transform forest landscapes.

The Bank is piloting a business model that simplifies how a country accesses funding for sustainable management of its forest landscapes. Three of the forest trust funds--the Forest Carbon Partnership Facility, the Forest Investment Program and the BioCarbon Fund-- support reducing emissions from deforestation and forest degradation (" REDD+") at a large or 'landscape' scale. These funds combine up-front investments, technical assistance packages and performance-based payments to ensure sustainable development for countries and communities.

The Bank is also moving climate finance forward through partnerships with the private sector on deforestation-free commodity supply chains. These supply chains will be critical to conserving forest resources and reducing risks for businesses that rely on goods such as palm oil, rubber and cocoa. With more funding for climate action and growing interest in results-based payment mechanisms, the World Bank Group's financial tools support developing countries' low-carbon development and keep forests standing.

The Bank's forest and climate work shows that initiatives can generate a 'triple win' in adaptation, mitigation and the generation of new economic opportunities. The World Bank Group supports countries as they balance ambitious climate actions with conserving and regenerating forests and growing their economies.

Results

Through partnerships with the scientific community and other development partners, the Bank has helped advance global knowledge on the importance of forests and trees for climate adaptation and mitigation. The Program on Forests (PROFOR), housed at the Bank, has published analysis and case studies on how forests enhance resilience to climate change. It has also published lessons from the experience of Payments for Environmental Services in Latin America to advance REDD+, and steps for ensuring that benefit sharing works for forest-dependent communities. The program on Wealth Accounting and Valuation of Environmental Services (WAVES+), is helping build the case for mangroves and other "green infrastructure" as the most effective line of defense against extreme weather events.

As part of Bangladesh's Pilot Program for Climate Resilience, the Bank has financed mangrove afforestation in the Sundarbans. The greenbelts will protect low-lying, reclaimed land. Afforestation will also increase forest cover, reduce vulnerability against storm surge and cyclones, expand the carbon sink, improve livelihoods, and provide habitat for wildlife.

To support the Congo basin countries, the Bank is using a $13 million grant from the Global Environment Facility (GEF) to build institutional and technical capacity so countries can benefit from a future REDD+ incentive mechanism. Regional integration improves countries' influence in international climate negotiations, and helps them combine resources towards cutting-edge forest and carbon monitoring, capacity building, analytical and field work. It can also prevent deforestation from simply moving from one country to another.

Lao PDR is addressing deforestation and fighting climate change by shifting the way land is used at a large scale. The Bank-supported initiative to reduce emissions covers six northern provinces that include 35% of national territory, as well as some of the country's poorest regions. The program will tackle drivers of deforestation such as uncontrolled logging, commercial agriculture, and new infrastructure. The Lao PDR efforts will also look at how land tenure issues impact forest loss.

In Mexico, a program on forests and climate change leverages almost $500 million in Bank financing to help rural communities sustainably manage their forests, build social organization, and generate income from forest products, services, and reducing emissions related to deforestation and degradation. The program will cover an unprecedented 30 million hectares, and more than 3,000 communities and ejidos nationwide.

In Ethiopia, a land regeneration project initially covering over 2,700 hectares paved the way for a large-scale initiative spanning 8.7 million hectares of forest in Oromia state.

Nicaragua's proposed emission reduction program covers more than 7 million hectares, of which just under half is forest. The area equals about 90 percent of the country's forest cover. The program will help reduce deforestation, help communities adapt to extreme climate events, and support rural development. It will also build on legally recognized indigenous territories and existing institutions.

In Zambia, Community Markets for Conservation's (COMACO) sustainable land management project on over 270,000 hectares of land set the stage for an integrated forest landscape program in Zambia's Luangwa Valley. The program will implement sustainable agriculture and forest management activities to reduce greenhouse gas emissions. The program is expected to cover 6 million hectares.