TCdata360 collects, analyzes and visualize trade and competitiveness data from a variety of sources. By including data from over 20 sources, such as key World Bank Group reports as well as external organizations such as the International Monetary Fund (IMF), the World Trade Organization (WTO), the World Economic Forum (WEF), and the Organization for Economic Co-operation and Development (OECD), TCdata360 helps policy makers, development practitioners, academia and citizens better understand critical issues and create more informed policies in the areas of trade, investment, innovation and the economy. The platform is based on interactive and easy-to-use data visualizations that enable anyone interested in trade and competitiveness to access critical data indicators. TCdata360 is constantly updated and always includes the most recent data available.

World Integrated Trade Solution (WITS)
The World Integrated Trade Solution (WITS) is an online tool that provides access to data on international merchandise trade, tariffs and non-tariff measures (NTM). WITS allows users to query reported data and aggregate trade and tariff data for custom product and country groups. It offers tools for analyzing single and multimarket tariff cut simulation, a country's trade competitiveness and global value chains. WITS was developed by The World Bank Group and the United Nations Conference on Trade and Development (UNCTAD), in consultation with additional organizations such as the International Trade Center, the United Nations Statistical Division, and the World Trade Organization.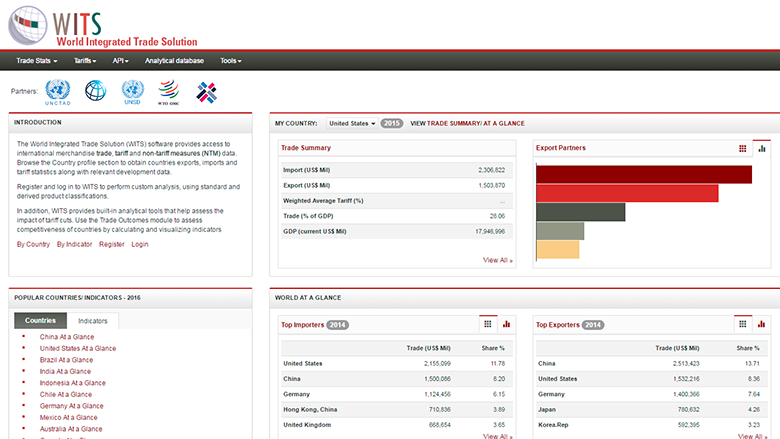 Logistics Performance Index (LPI)
The Logistics Performance Index is an interactive benchmarking tool created to help countries identify the challenges and opportunities they face in their performance on trade logistics and what they can do to improve their performance. The 2016 edition of the LPI allows for comparisons across 160 countries. The LPI is based on a worldwide survey of operators on the ground (global freight forwarders and express carriers), providing feedback on the logistics "friendliness" of the countries in which they operate and those with which they trade. They combine in-depth knowledge of the countries in which they operate with informed qualitative assessments of other countries where they trade and experience of global logistics environment. Data related to the LPI goes back to 2007, and there are five editions in total. The LPI data is also available through TCdata360.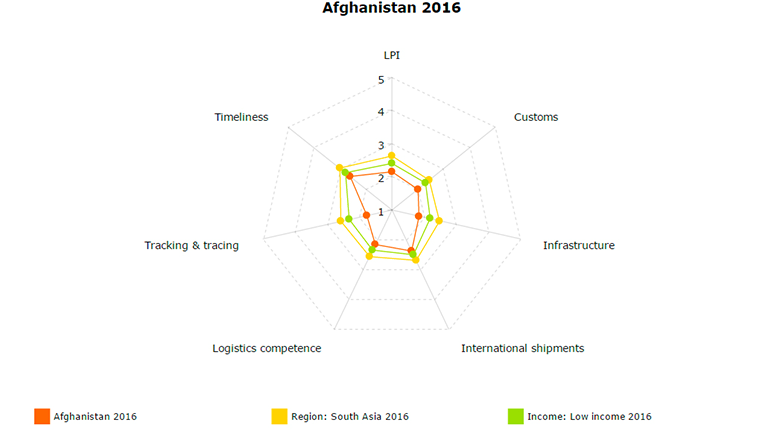 The Development Data Group at the World Bank coordinates statistical and data work and maintains a number of macro, financial and sector databases. There is a wide selection of indicators available on trade and aspects of competitiveness related to the private sector. The mission of the World Bank's Development Data Group is to provide high-quality national and international statistics to clients within and outside the Bank and to improve the capacity of member countries to produce and use statistical information.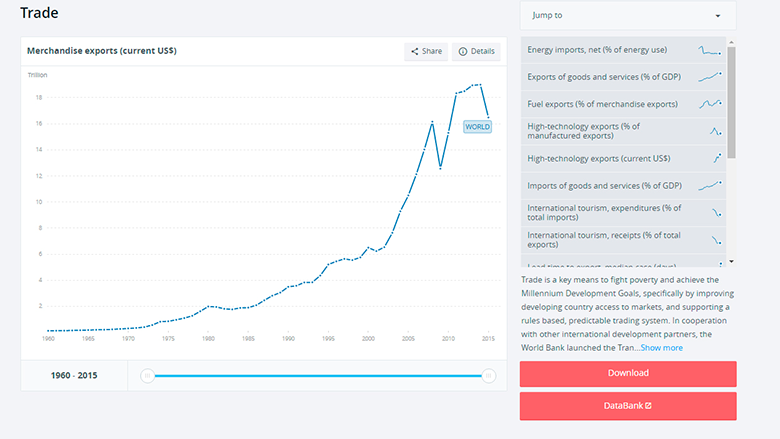 The Doing Business project provides objective measures of business regulations and their enforcement across 190 economies and selected cities at the subnational and regional level. Launched in 2002, Doing Business looks at domestic small and medium-size companies and measures the regulations applying to them. Doing Business encourages economies to compete towards more efficient regulation; offers measurable benchmarks for reform; and serves as a resource for academics, journalists, private sector researchers and others interested in the business climate of each economy. Doing Business 2017 includes data on 190 economies. Doing Business is one of the data sources featured on TCdata360.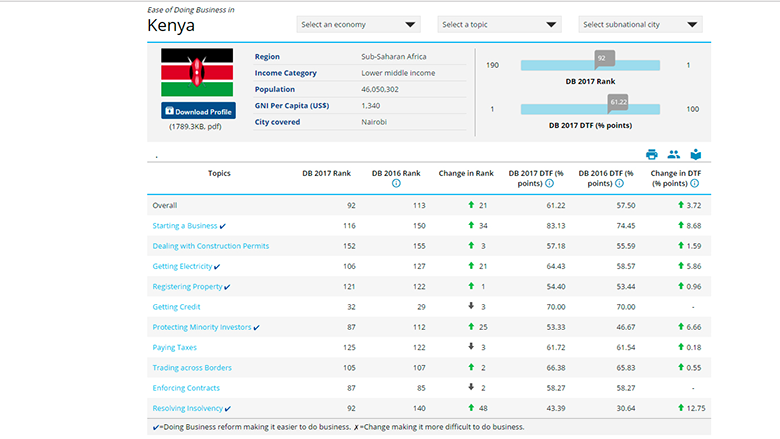 A new database on the content of preferential trade agreements
The dataset on the content of preferential trade agreements (PTAs) maps 52 provisions in 279 PTAs notified at WTO signed between 1958 and 2015. It also includes information about legal enforceability of each provision. The "Trade Agreements" file lists all the agreements available (279) with the coding of 52 provisions. The name and description of all variables is listed in the "read me" sheet. The "read me" sheet also explain the coding of legal enforceability. The "Bilateral Observations" file is a bilateral version of the dataset. Each observation is a country pair-year-agreement. Notice that some country-pairs appear multiple times in certain years if they have more than one agreement in force in that year. For example Angola and DRC in 2000 were in COMESA and SADC. The variables are the same as in the excel files. Important notice: The Bilateral Observations file excludes Partial Scope Agreements (PSA).