BRIEF
Agriculture & Rural Development
September 25, 2013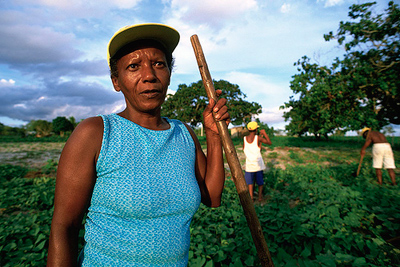 STORY HIGHLIGHTS
The World Bank Group is committed to boosting agriculture and agriculture-related investment.
Improving agricultural performance is the most powerful tool we have available to reduce global poverty and hunger.
Agricultural development is an especially pro-poor source of economic growth – about two to four times more effective in raising incomes among the very poor than growth in other sectors.
Improving agricultural performance is the most powerful tool we have available to reduce global poverty and hunger. Seventy-five percent of the world's poor are rural, most are involved in farming, and agriculture remains fundamental in the 21st century for poverty reduction, economic growth, and environmental sustainability.
Agriculture accounts for one-third of gross-domestic product (GDP) and three-quarters of employment in Sub-Saharan Africa. Agricultural development is an especially pro-poor source of economic growth – about two to four times more effective in raising incomes among the very poor than growth in other sectors.
Agriculture is more vulnerable to climate change than any other sector. Worldwide, almost 70% of freshwater is used for agriculture. Global food prices remain near historic peaks, and food price volatility should be seen as the "new normal."
Strategy
The World Bank Group is committed to boosting agriculture and agriculture-related investment. In 2013, new Bank Group commitments to agriculture and related sectors were $8 billion. For IBRD/IDA, assistance to agriculture and related sectors has risen from an average of nine percent of total lending in FY10-12, to 12 percent in FY13. At $4.4 billion, the International Finance Corporation's (IFC) investments were at the highest level ever. Altogether, the commitments meet the projection in the World Bank Group's Agriculture Action Plan 2013-2015, of between $8 billion to $10 billion. World Bank IIBRD/IDA agricultural assistance to Sub-Saharan Africa was particularly strong, reaching $1.4 billion, a 35 percent increase over FY10-12. Of our agriculture lending, 73% goes to increasing productivity and 20% is for improving access to markets. All of IFC's agricultural lending goes to agribusiness value chains.
The Bank Group's updated Agriculture Action Plan 2013-2015 continues to emphasize five key areas: raising agricultural productivity; linking farmers to markets; reducing risk, vulnerability and gender inequality; improving nonfarm rural employment; and making agriculture more environmentally sustainable, as well as a source of positive environmental services.
Results
Response to Global Food Price Crisis. In response to the 2008 food crisis, the World Bank launched the Global Food Price Crisis Response Program (GFRP) to provide immediate relief to countries hard hit by high food prices. The GFRP has reached nearly 66 million people in 49 countries - through $1.6 billion in emergency support, of which 89% has been disbursed – directly for farming, for example, for seeds and fertilizer, and for social safety nets such as emergency school feeding programs. From July 2012 onwards the Bank's emergency response is channeled through the International Development Association's Crisis Response Window and the recently approved Immediate Response Mechanism that will provide the basis for emergency assistance in the future.
Global Agriculture and Food Security Program. The Bank administers the Global Agriculture and Food Security Program (GAFSP), which supports country-led agriculture and food security plans and helps to promote investments, especially for smallholder farmers. So far, nine countries and the Gates Foundation have pledged about $1.3 billion over three years, with $1.1 billion received.
Landscape Approaches and Climate-Smart Agriculture. The World Bank is increasingly employing landscape approaches by taking both a geographical and socio-economic approach to managing the land, water, and forest resources that form the foundation – the natural capital – for meeting our goals of food security and inclusive green growth. We help to promote these approaches, for example through advocating for climate-smart agriculture: farming techniques such as mulching, crop residue management, and soil and water conservation measures, which increase farm productivity and incomes, and make agriculture more resilient to climate change, while also contributing to mitigation. For example, in Ethiopia's Great Rift Valley, the landscape approach has included establishing forest cooperatives that sustainably manage and reforest the surrounding land, thus addressing deforestation that threatens groundwater reserves that provide 65,000 people with potable water.
Community-Driven Development. This approach gives control over planning decisions and investment resources to community groups and local governments. Our rural livelihoods projects promote inclusive growth and address the challenges of reducing rural poverty by supporting representative institutions of the poor in rural areas. For example, the Sujala project in Karnataka, India, is boosting agricultural competitiveness by organizing communities to manage their watershed and natural resource base, while introducing new crops and technologies to help increase production options.
Supporting Sustainable Fisheries and Aquaculture. The livelihoods of 55 million people around the globe rely on fisheries and aquaculture. Ancillary activities are estimated to support the livelihoods of 660-820 million people, or about 10-12% of the world's population. The World Bank has established two partnerships, the Global Program on Fisheries (PROFISH) and the Alliance for Responsible Fisheries (ALLFISH), which emphasize sustainable fisheries management and improved governance. In 2012, the Global Partnership for Oceans (GPO) formed a growing alliance of over 100 governments, international organizations, civil society groups, and private sector interests that will mobilize knowledge and financial resources to address threats to ocean health, resilience, and productivity.
Water for Agriculture. Worldwide, about 70% of freshwater is used for agriculture. The World Bank is increasing investments that target the policy, technical, and governance aspects of agricultural water use. Our efforts include: increasing emphasis on promoting smallholder irrigation development; improving wastewater use in agriculture; and achieving water savings while minimizing impacts on agricultural production and incomes.
Sustainable Forests. The World Bank Group is the largest source of multilateral financing for forests, which cover 25-30% of the earth's land surface, and are an important safety net for rural populations in times of economic or agricultural stress. About 350 million people who live within or close to dense forests depend on them for their subsistence and income. In the Brazilian Amazon, respecting the needs and aspirations of rural and indigenous peoples was key to the success of a project that reduced deforestation by 37% between 2004 and 2009.
Cultivating Innovation. Farmers and entrepreneurs must innovate to cope with food price volatility and climate change, to meet rising demand, and to be able to seize new business opportunities. In addition to increased lending to agricultural research, advisory and extension services, and agricultural competitiveness, the World Bank has developed operational guidance, tools, and investment options including good practices to encourage investment in ICT integration and agricultural innovation.
Pro-poor Sustainable Livestock Development. Livestock is one of the few means of asset creation and escaping the poverty trap. More than 600 million people depend on livestock as part of their livelihood. The World Bank implements programs to better utilize livestock as a pathway out of poverty, make the sector more environmentally sustainable and, with a One Health approach, reduce disease risks. The Afghanistan Horticulture and Livestock Productivity Project led to livestock mortality rates declining by 29% for large ruminants and 21% for poultry.
Land Tenure. Inappropriate land policies are a serious constraint on economic and social development. Actions to improve security, access, and transferability of land increase the value of household assets, generate higher levels of investment and agricultural productivity, and facilitate access to credit. World Bank support enabled Bolivia to demarcate and title approximately 2.8 million hectares of land, and helped Malawi facilitate access to land for over 15,000 families.
Responsible Agro-investment. The Bank has worked with Food and Agriculture Organization (FAO), International Fund for Agricultural Development (IFAD) and United Nations Conference on Trade and Development (UNCTAD) and other stakeholders, to develop seven voluntary principles for responsible agro-investment that respects rights, livelihoods and resources. The Bank is working with countries and other stakeholders to translate these principles into practice.
Agriculture Finance. Access to key financial services such as payments, savings, and credit is critical to the development of the agriculture sector. The World Bank supports projects that aim to increase such access. It also generates, disseminates, and facilitates sharing of knowledge on innovations, good practices, and sustainable business models in agriculture finance. AgriFin, a World Bank initiative supported by the Bill and Melinda Gates Foundation, is working to demonstrate that all levels of the agricultural value chain, including smallholders, can be financed profitably.
Agricultural Risk Management. Adoption of agricultural risk management practices by client countries will lead to improved resilience and reduced vulnerability of the agricultural sector. The World Bank supports client countries to develop strategies to mitigate, transfer, and cope with agricultural risks. For example, agriculture sector risk assessments have been supported in Niger and Honduras while commodity supply chain risk assessments have been supported in 10 countries (cocoa in Ghana, coffee in Vietnam, Uganda, Cameroon, and Haiti, horticulture in Kenya, rice in Guyana, dairy in Uganda and cotton in Mozambique).
Mainstreaming Gender to Enhance Relevance and Impact. On average, women comprise 43% of the agricultural labor force in developing countries, and in agriculture-based economies this figure is often over 50%. However, women have less access to productive assets like land and services. This severely hampers growth and development impact of investments. The World Bank has recognized this gender gap and is mainstreaming gender into its regular business practices including lending operations, tracking outcomes, and learning from analytical work.