BRIEF
Regional Growth Reports and Studies
February 18, 2014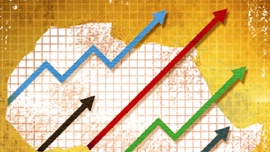 Growth Around the Regions
Africa's rich resources, along with higher incomes and more money to spend at the household level, are helping boost the region's economic growth prospects for 2014.
World Bank economists are cautiously optimistic about economic prospects in South Asia in 2014 because of growing exports and investment.
The 2014 GDP growth forecast for developing countries in the East Asia Pacific region is 7.1%, but structural reforms are key to long-term growth and prosperity.






Regional Perspectives on Growth
Africa
April 7, 2014: Africa's Pulse
October 7, 2013: Africa's Pulse: Ample Resources Provide an Opportunity for Inclusive Growth
East Asia and Pacific
April 7, 2014: East Asia Pacific Economic Update: Preserving Stability and Promoting Growth
October 8, 2013: East Asia Pacific Economic Update: Rebuilding Policy Buffers, Reinvigorating Economic Growth
Europe and Central Asia
April 9, 2014: Press Briefing: Mixed Growth Outlook in Emerging Europe and Central Asia in 2014
February 3, 2014: Diversified Development - Making the Most of Natural Resources in Eurasia
January 24, 2012: Golden Growth: Restoring the Lustre of the European Economic Model
Latin America and the Caribbean
April 9, 2014: International Flows to Latin America: Rocking the Boat?
October 1, 2013: Latin America's Deceleration and the Exchange Rate Buffer
April 18, 2013: Latin America and the Caribbean as Tailwinds Recede: In Search of Higher Growth
Middle East and North Africa
April 8, 2014: Regional Economic Update: Harnessing the Global Recovery - A Tough Road Ahead
February 7, 2014: Middle East and North Africa: Growth Slowdown Heightens the Need for Reforms
South Asia
April 9, 2014: South Asia Economic Focus: Time to Refocus
October 9, 2013: South Asia Economic Focus: A Wake-Up Call