BRIEF
Reduce Risk, Vulnerability and Gender Inequality in Agriculture
March 19, 2014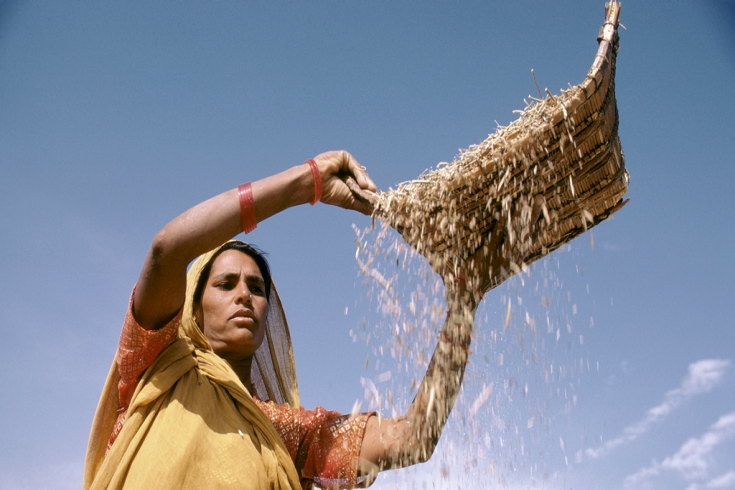 The Agriculture sector faces many risks that could pose potentially serious consequences for all stakeholders. Volatility in the prices of agricultural commodities and "inputs" such as fertilizer, pesticides and equipment, as well as impact from pests, diseases, droughts, floods and hurricanes—which have become more frequent and severe due to climate change—can negatively affect farmers and others involved in the agriculture industry. They can also put a severe fiscal strain on government. Malnutrition, gender inequality and bad governance also curb productivity and raise vulnerability over the long term.
Managing Risk and Vulnerability
The Bank helps countries assess and manage agricultural risks and vulnerabilities—at the broader sector level and on farms. Agricultural risk assessment helps identify appropriate risk management strategies, which often include:
Mitigation: Improved water management; Use of drought and flood tolerant seeds, Early warning systems and other activities that reduce the likelihood of adverse events and the severity of losses
Risk transfer: Insurance, hedging, and other arrangements
Coping: Savings and targeted safety net programs, risk financing
The Bank also helps countries with appropriate agricultural investments, policy support, and technical assistance activities to make their agriculture sectors more resilient.
The Bank has helped Niger develop a risk management action plan and is currently helping 13 countries—including Ghana, Paraguay, Mongolia and Tajikistan—with agriculture risk assessments and management. World Bank partnership CGIAR has helped develop crops that are resistant to droughts and floods—drought-tolerant maize is now grown in southern Africa and flood-resistant rice benefits over 100,000 rice farmers in Bangladesh, India and the Philippines. The Bank has established the Agriculture Insurance Development Program and the Global Index Insurance Facility to scale up agriculture insurance for farmers who are vulnerable to catastrophic weather and other natural disasters. In India, the Bank helped design and implement an innovative crop insurance program that has benefited 1 million farmers.
The Bank also helps families survive agricultural risks with immediate assistance in the form of food and cash for basic necessities and social safety net programs. Cash transfers helped families in Ethiopia and Kenya buy food when food prices spiked, while livelihood programs provided temporary employment and income for Somalian farmers affected by drought.
The Bank's Forum on Agriculture Risk Management in Development (FARMD) knowledge platform improves understanding around agricultural risk management.
Reducing Risk of Disease Outbreaks
Global trade and climate change are expected to increase the incidence of diseases, including zoonotic and vector borne diseases. The World Bank supports strengthening animal health systems, including disease surveillance, prevention and control especially in South Asia, East Asia, Africa and Central Asia, where risks are high. The Bank also works to improve veterinary services and develop livestock insurance. A World Bank-grant to the World Organization for Animal Health and the World Health Organization has supported the development of assessment tools to help countries improve their veterinary and human health systems and their cooperation. The Bank has helped 60 countries control Avian Influenza, scale up nation-wide brucellosis-control in Kyrgyzstan, Azerbaijan and Armenia, and address a range of diseases in Zambia.
Helping Countries Manage Volatile Food Prices
Large net importers of food, such as countries in the Middle East and North Africa, Asia and West Africa, are vulnerable to high and volatile world food prices. The Bank works with countries to better manage food imports and public food supply, and globally to make the food market—and food pricing-- more transparent.
To manage volatility in the food market, the Bank helps countries improve their grain-import supply chains to keep costs low and use food reserves more effectively. A partnership with other multilateral organizations, the Agriculture Market Information System provides information and analysis of crop production, trade, stocks and prices to promote policy discussions and crisis prevention.
Reducing Gender Inequality
Women's opportunities continue to be constrained by a pervasive gender gap in access to assets and credit, which constrains their potential productivity. Raising yields on women-farmed land up to the levels achieved by men would increase agricultural production in developing countries by up to 4%.
The Bank promotes gender equality in its agriculture projects by setting targets to ensure that women benefit from projects, designing gender-specific action plans and activities to promote women's empowerment across a number of agricultural activities and by ensuring that women gain access to finance that capitalizes on their proven ability to invest, save and repay loans. In Bolivia, workshops were held to give women a say in planned agriculture projects, and a separate training was provided to give them related agricultural skills.
The Bank also ensures that women participate in and benefit from land titling projects. In Aceh, Indonesia, the Bank facilitated providing space on land registration documents for registering land under women's names, and local institutions were given additional gender-sensitivity training.