Why is the Global Wildlife Program needed?
The illegal wildlife trade (IWT) is a global threat. The problem is particularly acute in Africa, where iconic species – the African elephant, white and black rhinos, and pangolins – are being poached to extinction. About 33,000 elephants are poached every year for their ivory. The rhino poaching crisis is also escalating. In 2007, 13 rhinos were poached in South Africa, in 2015, 1,338 rhinos were poached--1,175 of those in South Africa alone. As species are poached and illegally harvested at increasingly unsustainable levels, wildlife crime has become the fourth most lucrative illegal business after narcotics, human trafficking, and weapons.
The presence of wildlife in protected areas ensures that an ecosystem can function and maintain natural capital (soil, forests, air, water, etc.) As natural resource crime such as poaching increases, it results in environmental degradation. This adversely affects ecosystem services, which in turn affects the survival of these communities who depend upon these services for livelihoods, fuel and food. The cost of environmental crime to developing countries is estimated to be more than $70 billion a year (World Bank 2014).
To respond to the growing crisis and international call for action, the Global Environment Facility (GEF) in June 2015 launched the "Global Partnership on Wildlife Conservation and Crime Prevention for Sustainable Development" program also known as the Global Wildlife Program (GWP).
What does the Global Wildlife Program aim to do?
The GWP is a World-Bank led global partnership that promotes wildlife conservation and sustainable development by combatting illicit trafficking in wildlife. This seven-year, $131 million grant program is expected to leverage an additional $704 million in additional co-financing from a wide range of partners to promote investments across Africa and Asia. By approaching the poaching crisis holistically through various country projects and a larger global project, it seeks to reduce both the supply and demand that drives the illegal wildlife trade, and protect species and habitats through integrated landscape planning.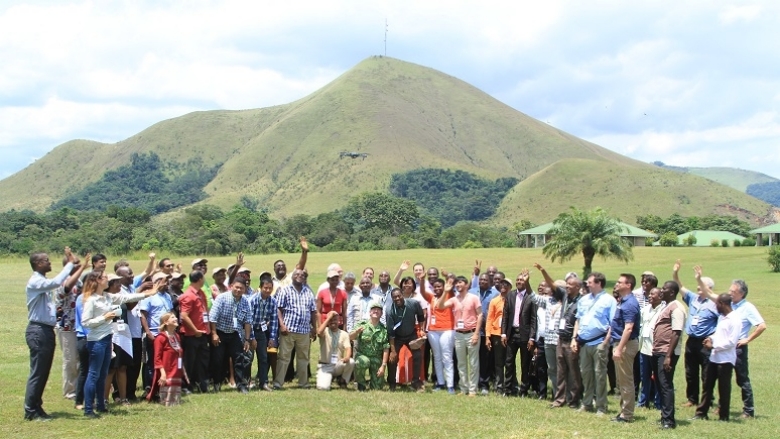 The GWP accelerates learning and promotes knowledge exchange between stakeholders. Seen above are participants at the GWP conference on reducing human-wildlife conflict, co-organized with Gabon's National Parks Agency. Photo credit: Kevin Ndong.
GWP's priority and immediate focus is combating wildlife poaching, trafficking, and demand. The program also focuses on improving wildlife management, providing livelihood opportunities through tourism, and improving governance throughout the supply chain for illegal wildlife products. In addition, the program will support integrated landscape management, land use zoning and natural resource management best practices.
Through its global and country projects, the GWP will:
Promote community-based natural resource management and tourism development: Often in challenging political environments.
Help countries achieve their biodiversity goals: It will support the implementation of country priorities identified in the National Biodiversity Strategy and Action Plan, Elephant Action Plan and other wildlife and tourism national strategies.
Accelerate learning: It will develop an online repository of information and conduct training and capacity building workshops to ensure knowledge exchange between countries, partners and other stakeholders. It will provide opportunities for regional and global knowledge exchanges.
Enhance collaboration: It will foster intergovernmental cooperation, leverage monitoring and evaluation and geospatial tools, increase intelligence sharing to track criminals, collaborate on efforts around anti-money laundering, capture lessons learned, apply best practices, and innovative communication strategies. In addition, it will include a component to promote best practices in ports and collaboration between African and Asian countries and agencies involved in reducing maritime transport of illegal wildlife products, especially ivory.
Strengthen partnerships: It will build synergies with the International Consortium on Combating Wildlife Crime (ICCWC). It is a collaboration between the CITES Secretariat, INTERPOL, UNODC, the World Customs Organization and the WBG, which has been a partner to ICCWC since 2010.
Implement a monitoring and evaluation framework: It will develop and deploy a monitoring system for the program to track program progress and serve as an integral tool to promote synergies amongst national projects.
Coordinate programs with the GEF Secretariat and implementing agencies: To ensure coordination amongst projects within and beyond the program. This will be an important mechanism for implementation of GEF-6 (2014-2018) Biodiversity Strategy program three which is focused on preventing the extinction of known threatened species. The GWP also aims to target other focal areas of the GEF-6: Biodiversity, Land Degradation, Climate Change and Sustainable Forest Management.
Promote donor coordination: As part of ongoing engagement with key international donors, the program will serve as a platform to assess the current state of international funding to tackle illicit trafficking in wildlife. The GWP released the first-ever review of international donor funding for combatting illegal wildlife trade in Africa and Asia, which shows that over $1.3 billion was committed by 24 international donors since 2010. The report serves as a baseline the donor community can build upon, which in consultation with recipient countries, can establish the future state vision for IWT financing. This will facilitate sharing of lessons learned and inform strategic efforts to fill financing gaps for priority intervention areas.
Who are the GWP partner countries?
Collectively, the GWP countries make up an incredible repository of biodiversity and potential for sustainable de¬velopment. The program's integrated platform will sup¬port national governments and development partners to reduce the impacts of wildlife poaching and trafficking, and promote livelihood activities by local communities.
In Africa, the GWP has programs in Botswana, Cameroon, Ethiopia, Gabon, Kenya, Malawi, Mali, Mozambique, the Republic of Congo, South Africa, Tanzania, Zambia, and Zimbabwe. In Asia, programs are in Afghanistan, India, Indonesia, the Philippines, Thailand, and Vietnam.
The implementing agencies channeling the funds to the governments or other partners for the national projects are the World Bank Group, United Nations Development Programme (UNDP), United Nations Environment Programme (UN Environment), and the Asian Development Bank (ADB).
The GWP also collaborates with the International Consortium to Combat Wildlife Crime (ICCWC) and other donors and conservation partners to implement an integrated approach for biodiversity conservation, wildlife crime prevention and sustainable development, including:
Wildlife Conservation Society (WCS)
The Convention on International Trade in Endangered Species of Wild Fauna and Flora (CITES) Secretariat
World Wildlife Fund (WWF)
International Union for the Conservation of Nature (IUCN)
Traffic
WildAid