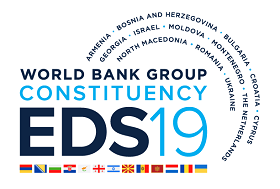 The Office of the Executive Director represents in the Board of the World Bank Group the constituency of Armenia, Bosnia and Herzegovina, Bulgaria, Croatia, Cyprus, Georgia, Israel, Moldova, Montenegro, The Netherlands, North Macedonia, Romania, and Ukraine.
The Executive Director and his staff work jointly with other Board members when considering and deciding on IBRD loan and guarantee proposals, as well as IDA credit, grant, and guarantee proposals made by the President. They decide on policies that guide the Bank's general operations. The Office is also responsible for presenting to the Board of Governors, at the Annual Meetings, an audit of accounts, an administrative budget, and an annual report on the Bank's finances, operations, and policies.
The Executive Director is the Dean of the Board of Executive Directors. The Dean is by practice the longest serving Executive Director in the Board.
The responsibilities of the Dean include the negotiation of the terms and conditions of the contract of the President along with the Co-Dean. In addition, the Dean consults with the Corporate Secretary during the process of informal consultations to select members of the Board Ethics and Standing Committees.
Moreover, the Dean chairs the Steering Committee meetings with Executive Directors and Senior Management to set the Board's work program. He also organizes meetings for Executive Directors among themselves or with Management, the UN, or other high-level experts to exchange views informally.

The Dean and Co-Dean collaborate with the Dean of the International Monetary Fund Board on matters of mutual interest for the two institutions, including the Spring and Annual Meetings, remuneration of the heads of the two institutions, and corporate governance issues.
The Executive Director and his staff work together with other 188 member countries' representatives to harmonize their positions and reach a consensus on development issues.