To support countries in adopting sound practices and solutions in GovTech, and to ensure a broad global partnership for effective exchange and transfer of knowledge and good practice, the GovTech Global Partnership (GTGP) was established by the World Bank's Governance Global Practice in December 2019. The GTGP is a multi-stakeholder initiative that includes advanced and aspiring GovTech countries, development partners, private sector, academia, civil society and others involved in the GovTech domain.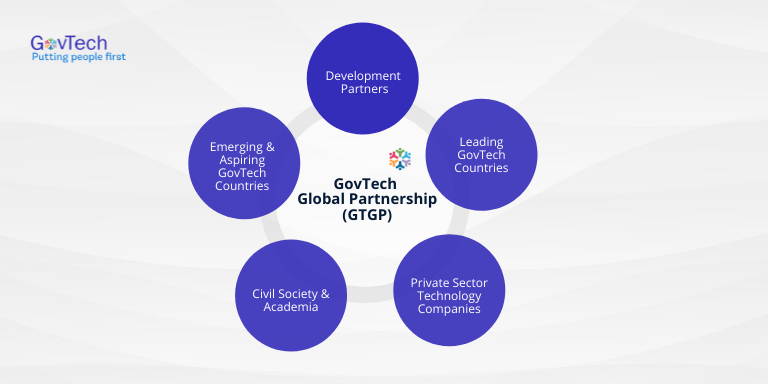 The Partnership's primary financial and in-kind partners include:
Ministry of Finance, Austria
State Secretariat for Economic Affairs (SECO), Switzerland
Ministry of Economy and Finance (MOEF), Republic of Korea
Ministry of Economic Development, Russian Federation
Ministry of Interior and Safety (MOIS), Republic of Korea
Ministry of Finance (MOF), Japan
Federal Ministry for Economic Cooperation and Development (BMZ), Germany
And a number of institutions are supporting GTGP knowledge-sharing activities. Several of these knowledge partners include: Astana Civil Service Hub, the United Nations University Operating Unit on Policy-Driven Electronic Governance (UNU-EGOV), Lisbon Council, Digital Economist, African Development Bank (ADB), the German Ministry of Economic Cooperation and Development (BMZ), the Austrian Federal Computing Centre (BRZ), the Austrian Federal Ministry of Digital and Economic Affairs, the Federal Risk and Authorization Managment Program (FedRAMP), the Global Initiative for Inclusive ICTs (G3ICT), the UK's Government Digital Service (GDS), the German Agency for International Cooperation (GIZ), Korea Public Finance Information Service (KPFIS), University of British Columbia (UBC), the World Bank Group's ITS Technology and Innovation Lab, and several governments across the regions (Angola, Armenia, Australia, Brazil, Gambia, Indonesia, Liberia, Malawi, Morocco, Mozambique, Phillippines, Portugal, Rwanda, Singapore, Somalia, Tunisia, UK, and Nigeria-Kano State Government).