What is GovTech?
GovTech is a whole of government approach to public sector modernization. GovTech emphasizes three aspects of public sector modernization: citizen-centric public services that are universally accessible, a whole-of-government approach to digital government transformation, and simple, efficient and transparent government systems.
GovTech has four focus areas: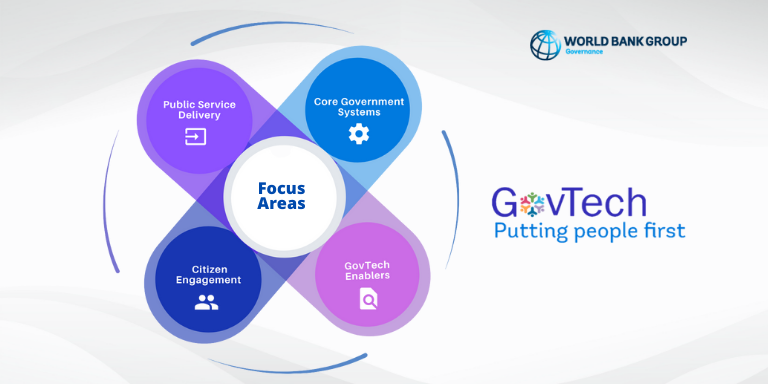 ACTIVITIES TO ENHANCE PUBLIC SERVICE DELIVERY: In collaboration with other practices in the Bank, the GovTech Team led by the GGP supports the design of human-centered online services that are simple, transparent, and universally accessible. Special attention is paid to services that are accessible by low-cost digital solutions, such as mobile phones and free open source applications, tailored to digital literacy and reaching all intended beneficiaries and users.
SUPPORTING CORE GOVERNMENT SYSTEMS: Client demand for modernization and integration of core government systems is an entry point for strengthening the GovTech approach, especially in projects and dialogue on next generation digital solutions for central and local government. For example, GGP is focused on better public financial management, human resource management, tax administration, public procurement, and public investment management systems.
MAINSTREAMING CITIZEN ENGAGEMENT: Developing and deploying CivicTech tools including citizen feedback and complaint handling mechanisms can be done in high and low connectivity countries, using simple technology and free open source applications. Activities focus on accountability tools such as service charters and service standards with enforcement and monitoring mechanisms, and the use of technology to advance government's efforts at greater transparency.
GOVTECH ENABLERS: Strengthening GovTech enablers includes work on how to build digital skills in the public sector and an environment that fosters innovation in the public sector.
Our Structure
The GovTech agenda is supported by the GovTech Global Partnership (GTGP), a multi-stakeholder initiative that includes advanced and aspiring GovTech countries, development partners, private sector, academia, civil society and others involved in the GovTech domain. The GTGP welcomes new partners to join in the initiative. See more here. The agenda is led by the GovTech Global Solutions Group (GSG) and Governance Global Practice (GGP), but it is a collaborative effort, bringing together other global practices, including those working on digital development, payment systems, data governance, and sector specialists.