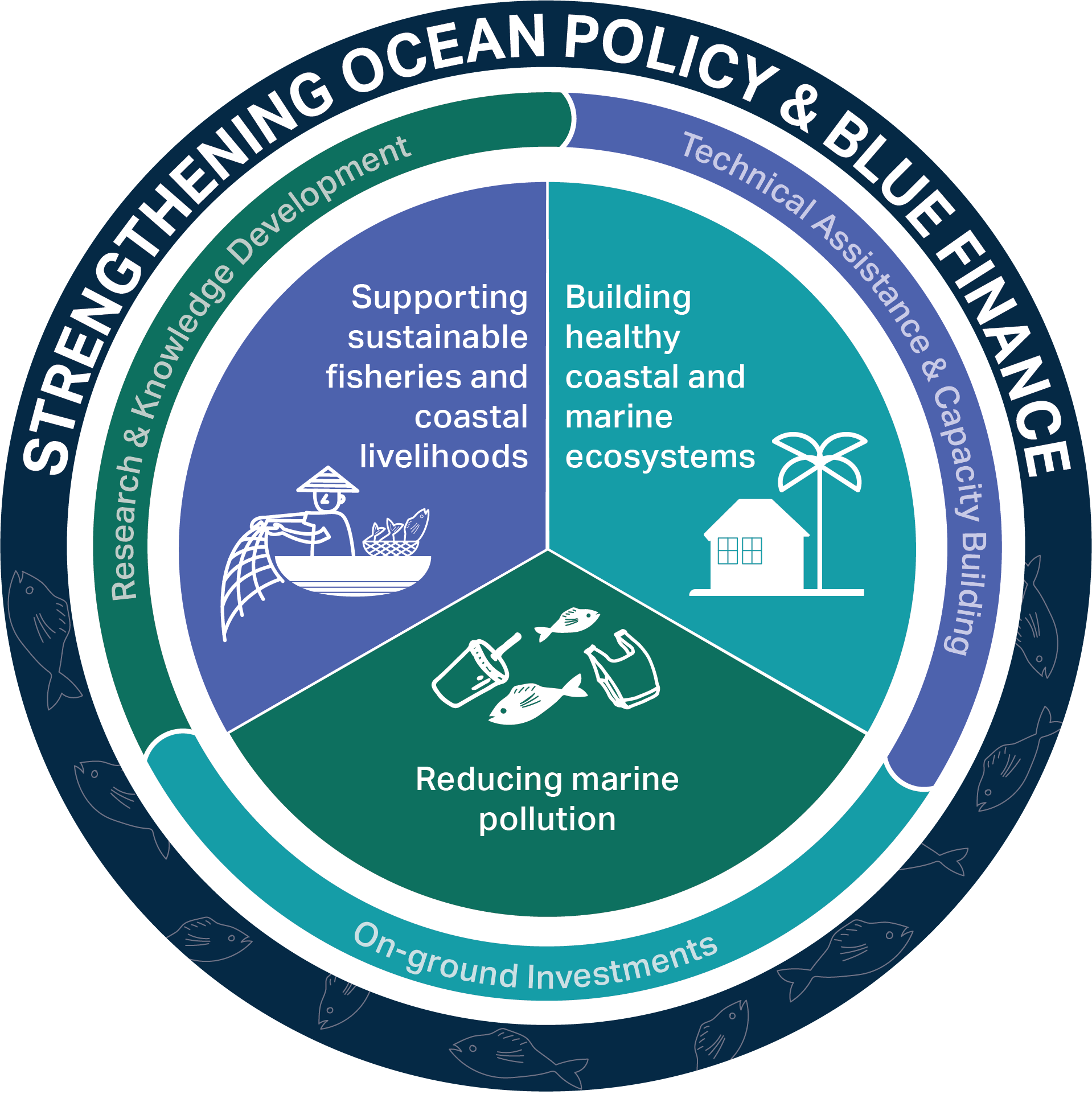 Oceans are central to Indonesia's identity and prosperity. Indonesia's oceans confer an unparalleled source of comparative economic advantage and are estimated to support more than US$ 280 billions of economic activity annually (Ebarvia, 2016). Healthy oceans provide jobs and food, sustain economic growth, regulate the climate, act as a sink for greenhouse gases, provide oxygen, are home to ecosystems rich in biodiversity, and support the wellbeing of coastal and urban communities.
However, there are challenges to the extent and integrity of Indonesia's marine and coastal ecosystems that, if not managed, could undermine the potential of Indonesia's ocean economy. About 38 per cent of the nation's marine capture fisheries are overfished (MMAF, 2017), around one-third of Indonesia's valuable coral reefs are in poor condition (LIPI, 2020), important coastal ecosystems such as mangroves show substantial losses (over 50,000 hectares per year) (MoEF, 2019), and marine debris is impacting human health, the tourism and fishing industries, as well as damaging ecosystems. Recent estimates of the economic damage of plastics exceed over US$ 450 million per year (APEC, 2020).
Indonesia's Sustainable Oceans Program (ISOP) aims to deepen knowledge, increase awareness and strengthen coordination to inform strategies and plans to sustainably manage Indonesia's oceans, reduce marine debris and strengthen coastal resources. Working with the Indonesian government, as well as local communities, academia, NGOs and donors, ISOP develops knowledge, builds capacity and finances on–ground investments to: 1) support sustainable fisheries and coastal livelihoods; 2) build healthy coastal and marine ecosystems; 3) reduce marine pollution; and 4) strengthen policy and institutions.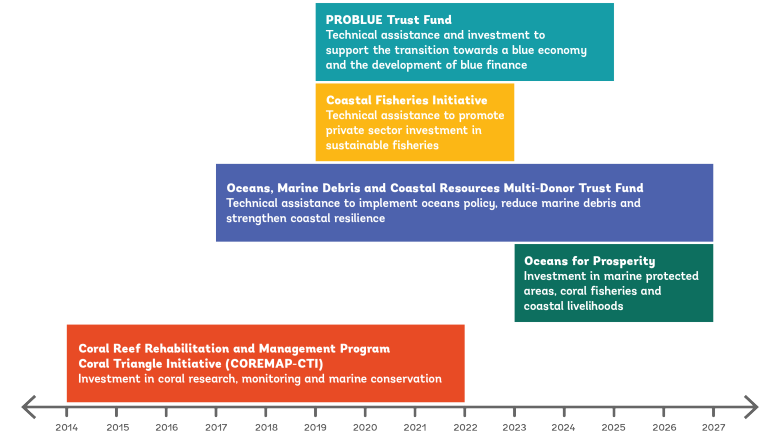 Oceans for Prosperity
The Oceans for Prosperity Project (or Laut untuk Kesejahteraan/LAUTRA) – implemented by the Ministry of Marine Affairs and Fisheries (MMAF) and the Ministry of National Development Planning (BAPPENAS) with $210 million total funding from the World Bank including grants from PROBLUE Multi-Donor Trust Fund and Government of Canada, through the Indonesia Oceans, Marine Debris and Coastal Resources Multi-Donor Trust Fund (Oceans MDTF) – seeks to enhance the sustainable management of selected marine protected areas and coral reef fisheries, and improve access to economic opportunities for local communities in target areas. The project will support 20 targeted marine protected areas (MPAs) and surrounding communities within 11 provinces, improving management of select MPAs (encompassing 8.3 million hectares) and coral reef fisheries; improving the economic opportunities of local communities and women in sustainable fisheries, tourism, and aquaculture; and building government capacity to mobilize blue financing to address critical long-term financing gaps. The selected locations are situated in the eastern part of Indonesia, a region with the lowest economic welfare scores and highest level of marine biodiversity within Indonesia. Read more here.
Indonesia Oceans Multi Donor Trust Fund
Established in 2017 at the request of the Government of Indonesia, the Indonesia Oceans, Marine Debris and Coastal Resources Multi-Donor Trust Fund (Oceans MDTF) supports the country's National Oceans Agenda. Through increasing scientific knowledge, broadening general awareness, and improving coordination, the Oceans MDTF—supported by Norway, Denmark and Canada—is assisting Indonesia in sustainably managing its valuable ocean resources.
Coral Reef Rehabilitation and Management Program – Coral Triangle Initiative (COREMAP–CTI): 2014-2022
For over two decades, the Coral Reef Rehabilitation and Management Program (COREMAP) has been supporting the Government of Indonesia protect its ecologically and economically valuable coral reefs. While COREMAP's initial stages focused on improving community-based management of coastal resources, the third phase (COREMAP-CTI) focused on strengthening the institutional capacity in coastal ecosystems monitoring and demand-driven priority research, and complemented it with on-ground activities aimed at improving the management of marine protected areas (MPAs). At the end of COREMAP-CTI, the National Research and Innovation Agency (BRIN) had successfully expanded the monitoring coverage to over 12 million hectares of critical coastal ecosystems, upgraded and equipped six research infrastructure sites, trained 503 researchers in coastal ecosystems research techniques, as well as developed and applied the new Coral Reef Health Index (RHI), Seagrass Ecological Quality Index (SEQI), and Mangrove Health Index (MHI), all of which provide a practical approach that will link field data to better management of ocean resources. COREMAP-CTI also contributed to the increase of management effectiveness in four Marine Protected Areas (MPA) in Raja Ampat and Savu Sea through development of community livelihoods , operationalization of community-based surveillance, rehabilitation of coastal habitats, and threatened species conservation. Read the COREMAP Legacy report here.
Indonesia Challenge Fund: Coastal Fisheries Initiative - Challenge Fund
The World Bank's Indonesia Challenge Fund provided technical assistance to the government and the private sector to improve the sustainability of Indonesia's fisheries through four interrelated activities: research on barriers and opportunities for private sector-led responsible investment in sustainable fisheries, supporting the development of specific investment opportunities along the fishery supply chain, matching of potential investors to investees, and knowledge exchange for promoting sustainable investment opportunities.
The Indonesia Challenge Fund was an activity of the Coastal Fisheries Initiative - Challenge Fund, which in turn was one part of the broader Coastal Fisheries Initiative (CFI), a collaborative, global effort funded by the Global Environment Facility (GEF). This initiative brings together UN agencies, the World Bank, and international conservation organizations to improve fisheries management and conserve marine biodiversity through stronger governance and management of seafood value chains.
Several knowledge products were developed by the Indonesia Challenge Fund, including a broad examination of barriers to private sector investment in sustainable coastal fisheries in Indonesia, and an assessment of private sector opportunities in the snapper fishery in Eastern Indonesia. As part of its effort to support the development of a pipeline of responsible fishery investments in Indonesia, the project also screened 60 and secured five local enterprises to receive business coaching and mentorship to help get the investment they need, connected enterprises to 40 potential investors and co-hosted Indonesia's biggest Fisheries innovation Festival: Digifish in 2020.
The PROBLUE Multi-Donor Trust Fund is a global initiative supporting the sustainable and integrated development of marine and coastal resources in healthy oceans. In Indonesia, PROBLUE is providing the government with the technical assistance needed to transition towards a blue economy (the sustainable and integrated development of economic sectors with healthy oceans). Specifically, PROBLUE's support is delivering analytical and advisory work on sustainable fisheries management, designing programs for improved coastal livelihoods, and bringing together potential donors and partners in support of financing for the blue economy. This work informed the design of the Oceans for Prosperity project. PROBLUE is also providing a grant to co-finance the Oceans for Prosperity project, and activities focusing on blue finance in particular.
To learn more about ISOP's priorities and achievements, visit the Focus Areas tab, download the ISOP factsheet and Presentation, and visit the Blogs & Stories and Publications tab to read recent blogs, watch videos, or download reports.