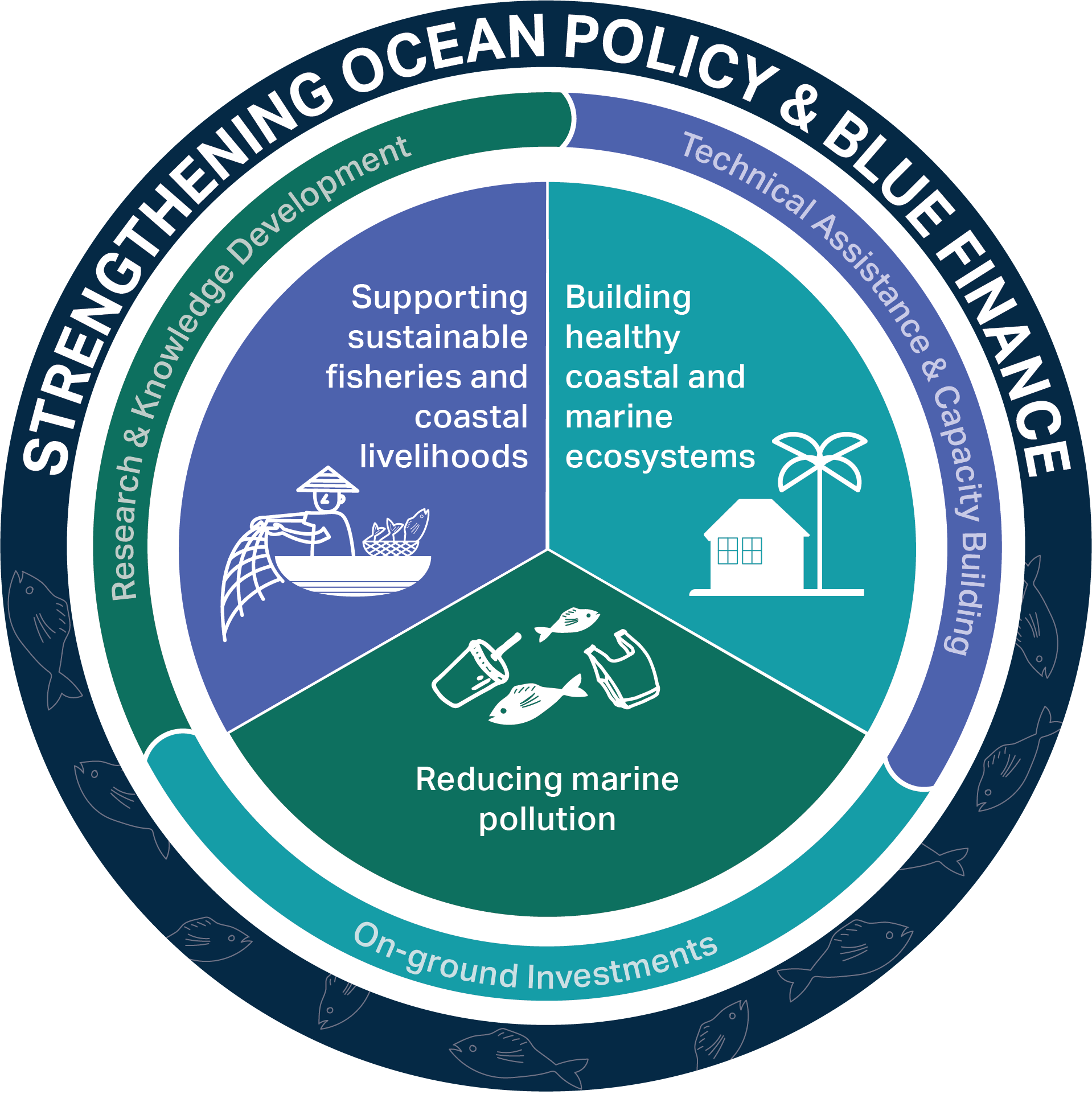 Oceans are central to Indonesia's identity and prosperity. Indonesia's oceans confer an unparalleled source of comparative economic advantage and are estimated to support more than US$ 280 billions of economic activity annually (Ebarvia, 2016). Healthy oceans provide jobs and food, sustain economic growth, regulate the climate, act as a sink for greenhouse gases, provide oxygen, are home to ecosystems rich in biodiversity, and support the wellbeing of coastal and urban communities.
However, there are challenges to the extent and integrity of Indonesia's marine and coastal ecosystems that, if not managed, could undermine the potential of Indonesia's ocean economy. About 38 per cent of the nation's marine capture fisheries are overfished (MMAF, 2017), around one-third of Indonesia's valuable coral reefs are in poor condition (LIPI, 2020), important coastal ecosystems such as mangroves show substantial losses (over 50,000 hectares per year) (MoEF, 2019), and marine debris is impacting human health, the tourism and fishing industries, as well as damaging ecosystems. Recent estimates of the economic damage of plastics exceed over US$ 450 million per year (APEC, 2020).
Indonesia's Sustainable Oceans Program (ISOP) aims to deepen knowledge, increase awareness and strengthen coordination to inform strategies and plans to sustainably manage Indonesia's oceans, reduce marine debris and strengthen coastal resources. Working with the Indonesian government, as well as local communities, academia, NGOs and donors, ISOP develops knowledge, builds capacity and finances on–ground investments to: 1) support sustainable fisheries and coastal livelihoods; 2) build healthy coastal and marine ecosystems; 3) reduce marine pollution; and 4) strengthen policy and institutions.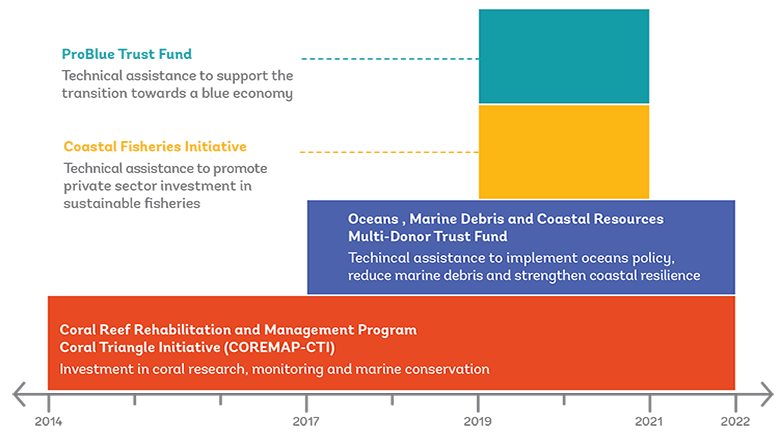 Indonesia Oceans Multi Donor Trust Fund (IOMC-MDTF)
Established in 2017 at the request of the Government of Indonesia, the Indonesia Oceans Multi-Donor Trust Fund supports the country's National Oceans Agenda by providing technical assistance to implement policy, reduce marine debris and strengthen coastal resilience. Through increasing scientific knowledge, broadening general awareness, and improving coordination the MDTF—supported by Norway and Denmark through initial contributions of US$2.26 million in 2017 and an additional contribution of US$2.23 million in 2018—is assisting Indonesia in sustainably managing its valuable ocean resources.
Coral Reel Rehabilitation and Management Program -Coral Triangle Initiative (COREMAP-CTI): 2014–2022
For over two decades, the Coral Reef Rehabilitation and Management Project (COREMAP) has been supporting the Government of Indonesia protect its ecologically and economically valuable coral reefs through investment in coral research, reef monitoring, and marine conservation. While COREMAP's initial stages focused on increasing community management of coastal resources, the third phase is now working to strengthen research capacity by upgrading laboratories, training scientists and undertaking nationwide ecosystem monitoring. COREMAP is also improving Marine Protected Area management effectiveness in in Raja Ampat, West Papua, Sawu Sea, and East Nusa Tenggara, through ecotourism initiatives, community-based illegal fishing surveillance and threatened species conservation.
Indonesia Challenge Fund: Coastal Fisheries Initiative (CFI)
The World Bank's Indonesia Challenge Fund provides technical assistance to the private sector to reduce overfishing and coastal ecosystem degradation through four interrelated activities: supporting relationships between fishing communities and sustainability-minded businesses, promoting lessons learnt from existing sustainability successes, assisting in the development of sustainable fisheries business plans, and promoting sustainable investment opportunities. The Indonesia Challenge Fund is one part of the broader Coastal Fisheries Initiative (CFI), a collaborative, global effort funded by the Global Environment Facility (GEF). This initiative brings together UN agencies, the World Bank, and international conservation organizations to improve fisheries management and conserve marine biodiversity through stronger governance and management of seafood value chains.
The PROBLUE Multi-Donor Trust Fund is a global initiative supporting the sustainable and integrated development of marine and coastal resources in healthy oceans. In Indonesia, PROBLUE is providing the government with the technical assistance needed to transition towards a blue economy (the sustainable and integrated development of economic sectors with healthy oceans) and support the proposed Oceans for Prosperity Program. Specifically, PROBLUE's support is delivering analytical and advisory work on sustainable fisheries management, designing programs for improved coastal livelihoods, and bringing together potential donors and partners in support of financing for the blue economy.
To learn more about ISOP's priorities, visit the Focus Areas tab or download the ISOP factsheet and Presentation. To read further about sustainable coastal and oceans management in Indonesia, please visit the Resources tab to read recent blogs, watch videos, and download reports.