Reports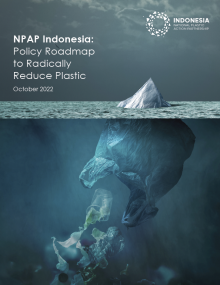 NPAP Indonesia Policy Roadmap to Radically Reduce Plastic
This roadmap describes plastic policy options to support the transition to a full implementation of the plastic ban on certain single-use plastics by 2030.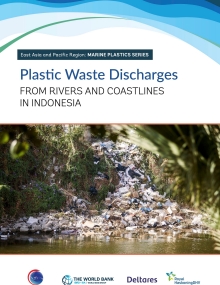 Marine Plastic Series: Plastic Waste Discharges from Rivers and Coastlines in Indonesia | May 2021

This study provides the first Indonesia-wide assessment integrating local waste data with actual hydrological conditions to tell the story of how local practices contribute to marine plastic pollution.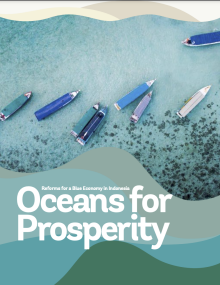 Oceans for Prosperity: Reforms for a Blue Economy in Indonesia | March 2021
A new World Bank report details the status of, and trends, and opportunities towards a blue economy in Indonesia, building on the existing efforts and goals set out by the government. The report argues that the future of these oceanic sectors relies on the health of the natural assets – marine and coastal ecosystems.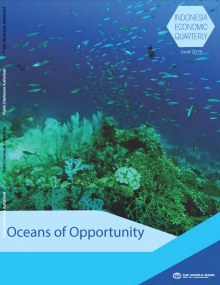 Indonesia Economic Quarterly: Oceans of Opportunity | June 2019
This edition of the Indonesia Economic Quarterly report highlights the importance of the maritime economy to Indonesia's economic development and sustainable growth. When well-managed, the country's oceans can make a larger contribution to the economy through higher revenues from tourism and fisheries.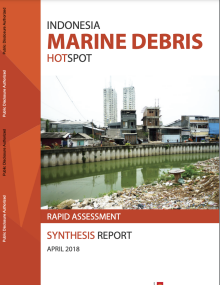 Marine debris hotspot rapid assessment | April 2018
The Marine Debris Hotspot Rapid Assessment for Indonesia was conducted by the World Bank at the request of relevant Indonesia government agencies and research institutions, to provide an informed and focused analysis of land-based leakage of solid waste, particularly plastics, to the marine environment. The assessment was a rapid study carried out in two phases, providing up-to-date information from 15 cities in western and central parts of Indonesia.
Factsheet and Infographics
Infographic: Stemming the Plastics Tide in Indonesia
An overview of World Bank's approach to support to the Government Indonesia's goal to free its waterways, coastal areas, and oceans from plastic pollution.
Oceans for Prosperity: Reforms for a Blue Economy in Indonesia
Achieving threefold benefits of a blue economy: healthy oceans, thriving economies, and resilient coastal livelihoods.
Coastal Fisheries Initiative: Indonesia Challenge Fund
Promoting responsible private sector investment for improved sustainability of Indonesia's fisheries.
Indonesia's Mangroves for Prosperous Communities and Healthy Planet
Protecting and restoring Indonesia's mangroves ecosystems help coastal communities, the national economy, and the planet.
Indonesia Sustainable Oceans Program (ISOP)
Taking an integrated approach to the blue economy through the equitable and sustainable use of coastal and marine resources.
Suara Samudera
Other
East Asia and Pacific Marine Plastic Pollution Webpage
Globally, countries in East Asia and the Pacific are at the centre of the marine plastics crisis: some are the biggest producers, while others are disproportionately affected by the impacts of marine plastic debris on their shores. The World Bank is supporting several studies and providing financing to fight this in East Asia and Pacific.
Behavior Change for Waste Management Playbooks
The Coordinating Ministry of Maritime Affairs and Investment, with support from the World Bank, has released a set of four behaviour change communication playbooks to empower local communities and youth across the country to kickstart their own initiatives, events, and campaigns on plastic usage.