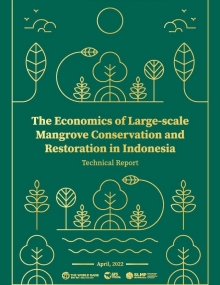 The Economics of Large-scale Mangrove Conservation and Restoration in Indonesia
The report aims to support policymakers in providing a set of economically-sound policy scenarios to achieve greener, more resilient and inclusive development of Indonesia's mangroves ecosystems.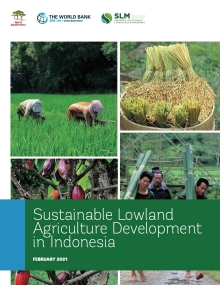 Sustainable Lowland Agriculture Development in Indonesia
This study marks an important step in the analysis of lowlands agro-ecological systems and their use, and the development of options and strategies for sustainable lowlands development.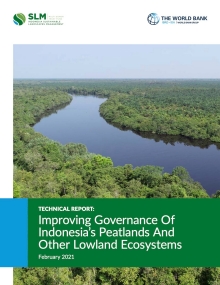 Technical Report: Improving Governance of Indonesia's Peatlands and Other Lowland Ecosystems
The report presents a technical background study that highlights the importance of sustainable landscape management of lowland areas, particularly of the peatlands within lowland boundaries, for achieving the Government of Indonesia's objective in preventing land and forest fires. It aims to advance a policy dialogue on how to address sustainability challenges from lowland developments.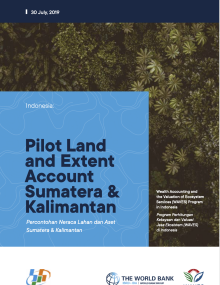 WAVES Report on Pilot Land and Extent Account in Sumatera and Kalimantan
This report presents an overview of Natural Capital Accounting, a system for assessing sustainability and resilience of the economic growth model, and the context of applying it in Indonesia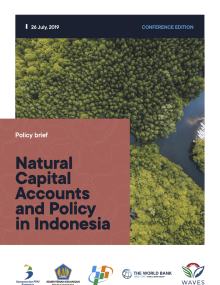 Natural Capital Accounts and Policy in Indonesia
Natural capital accounting is a system for assessing sustainability and resilience of the economic growth model. The Government of Indonesia has become increasingly aware of the overall importance of natural capital and is proactively addressing the challenges of managing it.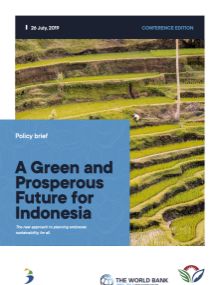 A Green and Prosperous Future for Indonesia
After having gained a leadership position in the regional economy and claimed an important place in the World's economy ,Indonesia has a challenge: to continue growing while improving equality. This report presents a new approach to planning that embraces sustainability, for all.