Laporan Iklim dan Pembangunan Negara Indonesia
Laporan Iklim dan Pembangunan Negara (Country Climate and Development Report atau CCDR) adalah diagnostik baru yang dikembangkan oleh Kelompok Bank Dunia untuk mendukung negara-negara menyelaraskan tindakan aksi iklim dengan ambisi pembangunan. Laporan ini dibuat dengan menggunakan target yang dinyatakan masing-masing negara, sambil menguraikan kebutuhan dan peluang untuk mencapai target-target tersebut melalui upaya yang terjangkau.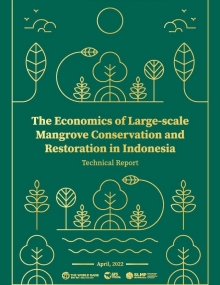 The Economics of Large-scale Mangrove Conservation and Restoration in Indonesia
Laporan ini bertujuan untuk mendukung para pembuat kebijakan dalam menyediakan serangkaian skenario kebijakan yang mumpuni secara ekonomi untuk mengelola ekosistem mangrove Indonesia yang lebih hijau, lebih tangguh, dan inklusif.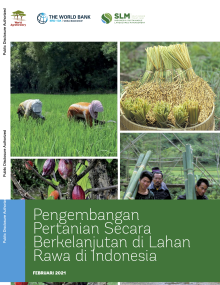 Pengembangan Pertanian Secara Berkelanjutan di Lahan Rawa di Indonesia
Studi ini merupakan bagian dari berbagai upaya untuk menganalisis sistem agroekologi lahan rawa dan pemanfaatannya, serta penyusunan opsi dan strategi untuk pengembangan lahan rawa secara berkelanjutan.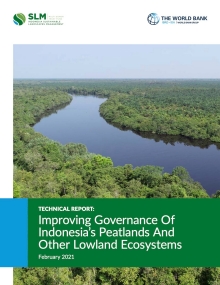 Laporan Teknis: Meningkatkan Tata Kelola Ekosistem Lahan Gambut dan Lahan Rawa Lainnya di Indonesia
Laporan ini menyajikan studi teknis yang menyoroti pentingnya pengelolaan lanskap berkelanjutan di wilayah lahan rawa, khususnya lahan gambut di dalam batas lahan rawa, untuk mencapai tujuan Pemerintah Indonesia dalam mencegah kebakaran lahan dan hutan. Ini bertujuan untuk memajukan dialog kebijakan tentang cara mengatasi tantangan keberlanjutan dari pembangunan lahan rawa.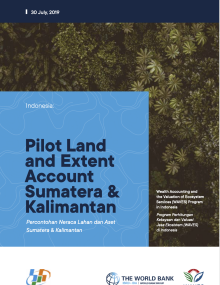 WAVES Report on Pilot Land and Extent Account in Sumatera and Kalimantan

Laporan ini menyajikan pilot land and extent accounts untuk Indonesia berdasarkan metodologi SEEA. Dalam metodologi ini, lahan didefinisikan sebagai aset lingkungan yang menggambarkan ruang tempat dilaksanakannya kegiatan ekonomi dan proses lingkungan dan lokasi tempat aset lingkungan dan ekonomi tersebut berada.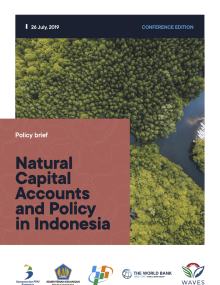 Neraca Sumber Daya Alam dan Implementasi Kebijakan di Indonesia

Laporan ini memberikan gambaran umum tentang Penghitungan Modal Alam, sebuah sistem untuk menilai keberlanjutan dan ketahanan model pertumbuhan ekonomi, dan konteks penerapannya di Indonesia.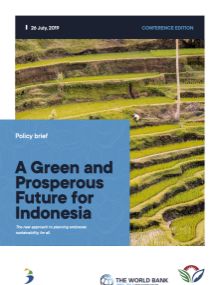 Suatu Masa Depan yang Hijau dan Sejahtera bagi Indonesia
Setelah menempati posisi kepemimpinan dalam perekonomian regional dan memegang posisi penting dalam perekonomian dunia, Indonesia menghadapi tantangan untuk terus bertumbuh sekaligus meningkatkan kesetaraan. Laporan ini menyediakan pendekatan baru bagi perencanaan yang mendorong keberlanjutan, untuk semua pihak.