Why the SLMP?
Indonesia is endowed with extraordinary natural assets – home to the world's largest tropical peatland areas, mangrove areas, and the third largest tropical rainforest. These natural assets and ecosystems support Indonesia's economic growth and sustain livelihoods for millions of people. Indonesia's natural resources have outstanding global significance as critical habitats for irreplaceable biodiversity, including 11% of the world's plants, 13% of its mammals, 17% of its birds, and 14% of its fish. Such natural resources also store huge amounts of carbon that mitigate climate change. Indonesia's forests store about 200 tons of carbon per hectare, or 18.8 billion tons of carbon in total, equivalent to greenhouse gas emissions released from over 13 million passenger vehicles driven in one year. Meanwhile, peatland and mangroves in Indonesia can store more than 1,000 tons of carbons per hectare.
The current development trajectory has led to deforestation and land degradation, posing significant costs and threatening Indonesia's long-term economic resilience and growth prospects. Indonesia has shown reduced rates of deforestation in recent years (an average of 32.5 percent decline between 2014-2017), suggesting that reversing these trends is achievable. The SLMP supports the GoI to continue this trend through investment projects and policy recommendations based on analytics and technical assistance.
The Indonesia SLMP contributes to addressing the key drivers of unsustainable landscape management.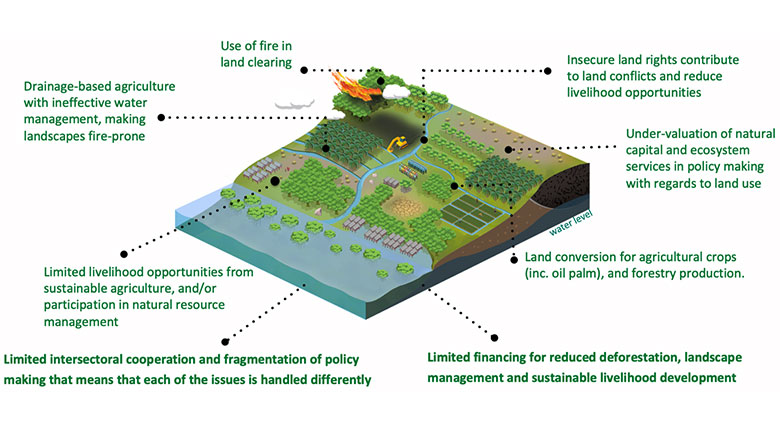 Since 2016, the Indonesia Sustainable Landscapes Management Program (SLMP) has brought multiple landscape management interventions together in an integrated approach to support Indonesia to address unsustainable landscape management.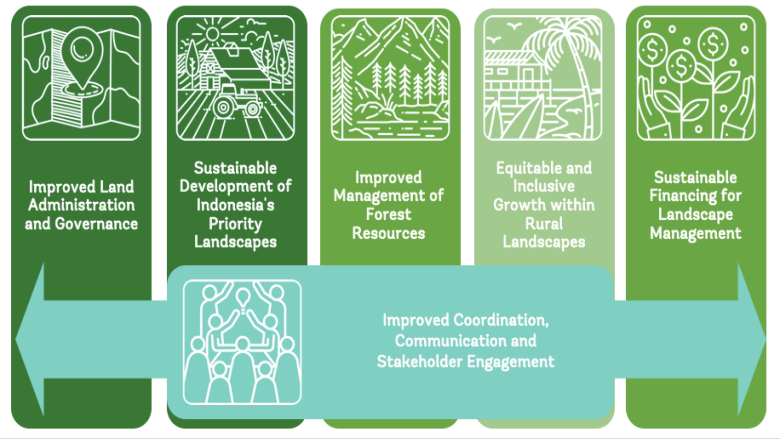 Improved Land Administration and Governance
Supports the GoI to achieve a unified land register and map of all land rights in Indonesia.
Sustainable Development of Indonesia's Priority Landscape
Contributes to improving rural livelihoods by addressing key barriers to the production of environmentally sustainable and commercially viable agricultural commodities and value chain development.
Improved Management of Forest Resources
Promotes sustainable management of forests by public and private stakeholders by informing the design and adoption of economic incentive schemes, building capacity and supporting the GoI to implement an integrated fire management strategy.
Equitable and Inclusive Growth within Rural Landscape
Identifies and develops key information and incentive schemes, instruments for participatory planning, and institutional arrangements to promote natural resource management, alternative sustainable agricultural products, and value chain development within districts and villages.
Sustainable Financing for Landscape Management
Supports the GoI to establish an internationally recognized funding mechanism to channel international and domestic climate and environmental funds to national priorities and towards meeting Indonesia's international climate commitments.
Improved Coordination, Communication, and Stakeholder Engagement
Strengthens communication, stakeholder engagement, and cross-sectoral coordination on sustainable landscape management issues at the national and sub-national levels to achieve integrated solutions.