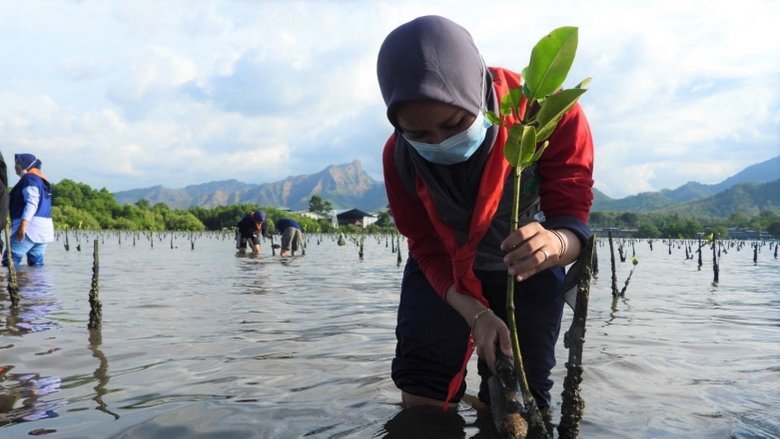 Indonesia is home to an estimated 20 percent of the world's mangroves, the largest extent of mangrove ecosystems in the world.
Mangroves provide valuable ecosystem services that contribute to human wellbeing in Indonesia, including coastal protection, climate regulation, fisheries support services, raw materials provision and cultural services. On average these sets of services yield USD 15,000/ha/year in benefits, but some provide benefits totaling nearly USD 50,000/ha/year.
The extent and value of mangrove-related ecosystem services vary sharply across regions and types of services. Average financial benefits for protecting coastlines are the largest.
However, Indonesia's mangrove forests are being degraded, threatened by clearing for aquaculture, agriculture and more (Richards & Friess, 2016).
The loss and degradation of Indonesia's critical ecosystems, including mangroves, poses threats to Indonesia's economy and population. The Government of Indonesia is moving in the right direction by setting ambitious strategies to promote a "blue economy" and to achieve FOLU Net Sink by 2030, including a target to restore 600,000 hectares of mangroves by 2024.
The World Bank's new report The Economics of Large-scale Mangrove Conservation and Restoration in Indonesia Report

aims to support policymakers in providing a set of economically-sound policy scenarios to achieve greener, more resilient and inclusive development of Indonesia's mangroves ecosystems.

The key policy message stemming from the study's findings is that an efficient mix of mangrove restoration and conservation activities is needed. Conservation of existing mangroves should be prioritized.
Conservation net benefits are generally higher than restoration net benefits.
Making the necessary investments will require adopting an integrated mangrove conservation, restoration, and blue finance approaches. The following recommended policy actions are critical:

Ensure restoration practices and financing. This would include adequate provisions for long-term management and monitoring, including funding for mid-term corrections to increase restoration success rates.
Maximize labor contribution in restoration, especially as part of the COVID-19 recovery stimulus.
Strengthen the evidence base (data, maps, etc.) for improved enforcement and mangrove management.
Explore complementary policies such as implementation of a mangrove moratorium.
Secure payments for blue carbon and ensure that benefits reach local communities.