Overview
The Europe and Central Asia region experiences a variety of natural hazards, including floods, earthquakes, droughts, landslides, and wildfires. The frequency and impact of such events can be considerable.
Even if catastrophic events are not as frequent as in other regions, the region has experienced close to 500 significant floods and earthquakes in the last three decades alone – causing a total of 50,000 fatalities, affecting nearly 25 million people, and resulting in over US$80 billion in damage. Over time, close to 30 percent of the capitals of countries in the region have been at one time or another devastated by earthquakes and floods.
The impacts of such disasters are pervasive. Such shocks kill, wound and displace people, destroy property, incapacitate industries, disrupt day-to-day life, and often affect the economic development of countries for years after the event. In the future, the impacts of natural hazards will most likely increase due to changes in climate, demographic growth, and (unplanned) urbanization. These factors increase exposure and vulnerability, and overtime accentuate conditions conducive to natural disasters.
Governments have an opportunity to act now to dramatically reduce the impact of such events. Recognizing, assessing, and understanding risks from natural hazards and climate change are the first steps toward reducing their adverse effects.
Through its Innovation Lab, the Global Facility for Disaster Reduction and Recovery (GFDRR) facilitated the development of national probabilistic risk profiles for selected countries across the Europe and Central Asia region. This was a first step toward initiating dialogues with ministries of finance on prioritizing investments in resilience, with a view to building a less risky future for future generations.
These quantitative risk profiles are based on existing global risk models and datasets. From this analysis, national decision-makers and other stakeholders can obtain an overview of the risk faced by each country, how the risk varies across a country's provinces, and how countries rank with regard to risk in the Europe and Central Asia region.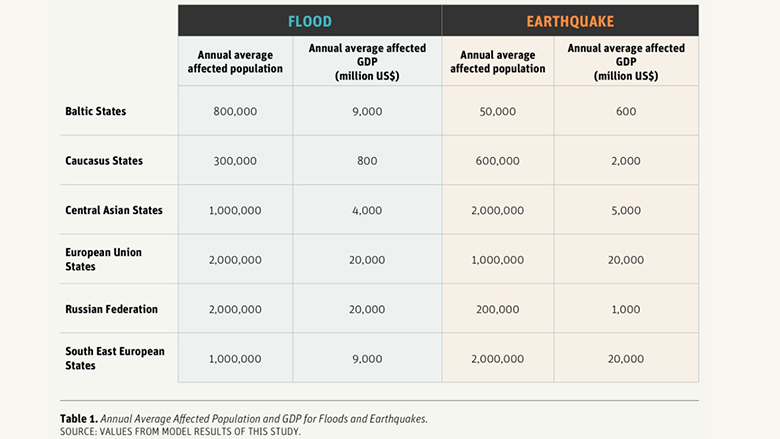 Each country risk profile contains information on flood and earthquake risk at a national and provincial level – similar to the ThinkHazard! Online Tool. For example, a ranking of countries by annual average GDP affected by floods and earthquakes shows that the country with the highest annual average affected GDP is the Russian Federation ($20 billion), followed by Poland ($7 billion) and Turkey ($5 billion). For earthquakes, the most impacted country is Turkey ($10 billion), followed by Romania ($5 billion) and Greece ($3 billion).
This report provides estimates for more intense, but less frequent, events such as 100-year floods or 250-year earthquakes, and also demonstrates at a regional level why floods pose the highest risk for the Baltic States, the Central European States, and the Russian Federation, while the Caucasus States, South East European states and Central Asia are more affected by earthquakes.
Country Risk Profiles (PDF)