International agreements on oceans aim to promote international cooperation for their peaceful and sustainable use, including by reducing pollution, protecting biodiversity, and regulating fisheries. The World Bank, with PROBLUE support, has developed a set of tools and trainings to increase knowledge about ocean governance, treaties, and their implementation in national legal frameworks. By raising the level of understanding on the various international conventions that govern the oceans, this work aims to support the development of sustainable blue economies.
Key Publications
Ocean Governance Summaries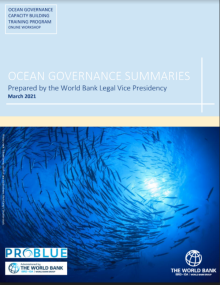 Summaries of relevant international legal agreements on oceans, trade, fisheries, pollution and conservation, such as the United Nations Convention on the Law of the Sea (UNCLOS), the Basel Convention on the Control of Transboundary Movements of Hazardous Wastes and Their Disposal, the Convention on International Trade in Endangered Species of Wild Fauna and Flora (CITES), and others.

Legal Dimensions of Sea Level Rise - Pacific Perspectives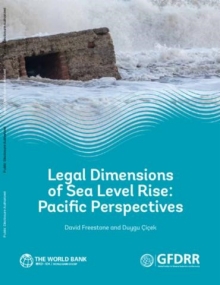 This report reviews the projected impacts of sea level rise and ocean-related climate change on coastal States and presents a series of responses to key legal and policy questions faced by these States including impacts of sea level rise on the maritime rights of coastal States, the legal implications of an island State becoming uninhabitable, legal and policy options relating to human mobility in the context of climate change, and the ways in which the international community is able to provide support for States that need to adapt to impacts from sea level rise.