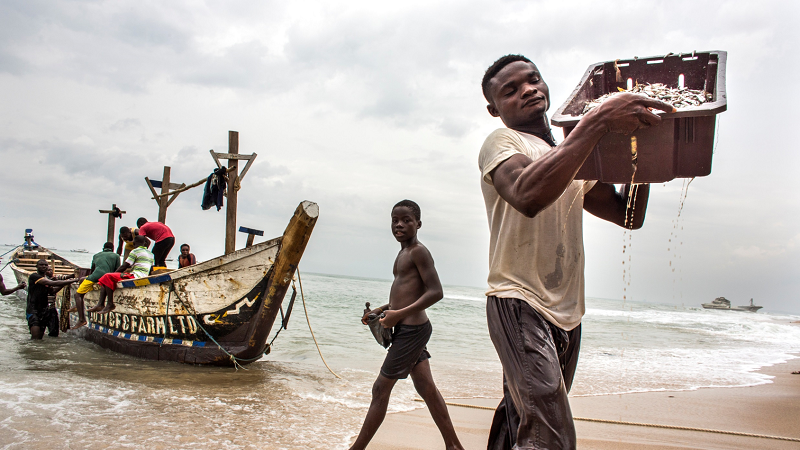 Photo: Andrea Borgarello / World Bank - TerrAfrica
Healthy oceans provide jobs and food, sustain economic growth, regulate the climate, and support the well-being of coastal communities.
Billions of people worldwide —especially the world's poorest— rely on healthy oceans as a source of jobs and food, underscoring the urgent need to sustainably use, manage and protect this natural resource. According to the OECD, oceans contribute $1.5 trillion annually in value-added to the overall economy.
The FAO estimates that around 60 million people are employed worldwide in fishing and fish-farming, with a majority of those employed by the capture fisheries sub-sector working in small-scale operations in developing countries. In 2016, fisheries and aquaculture produced roughly 171 million tons of fish, with a "first sale" value estimated at US$362 billion, generating over US$152 billion in exports, with 54 percent originating in developing countries. Moreover, fish provided about 3.2 billion people with almost 20 percent of their average intake of animal protein, with an even higher proportion in poor countries.
Healthy oceans, coasts and freshwater ecosystems are crucial for economic growth and food production, but they are also essential to global efforts to mitigate climate change. "Blue carbon" sinks such as mangroves tidal marshes, and seagrass meadows sequester and store more carbon per unit area than terrestrial forests. They also protect coastal communities from floods and storms. In turn, warming oceans and atmospheric carbon are causing ocean acidification, which threatens the balance and productivity of the oceans.
And yet, while ocean resources boost growth and wealth, they are brought to the brink by human activities. Fish stocks have deteriorated due to overfishing — the share of fish stocks outside biologically sustainable levels rose from 10 percent in 1974 to 33 percent in 2015, while in the same year approximately 60 percent of fish stocks were fully exploited. Fish stocks are affected by illegal, unregulated and unreported and (IUU) fishing, which may account for up to 26 million tons of fish catches a year, or more than 15 percent of total catches. In fact, overfishing and overcapacity squanders roughly US$80 billion annually in foregone economic benefits . Fish habitats are also under pressure from pollution, coastal development, and destructive fishing practices that undermine fish stock recovery.
Improved fisheries management, investment in sustainable aquaculture and protection of key habitats could restore the productivity of the ocean and return benefits to billions in developing countries, while ensuring future growth, food security and jobs for coastal communities.
Oceans are also threatened by marine plastic pollution and each year an estimated 8 million additional tons of plastic enter the oceans from land-based sources. Microplastics have been found around the world, in the food chain, air, oceans, rainwater, and ice in the Arctic. Plastic pollution hurts economies, ecosystems, food security, and might potentially impact public health. Addressing plastic pollution is complex, multi-sectoral, and country-specific; it requires putting a stop to leakages by improving solid waste management, building circular economies (following the principles of "3Rs" reduce, reuse, recycle), and encouraging clean-up.
Responding to COVID-19
The spread of COVID-19 has disrupted lives, communities, and economies worldwide, including those who depend on oceans for their livelihoods.
This includes fisheries, which play a key role for food security but are under threat if they are not managed sustainably. Increasing the level of fishing, by encouraging more people to start fishing, is a dangerous precedent that has been set in other crises and poses a serious risk to the sustainability of fisheries and jobs they provide. Likewise, disruptions in the value chain threaten the ability of fisherfolk to sell their catches, and make a living. Through its fisheries portfolio, the Bank can help client countries respond to this new pressure and to protect the integrity of fisheries.
Other affected sectors are ecotourism and coastal tourism where people are experiencing a decrease in their incomes or have lost their livelihoods altogether. Those still working face an increased health and safety risk. Long-term interruptions of tourism will have significant consequences for the countries that rely on this sector for the domestic economy.
The World Bank can help support local communities through smart investments to provide quick livelihood support in sectors like fisheries, tourism, and ecotourism. The World Bank is well-positioned to boost smaller enterprises, which would ease some economic pressure from the loss of jobs in the formal sector and allow for early inclusion of vulnerable groups, women, in the economic activity.
Coastal communities, particularly in small-island developing states, are heavily reliant on marine resources for their livelihoods and food security. Engaging these communities in conservation, restoration, and sustainable management of natural habitats can provide much-needed income in the short-term, while building socio-economic resilience as countries strive to revitalize their coastal economies.
The coronavirus pandemic also poses difficult short-term choices between health and the environment, resulting in an increased use of single-use plastics and increased production of medical waste, which can end up in the Earth's oceans. The World Bank Group is uniquely positioned to tackle this issue and will continue to do so. We finance solid waste management; recycling; clean production; and policy reforms for carbon pricing and green growth. We also support countries transitioning to a circular economy in places like Bangladesh, Lao PDR, Morocco and Pakistan. In low capacity environments, where waste systems are stretched or collapsed, the sea or rivers leading into the sea are used as dumping sites for medical waste. This is extremely hazardous to humans and marine life. The World Bank will be increasing its support to healthcare waste management activities in COVID-19 emergency projects. The World Bank Environment team is strengthening and improving healthcare waste management and providing gear and capacity building to health care providers (utilizing Occupational Health and Safety guidelines).