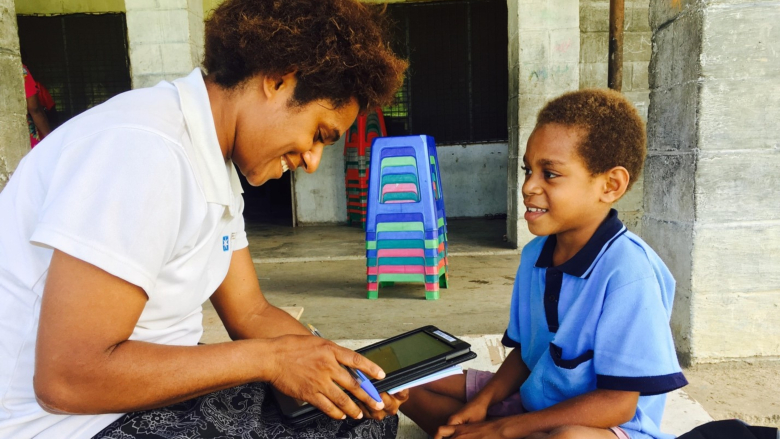 Measurement of education system performance is a cornerstone of improving learning. Acurate data underpins successful policies.
WHY IT MATTERS
Education systems need a broad range of high-quality data to monitor and promote student progress and to understand the links between inputs, policies, practices, and learning. From basic information on teacher absenteeism to detailed assessment of student learning outcomes and skills acquisition, data makes it possible for countries to understand the performance of their education systems and to identify changes needed in programs and policies. Increasingly, countries combine their own national learning assessments with regular participation in a growing range of international, large-scale assessments, such as PISA, TIMSS, and PIRLS. Initiatives like the World Bank's Systems Approach for Better Education Results (SABER) and Service Delivery Indicators provide countries with metrics on the quality of service delivery in schools.
OUR APPROACH
The World Bank supports the development and use of data to measure, track, and ultimately improve learning. Through the SABER initiative, the World Bank produces comparative data on education policies, institutions, and quality of service delivery with the aim of helping countries systematically strengthen their education systems. We continue to invest in developing global public goods to expand what can and should be tracked and analyzed, including rubrics for reviewing policies, approaches for measuring managerial capacity, and tools for analyzing student-teacher interactions. The tools we create offer open-source access, and we strive to make them adaptable to specific country needs. The data feeds into the World Bank's Human Capital Project, an ambitious new approach to focus and drive investments in people to improve lives and build stronger economies.
OUR PRIORITIES
1. Expand use of learning assessments We provide support for countries to conduct national learning assessments and to participate in international assessment, like PISA. We do this through our operations and the READ Trust Fund. We also are supporting new efforts to measure social-emotional skills of children.
2. Promote the use of evidence in developing and implementing programs The World Bank has expanded the portfolio of education impact evaluations and systematically applies the evidence generated. Through the Strategic Impact Evaluation Fund, we support scientifically rigorous evaluations of the impact of programs and policies to improve education and early childhood development.
3. Support the development of Education Management Information Systems Countries need Education Management Information Systems to collect, store, and analyze data on education for use in policy making. We work with countries to develop these systems and to ensure proper procedures for gathering and using the data.
4. Expand the range of tools to measure the quality of service delivery SABER's new Service Delivery tools allow country clients to identify what is happening in schools, making it possible to identify the resource and service delivery gaps that are hampering learning. The TEACH classroom observation tool assesses whether teachers' activities in the classroom reflect the pedagogical practices shown to be effective to improve cognitive and social emotional learning. The In-Service Teacher Training Survey Instrument makes it possible to contrast existing in-service teacher training programs with best-practice programs.
5. Benchmark policy efforts to improve education policies and service delivery The World Bank is developing a multidimensional Education Policy Dashboard to generate data on the strength of countries' commitment to basic education, and the quality of policies and service delivery. This will enable countries to monitor holistically the quality of the inputs and processes of their education systems— particularly teaching, inputs and infrastructure, prepared learners, and school management, and the policies that govern the education system, such as how teachers are recruited, assessed, and motivated to perform.
We support measurement of what students are learning and how school systems are functioning so countries know what is going well and what needs fixing.