UFT's current portfolio spans over 70 developing countries across a range of trade issues. These activities aim to improve trade policies, lower trade costs, and facilitate the movement of goods and services across borders. Many interventions use innovative approaches that have resulted in impacts that can be replicated in other countries and regions.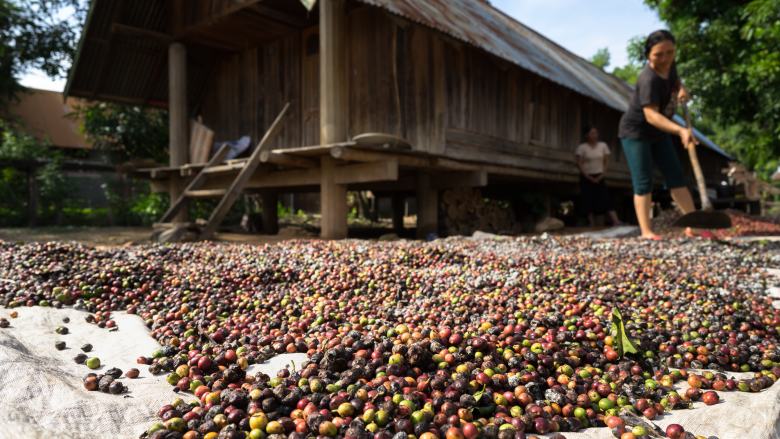 Dak Lak, Vietnam - Oct 22, 2016: Coffee beans drying in the sun on yard of house in village by Lak lake. Credit: Vietnam Stock Images, Shuttertstock
Trade Integration and Trade Agreements
Helping Vietnam's Global Integration through Trade: The Umbrella Facility for Trade supported a comprehensive analysis of the impacts of joining the Comprehensive and Progressive Agreement for Trans-Pacific Partnership (CP-TPP) to assess winners and losers within the country. On March 5, 2018 the report was officially presented to Vietnam Deputy Prime Minister, Mr. Vương Đình Huệ†. Three days prior to this event, Vietnam joined the ten member countries to sign the CP-TPP.
Global Value Chains
Vietnam Trade and Competitiveness Programmatic Approach: Vietnam is at a crossroads. It can continue to specialize in low value-added assembly functions, with industrialization occurring in enclaves with little connection to the broader economy or society. Alternatively, it can leverage growth to diversify and move up the chain into higher value-added functions. Using support from the Umbrella Facility for Trade, this report identifies interventions that will drive development by leveraging Global Value Chain (GVC) participation while also considering major trade policy shifts and rapid technological advancements.
Trade Facilitation
Western Balkans Trade and Transport Facilitation Project: The aim of the Western Balkans Trade and Transport Facilitation project is to reduce trade costs through improving transport efficiency in the Western Balkans. The Umbrella Facility for Trade supported three National Single Window Visioning workshops in Albania, North Macedonia and Serbia. A Single Window Gap Analysis assessment was also conducted in Kosovo.
Small-Scale Cross-Border Trade
Trade Facilitation West Africa (TFWA) Program: As part of a regional trade facilitation intervention in West Africa under the Trade Facilitation West Africa (TFWA) Program, seed funding provided by the Umbrella Facility for Trade was used to conduct a regional field study to generate empirical evidence to help address the issues affecting small-scale cross-border traders. The findings provided a solid understanding of respondent profiles, identified small-scale cross-border trader patterns in West Africa, and documented the main challenges currently facing traders, including women.
Trade Data
World Integrated Trade Solution (WITS): The WITS website brings trade data from multiple international organizations to a single platform, managing and harmonizing the data and calculation methodologies. WITS is a global partnership product developed with UNCTAD and in consultation with UNSD, WTO and ITC, and leverages the mutual strengths of the respective organizations in data collection, processing, online analytics and reporting.
Trade and Technology
Blockchain at the Border: The aim of this activity was to empower small- and medium-sized enterprises and female entrepreneurs in supply chains to make it easier for them to do business across borders. This pilot project was executed with support from the Umbrella Facility for Trade and relied on collaboration with Vietnam's Women's Initiative for Startups and Entrepreneurship (WISE) in Vietnam.
Trade Finance
Africa Regional Trade Facilitation Projects: RTFP1, RTFP2: Lack of trade credit and finance, arising in part from perceived credit and sovereign risk, are major obstacles to private sector development and regional trade integration in Africa. This activity supported by the Umbrella Facility for Trade provided assistance to the African Trade Insurance Agency (ATI) which provides credit insurance to support trade and investment flows in African member states, addressing critical market gaps.