Washington, 24 July 2018 – Take a close look at your smart phone for a moment. What do you see? A glass screen. A button equipped with fingerprint recognition. A camera lens, flashlight, microphone, and speaker. Each of these components, and others – including chips, processors, batteries – are independently sourced from companies located all over the world and assembled into a finished product at factories, often in China. Any smart phone you purchase, and its components, has likely passed through customs several times, landed on multiple countries and continents, and been touched by countless workers.
Logistics makes all this possible. A $4.3 trillion industry affecting nearly every country in the world, logistics is the network of services that supports the physical movement of goods within and across borders. It comprises an array of activities including transportation, warehousing, brokerage, express delivery, terminal operations, and even data and information management. How efficiently goods can move through these systems to their final destinations is a key determinant to a country's trade opportunities.
"Logistics are the backbone of global trade," notes Caroline Freund, Director, Macroeconomics, Trade & Investment Global Practice at the World Bank Group. "As supply chains become more globally dispersed, the quality of a country's logistics services can determine whether or not it can participate in the global economy."
Benchmarking Logistics Performance
With trade and logistics touching so many areas of an economy, it can be difficult to get a complete picture of a country's performance. This is why the Logistics Performance Index (LPI), part of the biennial report Connecting to Compete, evaluates countries across a number of indicators. The index, which takes into account factors such as including logistics competence and skills, the quality of trade-related infrastructure, the price of international shipments, and the frequency with which shipments reach their destination on time, helps governments benchmark their progress over time and in comparison to similar countries.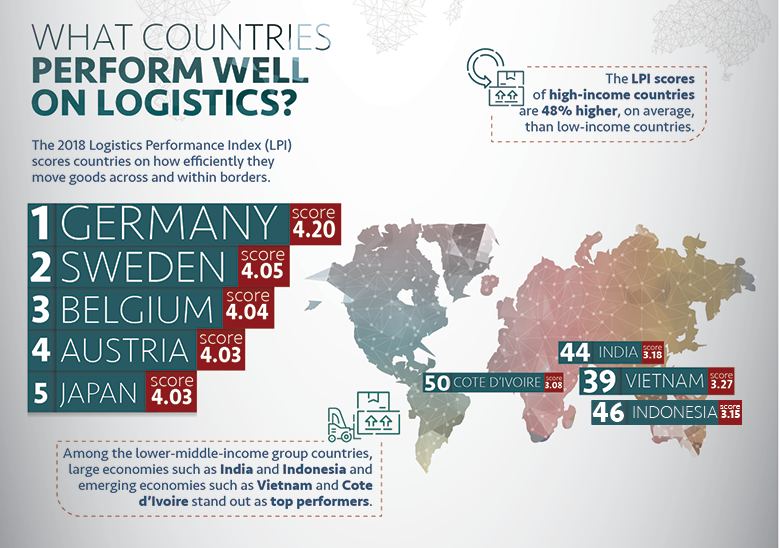 See the full infographic here