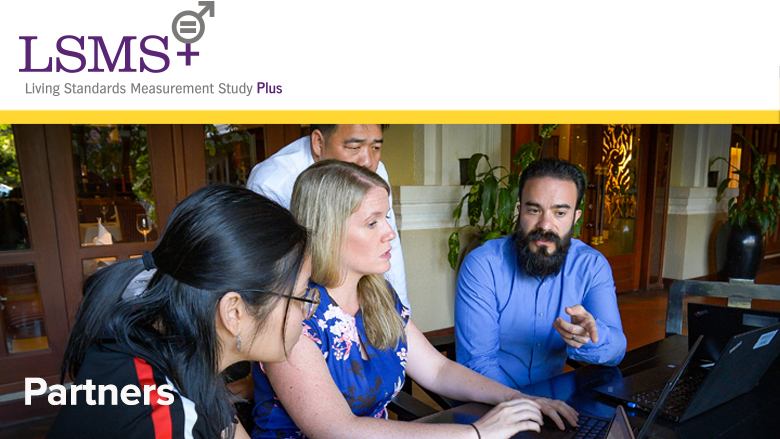 LSMS+ has been established with grants from the Umbrella Facility for Gender Equality Trust Fund, the World Bank Trust Fund for Statistical Capacity Building, and the International Fund for Agricultural Development.
LSMS+ has built on the World Bank partnerships with (1) United Nations Evidence and Data for Gender Equality (EDGE) Project on methodological experimentation and international guidelines on measuring asset ownership and control from a gender perspective, and (2) the International Labour Organization and the Data2X project on operationalization of new definitions of work and employment.
Over the period of 2016-2021, LSMS+ has been working, in collaboration with the World Bank Gender Group and the partner national statistical offices (NSOs), to fulfill the World Bank IDA18 commitment to support 6 IDA countries in collecting intra-household, sex-disaggregated household survey data on asset ownership, employment and entrepreneurship.
Finally, LSMS+ is a partner in several on-going initiatives focused on the collection and use of intra-household individual-disaggregated survey data:
Strengthening Gender Surveys and Statistics through IDA 19: In collaboration with World Bank Gender Group and Poverty and Equity Global Practice – working with NSOs in at least 10 IDA countries to increase the availability, quality, and relevance of gender data related to men's and women's economic outcomes, including access to more and better jobs, entrepreneurship, and ownership of assets.
Intra-Household, Individual-level Estimation of Poverty: In collaboration with Gender Group, Institute of Fiscal Studies and Simon Fraser University – developing and validating methods for using survey data to derive resource shares and intra-household poverty estimates.
Measures for Advancing Gender Equality (MAGNET) - In collaboration with World Bank Africa Gender Innovation Lab, International Food Policy Research Institute (IFPRI), International Rescue Committee, and Oxford University – developing improved survey methods for measuring control over assets, time use and agency.
Women's Empowerment Metric for National Statistical Systems (WEMNS) - In collaboration with IFPRI, and Emory University – developing a scale and associated fieldwork protocols for measuring empowerment at the individual-level in national household and farm surveys, including those supported by the 50x2030: Data-Smart Agriculture Initiative.