On June 4, the Ministry of Agriculture and Food and the World Bank will host a high-level conference on Transforming the Agriculture and Rural Development Sector in Bulgaria.
The conference aims to stimulate a broad discussion with sector stakeholders on the current challenges and future goals in the Bulgarian agriculture and rural development (ARD) sector, in relation to the long term global and European trends. It will also serve as a forum for the Ministry of Agriculture and Food senior management to present their long-term reform and investment priorities in the ARD sector, going beyond the EU-regulated framework.
Finally, as climate change is considered to be one of the global drivers of agriculture, the conference shall provide the key challenges on the vulnerabilities of Bulgarian agriculture, while highlighting some possibilities of adaptation in the changing climate.
The European Union (EU) and the world itself are facing a moment of transformation. Long-term challenges are strongly coming to the fore and call for decisive vision and action. Fast-growing global population, increased pressure on natural resources and a rapidly warming planet are setting a new operating environment. In Europe, ageing adds to the challenge.
All these will have profound implications on farming and rural livelihoods. While the global demand for food is rising, increasing urbanization, growing energy (and fertilizer) prices, stress on water resources, and increased climate-vulnerability of crops and livestock will curb food production.
Public and private actors must act collectively to override these threats and seize the new opportunities. In face of this, the EU has put forward an ambitious Europe 2030 strategy, anchored in three mutually reinforcing priorities: smart, sustainable and inclusive growth. The 2030 target of reducing greenhouse gas emissions by 40% sets the tone that all national and sectoral strategies must converge to.
At this time, Bulgaria must make strategic choices about the future of its agriculture and rural areas. These have to capture its unique potential and many strengths, and successfully respond to the changing global and European environment.
Drafting a long-term vision and strategy for the Bulgarian agriculture and rural development sector would constitute a major step forward towards a coherent, far-reaching and stable public policy framework.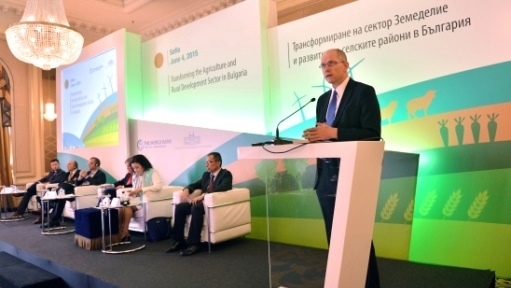 Тоny Thompson, World Bank Country Manager, spoke at the opening of the conference.