Urbanization Reviews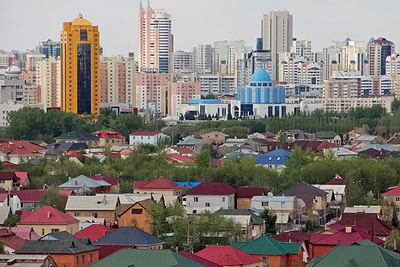 The growth of cities is driven largely by the economic prosperity that they help create. But today cities are growing at unprecedented and challenging speeds. The World Bank's Urbanization Reviews offer a framework for city leaders to make tough decisions on development in their cities by providing diagnostic tools to identify policy distortions and analyze investment priorities.
What must be done to improve living conditions, especially in slums and hazard-prone areas? To create jobs? To expand the coverage and quality of basic services? The Urbanization Reviews help answer these critical questions.
A series of prototypes have been piloted under the Urbanization Review, which seek to build a body of knowledge on urbanization challenges and public policy implications in a variety of country settings. Pilots in Colombia, India, Indonesia and Vietnam have already generated considerable traction with counterparts in national planning agencies and line ministries.
China: Toward Efficient, Inclusive, and Sustainable Urbanization
Prepared jointly by the World Bank and the Development Research Center of China's State Council, this report proposes a new model of urbanization that will help China prepare for rapid expansion, with 70 percent of the population – some one billion – expected to be living in cities by 2030. Six priority areas for reform are identified, including land management and institutions; the hukou household-registration system, urban finances, urban planning and design, managing environmental pressures, and local governance.
India: Urbanization Beyond Municipal Boundaries
This review looks at the pace and patterns of India's urbanization, providing a 100-year perspective on demographic shifts and a 20-year perspective on the spatial distribution of jobs across India's portfolio. It follows an earlier India Urbanization Review that focused on identifying options for accomodating India's rapid urban expansion, with the goal of nurturing metropolitan economies and connecting per-urban areas and included case studies.
This report is dedicated to understanding the key dimensions and aspects of Vietnam's urbanization process to identifying trends, opportunities, challenges and core policy priorities. (Also see a short presentation and local online news coverage).
Sri Lanka: Connecting People to Prosperity
This report provides new insights into geographic transformations in Sri Lanka and identifies public policy priorities for connecting people in economically lagging areas to places that are prospering.
Indonesia: Rise of Metropolitan Regions
This report provides a comprehensive assessment of the country's spatial patterns of urbanization and economic development and identifies key issues, constraints and opportunities for promoting faster and more inclusive growth.
Colombia: Amplifying the Gains from the Urban Transition
This review examines how Colombia can amplify the gains from urbanization by enhancing coordination, deepening economic connections, and fostering efficiency and innovation in financing.
To extract lessons learned, the Korea Urbanization Review examines how, through coordinated planning and connecting policies, Korea successfully managed its journey from incipient to advanced urbanization. (Also see slides on housing policy).
Uganda has started its journey into urbanization and economic development. This report outlines the policy priorities to harness economic and social aims from urbanization.