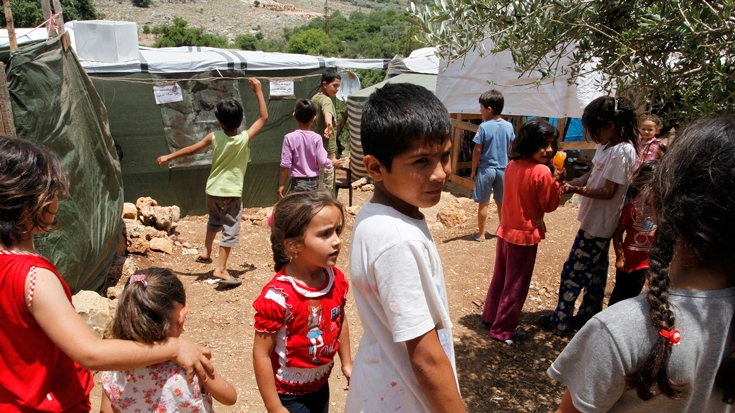 Globally, there are an estimated 65.6 million people who have fled their homes either as refugees (22.5 million), internally displaced persons (40.3 million), or asylum seekers as a result of conflict and persecution (UNHCR, figures as of end-2016).
Forced displacement is a crisis centered in developing countries, which host 89% of refugees and 99% of internally displaced persons. At the end of 2016, 55% of all refugees worldwide came from just three countries – Syria (5.5 million), Afghanistan (2.5 million) and South Sudan (1.4 million). They often flee to neighboring countries in search of safety; Turkey hosted the largest number of refugees, with 2.9 million people, followed by Pakistan (1.4 million), Lebanon (1.0 million), Iran (979,400), Uganda (940,800) and Ethiopia (791,600). Many crises are also protracted, with more than half of the global total of refugees displaced for over four years.
Forced displacement causes enormous human suffering, particularly for the extreme poor and vulnerable including youth, women and children. Children below 18 years of age constituted 51% of the refugee population in 2016, compared to 31% of the global total. Economic and social impacts are significant: the displaced have limited social capital and few assets, unable to make plans or find livelihoods with poor access to basic services. They are often traumatized, facing considerable uncertainty and at times discrimination.
Host communities and countries, many which are low-income countries themselves, face the challenge of pursuing their own development goals while accommodating a rapid and large number of newcomers, placing increased demand on services and infrastructure.
It is clear that this is not only a humanitarian concern but a development challenge as well, requiring close coordination between humanitarian and development partners from the outset of the crisis.
Under its mandate to reduce poverty, the World Bank Group is concerned about the welfare of the displaced as well as their host communities. The Bank is actively engaged to address this challenge through financing, data and analytics and operations, working in complementary ways with the United Nations Refugee Agency UNHCR and across humanitarian-development partners. As part of a global effort, the Bank takes a development approach, focused on addressing the social and economic dimensions of displacement crises in the medium-term, to help both refugees and host countries thrive.
The flagship report Forcibly Displaced: Toward a Development Approach Supporting Refugees, the Internally Displaced, and Their Hosts, examines available data to better understand the scope of the challenge, and suggests a development approach that aims to help the displaced access jobs and services so they can become self-reliant and rebuild their lives with dignity. It also emphasizes the need to support host communities manage the arrival of large numbers of people.
For low-income countries, the International Development Association, the Bank's fund for the poorest, is making an additional $2 billion available to support refugees and host communities. Eight countries so far - Cameroon, Chad, Republic of Congo, Djibouti, Ethiopia, Niger, Pakistan, and Uganda - have been found eligible for this financing, and projects are under preparation. Overall, interventions will aim to make a shift from crisis response to managing risks; support host communities and lagging regions; move towards social and economic inclusion; and take regional and country-level approaches.
For middle-income countries, the Global Concessional Financing Facility, launched in partnership with the UN and Islamic Development Bank, has unlocked $1.4 billion in concessional financing for Jordan and Lebanon, promoting job creation and expanding vital public services and infrastructure.
The GCFF has approved nearly US$200 million in grants to leverage five times that amount in concessional financing for projects to improve the lives of Syrian refugees and the communities hosting them by promoting job creation and expanding vital public services and infrastructure.
In the long term, the Bank is doing more to help fragile and conflict affected areas address the drivers of conflict and create more stable societies that provide opportunities for all, so that people will not need to risk their lives and flee in the first place.
Last Updated: Apr 11, 2018