Background
The Financial Inclusion Support Framework (FISF) is a World Bank Group (WBG) initiative that aims to accelerate and increase the effectiveness of reforms and other country-led actions to achieve national financial inclusion goals. Launched in April 2013 and welcomed by the G20 Finance Ministers and the Alliance for Financial Inclusion, FISF helps scale up and leverage the WBG's policy dialogue, analytical work and financing for financial inclusion. FISF has funding of $25 million from the Netherlands Ministry of Foreign Affairs, and $6.7 million from the Bill & Melinda Gates Foundation.
FISF-supported activities aim to help catalyze private sector financing, knowledge and innovation, to spur the usage of a broad range of financial services – payments, savings, insurance, credit – by low-income individuals and micro, small and medium enterprises (MSMEs), who are currently un- or under-banked.
Design
FISF has two main components: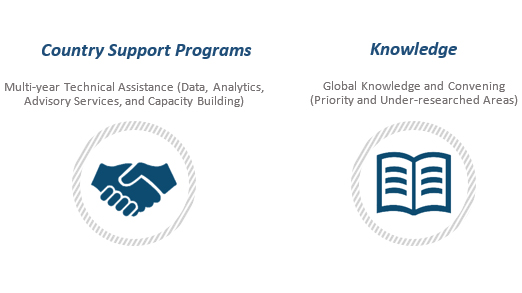 The Country Support Programs (CSPs) were structured as three- to four-year technical assistance programs organized under four thematic areas:
1. National financial inclusion strategy, and monitoring and evaluation;
2. Financial infrastructures, such as payments and credit reporting systems
3. Diversified financial services for individuals and enterprises; and
4. Financial consumer protection and financial capability.
Technical assistance provided under the CSPs built on and contributed to public and private sector commitment to financial inclusion. CSPs supported the design and implementation of key policy and regulatory reforms, financial infrastructure development, and the increased effectiveness of programs in strategic areas, such as Government-to-Person payments, and helped improve the financial capability of key population segments. All CSPs concluded by June 2020 and the program concluded in June 2021.
FISF's Knowledge component supports analysis, synthesis, and knowledge sharing in key underserved areas, such as the financial inclusion of women and individuals engaged in agriculture, and leveraging digital payments to provide access to a broader set of financial services.