Our biodiverse planet is threatened by an unprecedented transformation and exploitation of terrestrial and marine ecosystems – caused mostly by human activities. The upcoming 15th Conference of Parties (COP-15) of the Convention on Biological Diversity, offers an opportunity to reverse this biodiversity and ecosystem services loss as governments agree to a new Global Biodiversity Framework.
The World Bank Group is supporting the development of this Framework through a series of research papers which complement the World Bank's operations and engagement on biodiversity and ecosystems. These papers include an approach paper, Unlocking Nature-Smart Development; The Economic Case for Nature, which uses a unique modeling technique to estimate the cost of inaction and policies that could help reverse ecosystem services loss; a second paper called Mobilizing Private Finance for Nature and a third that examines the value of protected areas in promoting sustainable tourism.
Links to research papers:
This research initiative, called "The Road to Kunming," has been supported by the Global Partnership for Sustainability, with the objective of shedding new light on the linkages between healthy ecosystems and healthy economic and financial systems; and on the policies that can maintain or restore that nexus.
Mobilizing Private Finance for Nature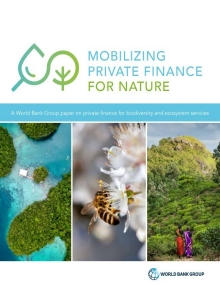 The report looks at the current state of play for private finance for biodiversity and ecosystem services. The report argues that the financial sector, has a critical role to play in addressing the global biodiversity crisis, and that governments and regulators hold the key to harnessing the power of the financial sector to mobilize private finance at scale to protect nature. The report highlights a set of "Big 5" ideas for actions that can be taken to better integrate biodiversity risk and opportunities into private sector decisions. These range from environment fiscal reform and better data collection, to broad support of the recently announced Task Force on Nature-related Financial Disclosures (TNFD).

Banking on Protected Areas Promoting Sustainable Protected Area Tourism to Benefit Local Communities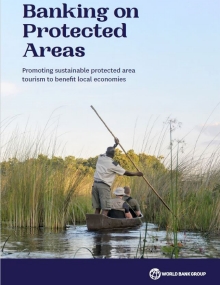 The report estimates the economic impact of tourism in protected areas on local economies and makes the case that the promotion of sustainable tourism in protected areas should be actively included in COVID-19 economic recovery plans, an investment that would provide jobs and support economic development while also protecting biodiversity, which is being lost at a rapid rate globally.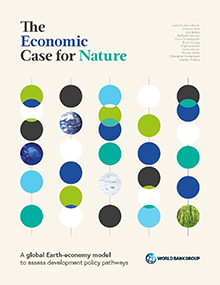 This report presents a first-of-its-kind integrated ecosystem-economy modelling exercise to assess economic policy responses to the global biodiversity crisis. Modeling the interaction between nature's services and the global economy to 2030, the report points to a range and combination of policy scenarios available to reduce the impact of nature's loss on economies. This modeling framework represents an important stepping-stone towards 'nature-smart' decision-making, as it seeks to support policymakers who face complex tradeoffs involving the management of natural capital, and hence achieving growth that is resilient and inclusive.

Unlocking Nature-Smart Development: An Approach Paper on Biodiversity and Ecosystem Services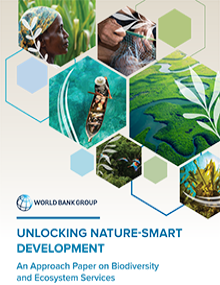 The approach paper outlines the development challenges and opportunities associated with blue and green biodiversity and ecosystem services. The paper makes the case that the rapid global decline in nature is a development issue and proposes six global response areas intended to guide governments and inform broader discussions on how to integrate nature into development agendas. As countries prepare to formulate a set of new biodiversity targets at the fifteenth meeting of the Conference of the Parties to the Convention on Biological Diversity, this paper also offers insights that could inform the design and implementation of the post-2020 global biodiversity framework, as well as the World Bank Group's ongoing support to this agenda.