"The priestly leaders of the Parsis were brought before the local ruler, Jadhav Rana, who presented them with a vessel full of milk to signify that the surrounding lands could not possibly accommodate any more people. The Parsi head priest responded by slipping some sugar into the milk to signify how the strangers would enrich the local community without displacing them. They would dissolve into life like sugar dissolves in the milk, sweetening the society but not unsettling it. The ruler responded to the eloquent image and granted the exiles land and permission to practice their religion unhindered if they would respect local customs, and learn the local language, Gujarati."
—Parsi legend
_________________________
Overview
Cross-border mobility is about people. It has many faces and comprises many stories: a construction worker mixing concrete, a family fleeing war, a nurse at a retirement home, a Nobel Prize winner, and possibly many readers of this report. Mobility is a fundamentally human activity, and it has been supporting the economic and social progress of humanity ever since Homo sapiens first left the Turkana Valley.
Mobility is an integral part of the development process. It is a mechanism for reallocating labor across economic sectors and geographical areas. It enables adaptation to shocks, stresses, and imbalances. Cross-border mobility inevitably comes with economic and social consequences for those who move, their communities of origin, and their destinations. And this involves primarily people from developing countries, who make up a large majority of the 295 million people living outside their country of birth — economic migrants and refugees — and a large share of their hosting communities.
Against the backdrop of a series of recent crises and longer-term trends, the question is: how to manage cross-mobility in a manner that is beneficial to all? This is key to achieving the development mandate of the World Bank Group (WBG) and the Sustainable Development Goals (SDGs) of the United Nations (UN).
The World Development Report (WDR) is taking a fresh look at these issues. It aims to shift from a narrow focus on labor markets for migrants and legal protection for refugees to a more holistic perspective — one that recognizes the humanity of migrants and the complexity of the societies of origin and destination.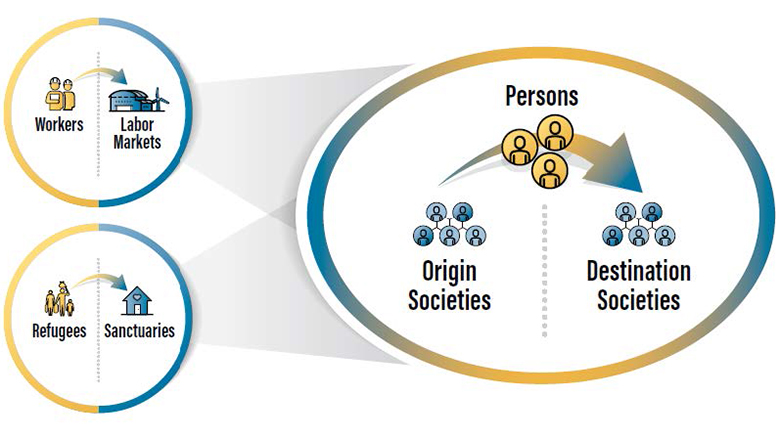 The WDR will focus on three main themes: drivers of mobility and the role of development; impacts and policy responses; and the need for collective action to strengthen the nexus between international protection and development. While recognizing that situations are very diverse and that there can be no "one-size-fit-all" approach, it will seek to identify policy options for each group of stakeholders — migrants' origin and destination countries, refugee-hosting countries, the international community, development actors, as well as the private sector and civil society — to deliver a system of "better mobility" in a transforming world.