How is it possible to have over-abundance on one hand and scarcity on the other?
This article argues it is vital to correct pervasive information asymmetries and transaction costs across a vast food system (Figure 1) to move toward a more inclusive, resilient and sustainable model. While large-scale industrial food production accompanied by just-in-time supply chains have produced many gains, the hazards of this system are increasingly visible on the horizon. The digital revolution offers the possibility of an alternative equilibrium, one where small-scale, flexible organizational and production systems flourish and nimbly navigate a changing operating environment. Small and interconnected may well be our salvation: the hundreds of shallow-draft ships that saved the day in Dunkirk, during World War II, when troops were pinned to the coast and large personnel carriers were no longer seaworthy, come to mind.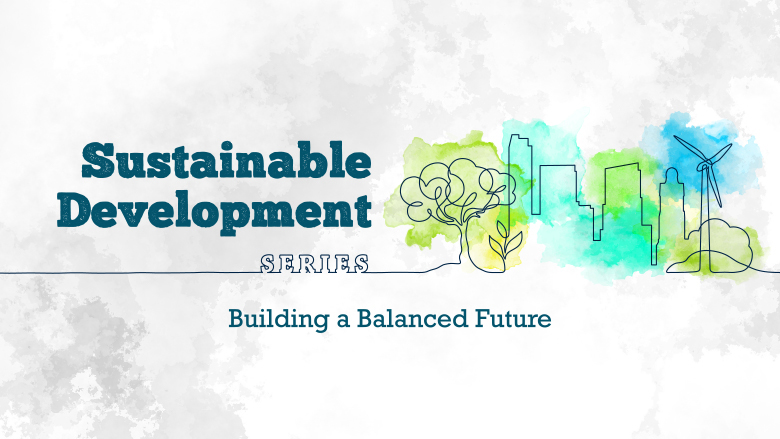 All of us, 7.7 billion and counting, participate in the food system in one way or another. We make decisions about the food we consume, the clothes we wear and the products we use – much of which originate in agriculture. Agricultural goods are produced on 570 million farms, most of them small, run by families, and located in developing countries. Food systems are local, an essential feature in communities—but also global, linked through trade and sophisticated financial and insurance markets.
Figure 1: Information Asymmetries and Transaction Costs Plague the Food System

Source: World Bank
Despite providing food for a world population that has more than doubled over the past 50 years, the food system is severely off course in helping us achieve Sustainable Development Goals related to hunger, poverty, health, land use and climate change. Although we're producing plenty of food globally, the number of undernourished has been rising since 2014 (Figure 2). One in five children under the age of five is stunted producing lifelong negative consequences on productivity. Agriculture contributes 24 percent of greenhouse gas emissions, consumes 70 percent of fresh water, and has caused the loss of 60 percent of vertebrate biodiversity since the 1970s. The cost of these negative externalities is $12 trillion according to the Food and Land Use Coalition, outweighing a market value of $10 trillion.
Now, an additional 100 million people are under threat of poverty because of the economic impacts of the pandemic, according to the June 2020 Global Economic Prospects report, pushing us further from our goals by shrinking incomes and creating food and nutrition access challenges that may result in large-scale famine according to the World Food Programme.
Figure 2: The Food System Is Not on Course to End Hunger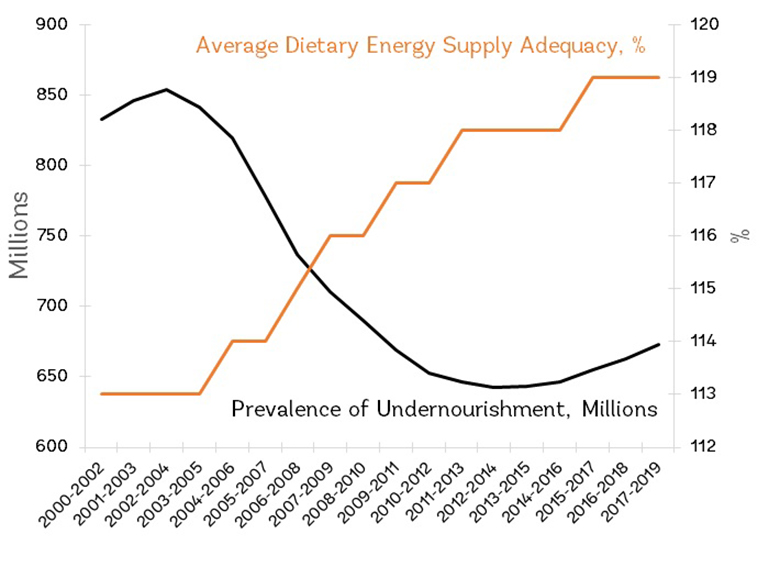 Source: FAOSTAT (2020)
How can we set a new course for the food system – one that reduces hunger and delivers healthy people, a healthy economy, and a healthy planet?
Imagine the planetary system on which the food system depends as an overloaded boat becoming increasingly 'tippy' with each additional piece of cargo – population growth, climate change, loss of biodiversity, pollution, land degradation and so on. With two food security crises in a decade,[i] albeit of completely different origin, we're wobbling and getting closer to the tipping point. And solving this won't be accomplished by only jettisoning the latest piece of cargo – the coronavirus. Multiple factors need addressing. Fortunately, Mother Nature is amazingly resilient and, combined with human ingenuity, will enable us to recover from the current crisis, as it did from previous ones. Let's take it as an opportunity to shift the course of the food system.
Earlier course shifts in agriculture and food industries, marked by several agricultural revolutions, raised agricultural productivity, increased food supply, reduced real food prices, helped free up labor and capital resources for investment in other sectors, paved the way for urbanization and the industrial revolution, and led to the corporatization of agri-business. Unlike prior revolutions that originated with on-farm innovations before spilling over to rural communities, and then firms up and down the value chain (think of the use of the cast iron plough during the British Agricultural Revolution; or enhanced seed and fertilizer packages during the Green Revolution), today's digital innovations are promoting efficiencies at multiple points along the food value chain.
Digital platforms from Alibaba to YouTube are disrupting traditional business models across the system and Venture capital investors poured $2.8 billion into agtech startups across the globe in 2019.
But digital innovation is only as good as its purpose. To yield positive outcomes, public policy must boost complementary infrastructure and human capacity, address gender access disparities, and pay close attention to environmental benefits -- all salient issues that our forthcoming report "Digital Acceleration of Agricultural Transformation" will delve into when it is published in late 2020. In this article, however, we focus on just three recommendations to accelerate the shift towards a more sustainable food future. Public policies should seek to De-concentrate markets and supply chains, Decentralize traceability, and Disseminate data.
The first D: De-concentrate markets and supply chains
Highly concentrated and segmented markets and supply chains generate enormous efficiency gains but make it hard and costly for sellers and buyers to find each other and transact. Concentration can take many shapes and forms – from concentrated physical markets to concentrated market shares. Both are perilous, particularly in times of crisis. The Titanic was the biggest, most luxurious state-of-the-art passenger ship when she set sail on her maiden voyage. Everyone thought it was "too big to sink" and we all know how that ended.
In Peru, 80 percent of merchants at a major central fruit market in Lima tested positive for coronavirus. Although it was identified as a point of contagion, authorities felt they could not afford to close the market because it would result in significant food shortages. In the United States, the retail food sector is increasingly concentrated in a small number of large companies (Figure 3) that may be less agile in adapting to changes in consumption patterns and less resilient to demand shocks. Still in the United States, the impact of coronavirus on meatpacking workers underscored the scale of meat operations and the very high market concentration of the meat industry, with impacts from closed meat packing plants in Illinois rippling up and down the supply chain. These problems will likely only get worse as trends toward increasing concentration and segmentation are accentuated by geography and trade politics, contributing to the unique coronavirus-induced surpluses and shortages we are experiencing today.
Figure 3: Retail food markets in the US are thinning
Source: USDA ERS, Calculations from U.S. Census Bureau Monthly Retail Trade Survey, Industry reports; It is updated and adapted from Steve Wood, Revisiting the US food retail consolidation wave: regulation, market power and spatial outcomes, Journal of Economic Geography, Volume 13, Issue 2, March 2013, Pages 299–326
A study that compared transaction data from a digital platform with physical commodity auctions held weekly, and farm-gate prices in the coffee producing regions of India, found that producers obtained significantly higher prices when they sold the commodity through the digital platform rather than at the farm-gate through brokers. Alibaba's Taobao online marketing platform described in a recent IFPRI blog is another case in point: The county of Shuyang, where 86 of China's 4,310 Taobao Villages are located, has undergone "a dramatic transformation from one of the poorest counties in Jangsu province to a well-off landmark for agricultural e-commerce in China." Thanks to a thriving horticulture industry backed by e-commerce, the county's GDP surpassed $11 billion in 2018 and 41,000 people were lifted out of poverty.
In the state of Kansas, in the United States, social media helped connect ranchers and consumers looking for quality beef after the coronavirus had emptied local meat counters. In India, the Odisha Rural Development and Marketing Society initiated a system for doorstep delivery of vegetables by producer organizations, using point-of-sale machines for digital payments and electronic weighing machines. Working in partnership with Odisha Livelihoods Mission, Mission Shakti, partner NGOs, and district officials, the society quickly put in place a delivery model and arranged vehicles and passes from the police for transporting the vegetables, giving more people access to fresh vegetables while protecting farmers' livelihoods. In Kenya, the pandemic is giving a boost to companies that had already taken the leap toward digital. Launched in 2014, Twiga Foods, for example, is a mobile-based business-to-business digital commerce platform that matches small-scale supply and demand for fruits and vegetables and cuts out layers of middlemen, thereby eliminating waste and reducing food prices for mass market end-consumers. An IFC client, the company is using the same technology to make it easier for consumers to access food during the pandemic.