International Development Association (IDA) provides support to the world's 74 poorest countries. IDA20 was advanced by one year, and at the final meeting held in December 2021, development partners agreed on a historic $93 billion financing package to help countries recover from the COVID-19 crisis and build societies adapting to climate change. To learn about IDA and the World Bank Group's challenges going forward, we interviewed Vice President Akihiko Nishio, who led the IDA20 replenishment negotiations.
By Mitsuya Araki, Editor-in-chief of International Development Journal (IDJ)
Focus on "Human Capital" among others as priority themes
――Tell us about your career.
I worked for Overseas Economic Cooperation Fund (OECF) before joining the World Bank in 1988 through the Young Professional Program. Since then, I held diverse positions across the institution, including taking part in IDA15 replenishment exercise in 2007. As Director for Strategy and Operations for Equitable Growth, Finance and Institutions (EFI), I managed several thousands of staff. In 2019, I assumed the Development Finance (DFi) vice presidency, which used to be assumed by someone with an European origin. I led both IDA19 and IDA 20, which, in total, mobilized nearly 20 trillion yen (USD 175 billion).
――Give us a sense of the the World Bank strategy going forward.
We have come up with a Green, Resilient and Inclusive Development (GRID) approach, with the view to providing support to developing countries whose economies are severely damaged by the pandemic, as they are most likely to miss the poverty reduction target set by the Sustainable Development Goals or SDGs. Our aim is to realize a swift recovery that is green and highly resilient to future crises that benefits not only the advantaged but also the entire population. IDA20 replenishment is aligned with this approach.
IDA20 has adopted "climate change," "fragility, conflict and violence (FCV)," "gender," and "job and economic transformation," and "human capital" as special themes. Human capital covers issues as COVID19 vaccination rollout and building resilient healthcare systems.

Increasing presence of Asia as donors
――Share with us your perspectives on Asia.
East Asia has achieved steady economic development over a sustained period, and has outperformed other regions. Most successful countries, such as the Philippines, Thailand, and Malaysia, have even become donors to IDA. Thailand, in particular, has considerably increased its contribution to IDA20.
Among South Asian countries, India graduated from IDA several years ago and is now an IDA donor. Pakistan still borrows from IDA but became a donor country several years ago, affirming that they would also like to contribute to IDA.
While the United States and European countries still hold a major presence among IDA donors, Asian countries have increased their presence. Japan has been a major donor since IDA's establishment in 1960, and China and Korea, both initially borrowers, have become major donors by now.
However, we should not be complacent. Many countries in the East Asia region are heavily dependent on China economically, and thus vulnerable to the slowdown of Chinese economy. Added to this is the disruption of supply chains under the pandemic, resulting in constrained growth.
In South Asia, division among countries poses major economic challenges. Given political and historical challenges, economic and people-to-people interactions are anemic among these countries. If the region holds together as a single market, it has the capacity to demonstrate great competitiveness. If India, Pakistan, and Nepal can work together, for example, they have the potential to generate huge hydroelectric power, with the capacity of building a cross-border power grid in the region. However, the decoupled relationships among the countries are not making such regional cooperation possible.
――How about Myanmar?
Operations in Myanmar have been suspended. However, our Country Director remains in Yangon, and we are continuing our engagement with other aid agencies and donor countries in the field on how to support the poorest people.

Africa's challenges: human capital and connectivity
――Tokyo International Conference on African Development (TICAD 8) is scheduled to take place this year. How will WBG support to Africa look like going forward?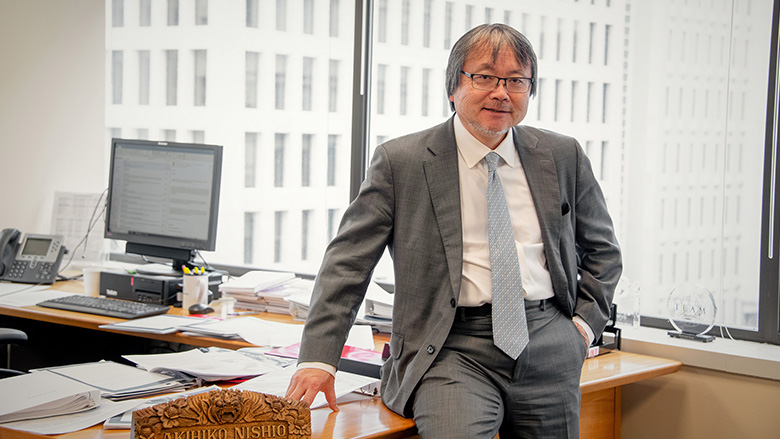 In Africa, deficits in human capital are more acute than in other regions. Human Capital Index clearly stands very low in Africa. The World Bank therefore aims to focus on education, health, and nutrition.
In addition, for more than a decade, the World Bank has been working hard on regional projects that connect multiple countries. There are many regional integration projects, including cross-country highways and power projects that come along with enhanced grid connections. With many landlocked and small states, Africa is yet to be fully integrated as a single market. While Africa has put in place the African Continental Free Trade Area (AfCFTA) since January 2021, it remains fragmented, and more needs to be done to strengthen the connectivity.
Yet another immediate challenge is to boost COVID vaccinations. In Africa, vaccination ratio remains less than 4% of the total population. The World Bank, World Health Organization (WHO), COVAX and other institutions need to come together to address the challenge.
Let me also underscore that the World Bank is stepping up adaptation finance in Africa and beyond, including by providing support in agricultural area and others.

Expectation for Japan: a more active role in drawing up country-level development strategies
――Any advice/suggestions to Japan's aid?
Japan's aid is appreciated. In my view, this can be attributed to o Japan's sustained commitment to the long-term development of developing countries, which is underpinned by Japan's knowledge and expertise. Of particular note is Japan's expertise on disaster risk management, which has been harnessed elsewhere.
Japan has also been a leader in the area of nutrition. The COVID-19 pandemic has disrupted food supply chains, posing serious challenges from food insecurity. But this is a chronic issue, as malnutrition among children has been an issue for decades in many low-income countries. Japan has played a leading role in the international community, including by hosting the Tokyo Nutrition for Growth (N4G) Summit in December 2021.
Another topic that Japan has been focusing on is the "Universal Health Coverage (UHC)" whose goal is to ensure that everyone can access basic health services at affordable cost. COVID has been a reminder call that achieving UHC is critically important. This is yet another example where Japan's long-standing efforts are highly appreciated.
Also, in the IDA20 replenishment, the Government of Japan has demonstrated outstanding leadership. Initially, most of the donor countries were reluctant to advance the replenishment given their tight fiscal constraints. Japan's strong call to advance the replenishment by one year was deeply appreciated by recipient countries.
Let me finally provide a personal suggestion to the Japanese aid community: deeper engagement with WBG country-strategies. The World Bank Group has started to work on Country Climate and Development Reports (CCDRs) to help countries align their climate actions and development efforts. If Japan could play a more active role in joining the discussion in the field, it would be appreciated. The World Bank prepares CCDRs for each client country, with inputs from donor countries and aid organizations. It would be great to see Japan play a more active role in shaping assistance strategies, drawing on its knowledge and expertise.