Boosting Health Systems | Protecting the Poorest and Most Vulnerable | Supporting Businesses and Jobs | Procuring and Deploying Vaccines
Nyozmoh Mirzoeva, a 62-year-old grandmother in Tajikistan, has experienced extraordinary hardship over the past couple of years. In early 2020, Nyozmoh's husband, an electrician, died in a work-related accident and, not long after, her son migrated to Russia in search of work as a laborer. Prevented from seeking employment because of a long-term disability, Nyozmoh struggled to support the rest of her family, including young grandchildren.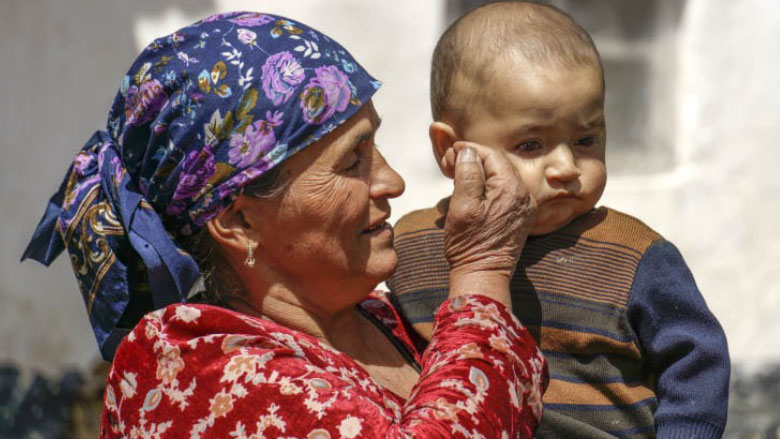 Nyozmoh Mirzoeva and her grandson outside their home, Tajikistan (Photo: World Bank)
Compounding the enormous challenges facing Nyozmoh, the COVID-19 pandemic spread rapidly across Tajikistan in mid-2020. Like her family, the poorest households around the country had to significantly cut back on essential needs in order to get by from day to day. Four out of ten Tajik households have reported they were forced to reduce their consumption of food, while one in five families have said they were unable to obtain medical care.
Tajikistan, one of the poorest countries in the Europe and Central Asia region, was among the first countries to receive emergency support from the World Bank to respond to the pandemic. In April 2020, the Bank approved $11.3 million in financial support to help strengthen healthcare capacity, provide emergency cash assistance to poor households, and communicate effectively to the public about how to prevent the spread of the coronavirus. The Bank has since provided an additional $21.2 million in financing to further strengthen Tajikistan's COVID-19 response, help vulnerable households, procure and distribute vaccines, and scale-up earlier interventions.
Like Tajikistan, all countries in Europe and Central Asia have been severely affected by COVID-19. To help countries tackle the health, social and economic impacts of the pandemic, the World Bank has to date committed more than $1.8 billion in overall support to the region.