Cities in developing countries are increasingly adopting low-cost and high-impact smart solutions to address urban development challenges; yet, the deployment of such smart solutions lays bare existing challenges - such as insufficient resources and planning, a lack of capacity building opportunities for city practitioners and the digital divide among citizens.
Tackling this inequality is key for cities to improve socioeconomic outcomes and reduce their vulnerability to pandemics such as COVID-19. Discussions around solutions to bridge these gaps were front and center at the 9th Asia Smart City Conference (ASCC), organized by Yokohama City in collaboration with the World Bank Tokyo Development Learning Center (TDLC) on January 18, 2021.
One-stop data infrastructure: Key to building smarter cities in developing countries
One of the toughest issues facing many cities, especially in developing countries, is the lack of evidence-driven planning and decision making, which is necessary to realize livable urban environments. "Smart cities — with their ability to harness technology to improve planning and the efficiency of service delivery, and their governance and effective urban management — are key to achieving a green, resilient, and sustainable future for all," Sameh Wahba, Global Director for the World Bank Urban, Disaster Risk Management, Resilience and Land Global Practice (GPURL), said during his keynote address at the event.
To address this concern, the World Bank has been supporting the government of Indonesia through its City Planning Labs (CPL) initiative under the Indonesia Sustainable Urbanization Trust Fund (IDSUN), which seeks to strengthen local governments' data foundation and leverage digital intelligence within existing urban systems.
"Many smart city initiatives, despite their potential, have largely focused on smart apps rather than evidence-based planning and city management," said Gayatri Singh, the World Bank Senior Urban Specialist leading CPL in Indonesia.
Over the years, CPL has worked collaboratively with a number of city agencies globally to develop its Municipal Spatial Data Infrastructure (MSDI), an ecosystem approach that integrates various urban planning and management tools, knowledge, and action plans under a four-pillar framework: institutions, people, data and systems. Under this ecosystem, data is treated in the same way that a physical road would be — requiring regulation, verification, and maintenance. By so doing, these data sets can be properly integrated and serve as a powerful tool to accelerate evidence-driven city planning and management.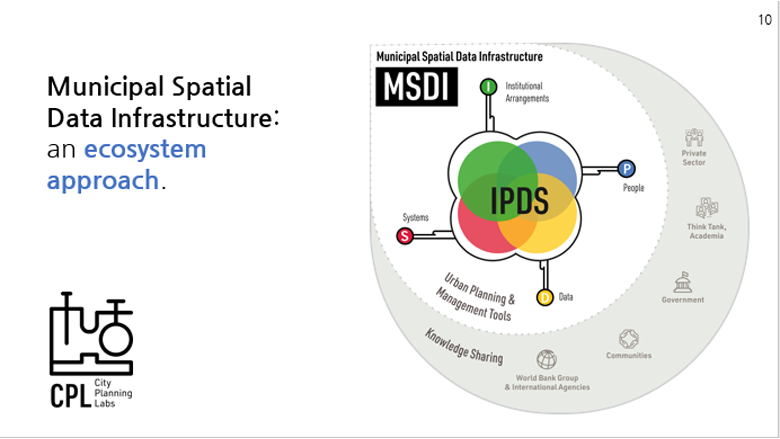 Image: City Planning Lab's Municipal Spatial Data Infrastructure concept map (from the presentation shared at the 9th Asia Smart City Conference)
Today, all three CPL cities in Indonesia (Balikpapan, Denpasar, and Semarang) have established data governance frameworks in the form of One Data Mayoral Decrees that have created the framework for institutional arrangements to break data silos and promote inter-agency collaboration and data-sharing.
"What has been achieved together with the cities has gone beyond our initial expectations," said Singh, adding that such success was only achieved by fostering collaborations across city agencies. "It is not time to compete, it is time to collaborate," she stressed, calling to donor agencies, universities, the private sector, and governments to work together and deepen data-driven management of cities.
The city as producer: Sharing Yokohama's development experience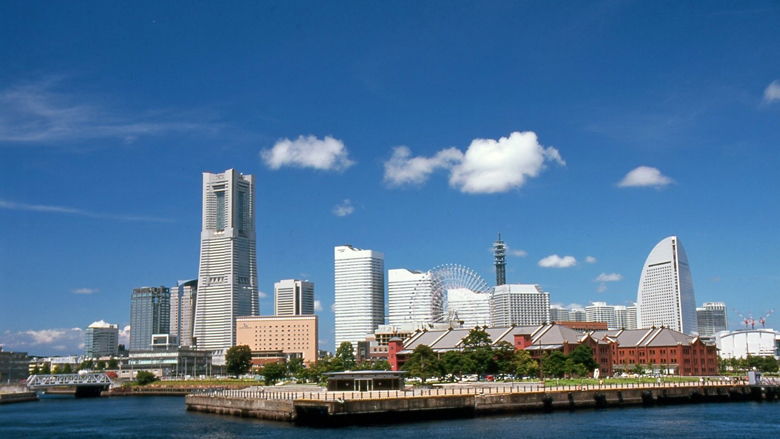 Today, Yokohama is a leader of smart city development in Japan; yet, back in the 1960s, the city faced challenges not unlike those that Dhaka or Indonesia face today. In 1964, only 1.2% of toilets in Yokohama were connected to the municipal sewage system. The city struggled with air pollution, heavy traffic jams, and underdeveloped school buildings.
Under the slogan of "Control, Project, and Design," the city undertook six major redevelopment projects — with limited resources and knowledge — in collaboration with the private sector and its citizens. As a result, Yokohama now boasts a new city center, factory park, sophisticated residential districts, expressway and subway systems, and several infrastructure landmarks such as the Yokohama Bay Bridge.

In collaboration with World Bank TDLC, Yokohama has also documented its evolution in the Yokohama Development Knowledge Sourcebook, in order to share the city's knowledge and experience in context with developing countries facing similar issues.
A key factor in the city's success was the creation of an environment conducive to public-private partnerships (PPP). "Local government should redefine their function as a producer," said Mr. Toru Hashimoto from Yokohama's International Affairs Bureau during his presentation at the ASCC. With a city functioning as a producer, it can set the stage for actors in the private sector and citizens to collaborate. In Yokohama, this brought about innovations that transformed the city, making it smarter and more livable for all citizens. In this way, the Yokohama case, in addition to other smart cities in Japan, can provide valuable insights and takeaways as developing countries continue to explore applying smart solutions to address their urban challenges.