October 19–23, 2020
Solid waste management is a major issue for cities across the world. According to the World Bank's recent report, What a Waste 2.0, waste is forecasted to increase by 70% by 2050. Waste generation is positively correlated with urbanization, which is rapidly increasing, along with density; this in turn will generate new challenges, with the health, safety, resilience, and productivity of cities at stake.
Waste is a global problem but has traditionally been seen as a local activity, managed at the municipal level. One positive trend is that an increasing number of national governments are making national commitments to reduce pollution, increase recycling, and shift towards a circular economy; and yet, local governments are still struggling.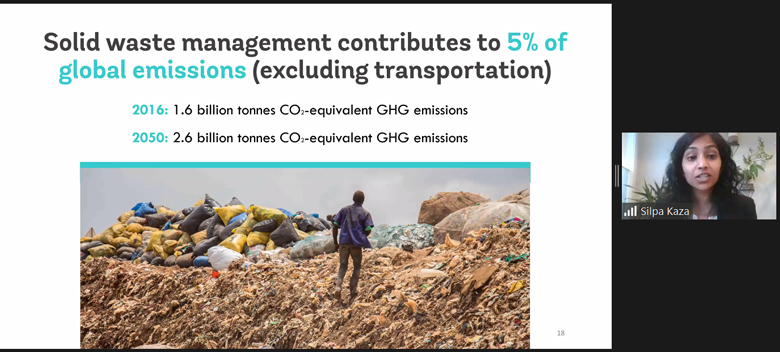 Silpa Kaza, Senior Urban Development Specialist at the World Bank introduces a global picture of solid waste management at a framing panel discussion during TDLC's virtual Technical Deep Dive on solid waste management. Photo: World Bank Group
According to Kremena Ionkova, Senior Urban Development Specialist at the World Bank, local governments often lack autonomy and resources to implement Solid Waste Management measures; thus, it is crucial for national governments to create an enabling environment — the institutional structure, policy, and financing that create conditions to guide, empower, and incentivize local authorities. This was one of the key takeaways from the first virtual Technical Deep Dive (TDD) on Solid Waste Management (SWM), hosted by Tokyo Development Learning Center October 19–23.
Japanese cities' community-based solutions to solid waste management
The virtual TDD introduced two case stories from TDLC's partner cities — Kitakyushu and Fukuoka — to showcase how these cities have developed their own unique solutions to the issue of waste.
In 1998, the city of Kitakyushu introduced a prepaid bag system for household waste to offset collection costs. Initially, public reception towards the new policy was poor; however, an extensive citizen outreach program — conducted on citizens' terms — generated hundreds of local volunteers who monitored collection points. Yuji Aoyagi, Executive Director of the Kitakyushu Bureau of Environment, attributed the policy's success to citizen engagement.
Kitakyushu has been able to build on this success, gradually raising fees and introducing new categories of recyclables. Today the city stands out as one of the brightest examples in the field of solid waste management, and recycling in particular. Moreover, as fees have gone up, waste production has declined, and the city's waste management system has become a source of civic pride.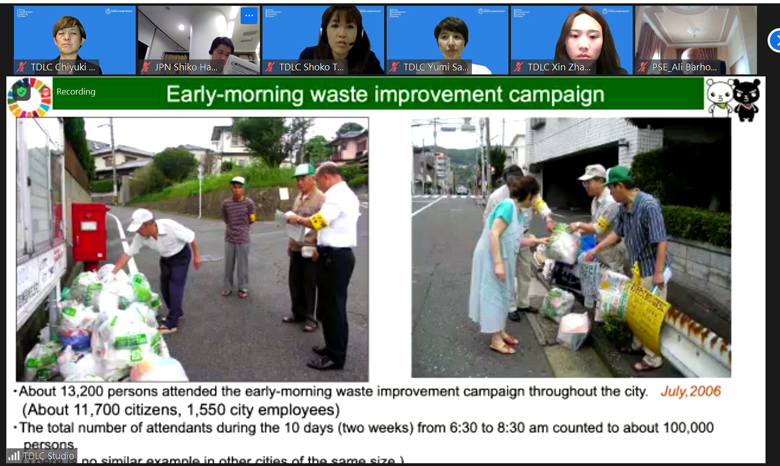 A slide from Mr. Aoyagi's presentation, showing citizen volunteers at waste collection points in Kitakyushu. Photo: Kitakyushu Bureau of Environment
Fukuoka is another Japanese city whose residents rate their garbage collection services favorably. In a recent municipal survey, 98% reported satisfaction. A key aspect of Fukuoka's approach is nighttime collection, which has several advantages over daytime collection: it circumvents (and does not contribute to) traffic; it means waste is not seen on streets, creating a more attractive city environment; and the presence of collectors on the streets at night contributes to public safety.
Fukuoka is also known for its unique, semi-aerobic landfill management system, which is fairly low-cost to set up and maintain; does not require advanced technology; and has environmental advantages — it produces 50% less greenhouse gases than traditional landfill methods. The method is easy to replicate, and has already been applied in 17 countries.
Solid waste management in the time of COVID-19
Anecdotal evidence suggests varied levels of impact on municipalities by the pandemic, which is still an evolving situation. In Tokyo, for example, work-from-home policies caused household waste to increase and commercial waste to decrease, explained Yasuo Furusawa, Director of Sustainable Materials Management at the Tokyo Metropolitan Government Bureau of Environment, in a presentation outlining Japan's protocol for handling waste during the pandemic.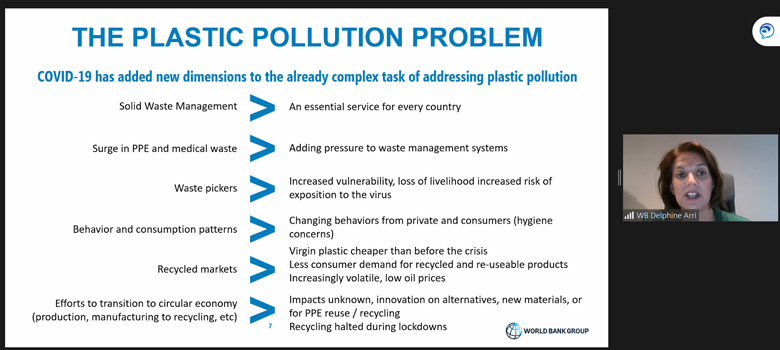 Delphine Arri, Senior Environmental Engineer at the World Bank, presenting on plastic pollution and upstream circular economy instruments. Photo: World Bank Group
The COVID-19 pandemic has also increased the use of single-use plastic (including but not limited to PPE) across the globe due to hygiene concerns, setting back efforts to curb plastic use. Delphine Arri, Senior Environmental Engineer at the World Bank, suggested incorporating plastic pollution efforts into COVID-19 recovery packages as a countermeasure.
The TDD was hosted entirely online, with daily sessions that included live presentations from international and Japanese experts, a video tour of waste collection processes in Kitakyushu, and online discussions. A total of 75 participants from 11 countries (Columbia, El Salvador, Estonia, Georgia, Ghana, India, Liberia, Pakistan, Philippines, South Africa, and West Bank and Gaza) joined the event.
Technical Deep Dive (TDD) is a cohort-based, knowledge acceleration program and the signature project of the Tokyo Development Learning Center (TDLC). Each week-long session examines an issue pertinent to cities via expert panels, site visits, and peer exchanges, drawing on global and Japanese best practices to generate actionable solutions that can be applied to World Bank projects in developing countries.