Dušan is a student at the University of Belgrade in Serbia. Like many of his classmates, Dušan will be finishing his degree soon and will begin looking for a job. Unfortunately for Dušan, his classmates, and countless other young people looking for work in Albania, Bosnia and Herzegovina, Kosovo, FYR Macedonia, Montenegro, and Serbia – the six countries making up Southeast Europe - the prospect of finding a job is low and the likelihood of sustained unemployed is high.
"I am not overly ambitious career-wise" says Dušan, "I would be very satisfied if my job would make it possible for me to support myself and my family."
As humble and reasonable as these expectations seem to be, they are nonetheless rather difficult to meet. With an unemployment rate above 20% and a youth unemployment rate of nearly 50%, Dušan's native Serbia – like all of the six countries in Southeast Europe - continues to grapple with high unemployment, limited growth, and ongoing financial hurdles brought on by the global financial crisis.
Sadly, Dušan's story is not unique in a region where one out of every four young persons is not working, or studying, or looking for a job - and where the regional unemployment rate is approaching 35%. The labor markets in these six countries are characterized by involuntary unemployment, underemployment, inactivity, and discouragement – especially among people between the ages of 15-24.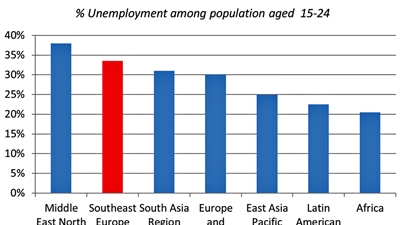 "What would be good for me," says Gazmend, a 24 year old construction technician from Sarajevo, Bosnia and Herzegovina, "is to have a permanent job and insurance." Even when young people are fortunate enough to find employment, however, the jobs they take are often part-time, temporary, or part of the informal sector - excluding them from benefit systems and other perks.
Declining consumption and investments, along with limited access to finance, are only exacerbating an already difficult situation for young people in the region. Beyond job creation, issues relating to labor regulations, taxation, and skills mismatches, all disproportionately affect youth - particularly young women and those from disadvantaged backgrounds – and lead to increases in unemployment, dissatisfaction, and youth emigration.
Although this situation has been studied in detail by experts from around the globe and many important national programs have been designed and implemented, the impact of these efforts has been limited and challenges still remain. In response to this ongoing problem of youth unemployment, regional policy makers are working with experts from multilateral organizations, academic institutions, and other spheres to explore further measures that can have a greater impact on the situation throughout Southeast Europe.
Some focus areas of this collaboration include:
reforms capable of fostering entrepreneurship;
reductions in labor costs associated with young workers (e.g. special regimes for apprenticeships);
regulations that protect workers rather than jobs;
improvements in primary and secondary education with an increased focus on stronger links between vocational education and private sector needs;
the removal of barriers faced by specific sub-populations of youth, such as improved availability of child care for young women and subsidized apprenticeships for youth from disadvantaged backgrounds.
As part of this regional coordination, a high-level policy dialogue on youth unemployment took place on October 21 in Vienna, Austria. This event, organized by the World Bank, the Austrian Finance Ministry, the Vienna Institute for International Economic Studies, and the Global Development Network, brought together senior policy makers from all six countries – including Ministers of Labor, Social Policy and Youth – and representatives from a number of international organizations, think tanks, and youth representatives to analyze lessons from different policies. Participants also outlined critical areas where further analysis, policy development, and action are needed to collectively address the many problems faced by countries and people throughout the region. Follow-up policy design and creation, based on this dialogue, will help ensure that adequate adjustments are made that can help spur economic development in the region – helping Dušan, Gazmend, and many other youth in the region find gainful employment and begin building a better tomorrow.