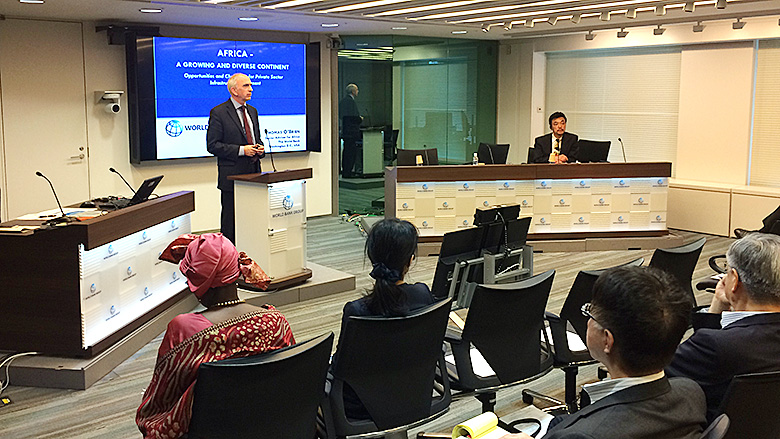 Africa has been among the world's fastest growing continents over the last decade. This was recognized at the TICAD VI conference in Nairobi, August 2016, that benefited from the participation of several major Japanese companies. There was broad agreement that increased private investment is essential, especially to promote economic diversification and create jobs, and to close the continent's infrastructure gap. There was also agreement that significant opportunities exist.
The World Bank Group is supporting efforts by African countries to diversity their economies and reduce reliance on primary commodities. It has always been at the forefront of promoting private investment, and has recently formalized a new approach to systematically encourage commercial financing of projects. Most particularly, it will work to de-risk and reduce the cost of private investment by employing a range of measures and instruments.
Yasusuke Tsukagoshi, Special Representative, Japan, World Bank Group, opened the seminar, followed by Thomas O'Brien, the World Bank's Senior Adviser on Sustainable Development in Africa, provided an overview of the new approach, as well as highlight some of the opportunities for private investment on the continent. Then, Keiichi Shirato, Chief Analyst, Mitsui Global Strategic Studies Institute, shared his comments.

Program
Opening Remarks
Yasusuke Tsukagoshi, Special Representative, Japan, World Bank Group
Keynote Speech
Thomas O'Brien, Senior Regional Advisor, Africa, World Bank
Presentation Material: AFRICA - A GROWING AND DIVERSE CONTINENT
Opportunities and Challenges for Private Sector Infrastructure Investment (PDF)
Comments
Keiichi Shirato, Chief Analyst, Mitsui Global Strategic Studies Institute
Related