Economic recovery is slow as continued insecurity curtails private investment and consumer demand. Agricultural growth has been constrained by unfavorable weather conditions. The fiscal position remains strong, driven by continued improvements in revenue performance, although Government remains heavily reliant on donor grants. Poverty continues to increase amid slow growth, security disruptions to services, and poor agricultural performance.
Afghanistan faces numerous political challenges as it fights the insurgency. In February 2018, President Mohammad Ashraf Ghani, during the second Kabul Process Conference, offered to the Taliban a cease-fire and prisoner release with no preconditions, but said the Taliban must recognize the government as legitimate. Parliamentary and district council elections, originally scheduled for July 07, 2018, are now rescheduled to take place on October 20, 2018.
World Bank Group engagement pursues a programmatic approach to support the Afghanistan National Peace and Development Framework (ANPDF). Advisory work and operations focus on macro-fiscal management and institution building, stimulating private investments and growth, governance and anti-corruption, human development and service delivery, citizen engagement and gender equality, and urbanization, infrastructure and connectivity.
Country Context
The security situation has worsened. Civilian casualties are at their highest since 2002, with an unprecedented level of conflict-induced displacement. In 2017, The United Nations Assistance Mission for Afghanistan (UNAMA) recorded 10,000 civilian casualties. During the same period, more than 202,000 Afghans were internally displaced by conflict and 44,000 others were displaced by natural disasters. A surge in returnees from Iran and Pakistan (over 296,000 in 2017) has brought mounting pressure on humanitarian assistance.
Afghanistan's Government continued to pursue its ambitious reform agenda. In October 2016, the Government presented the new Afghanistan National Peace and Development Framework (ANPDF) at the Brussels Conference on Afghanistan (BCA). At the conference, attended by representatives of around 70 countries and 30 international organizations, development aid of $3.8 billion per year.
Recent Economic Developments
Real GDP growth was estimated at 2.6 percent in 2017. The agriculture sector grew by only around 1.4 percent in 2017 due to unfavorable weather conditions, with service and industry sectors recording slightly faster growth of 3.4 percent and 1.8 percent respectively. Slowly accelerating growth reflects bottoming out and slight recovery of business confidence following the withdrawal of international security forces in 2014. Inflation accelerated slightly from 4.4 percent in 2016 to 5 percent in 2017. The slight increase reflected higher food prices and depreciation during the early period of the year. Despite the large trade deficit (35% of GDP) the current account remains in surplus (4 percent of GDP in 2017), largely due to aid inflows. Foreign exchange reserves remain at comfortable levels (10 months of prospective imports). The Afghani depreciated by around 4 percent against the US dollar during 2017 (end period) driven mostly by declining private foreign exchange inflows and slowing foreign direct investment.
Insecurity is taking a heavy toll on private investment and consumer demand. Business sentiment shows no sign of recovery. Growth is projected at 2.6 percent in 2017, only slightly higher than the 2.2-percent achieved in 2016. Inflation rose slightly in the first half of 2017, edging up to 5.1 percent in July from 4.5 percent in December 2016, driven by higher food prices—particularly for fruit and vegetables. The annual trade deficit of around 33 percent of GDP is financed by foreign aid inflows. Gross foreign exchange reserves remain unchanged at around $7 billion--equivalent to nearly 10 months of imports.
The fiscal position remains strong. The 2017 outturn saw a balanced budget, with under-execution of the development budget offsetting off-setting a shortfall in expected grants. Revenue performance continues to improve, driven largely by stronger compliance. Revenues reached 11.9 percent in 2017, up from 8.5 percent in 2014.
Because of the sluggish economic growth and the deteriorating security situation since 2011, the poverty rate increased to 39.1 percent in 2013-14 (latest available survey data), up from 36 percent in 2011-12, meaning that 1.3 million people fell into poverty over this period. Rural areas, where most of the population lives, saw the biggest increase, from 38.3 to 43.6 percent. Labor demand in the off-farm sector declined. Most of the jobs created in the service sector during the pre-transition phase were lost.
The most recent household survey (ALCS 2016-17) showed an increase of about 1 percentage point in the unemployment rate over the past two years. In 2013/14, the unemployment rate stood at 22.6 percent, with the female unemployment rate two and half times higher than the male rate. Unemployment is particularly severe amongst low-skilled, illiterate workers, who historically are at the greatest risk of falling into poverty.
Economic Outlook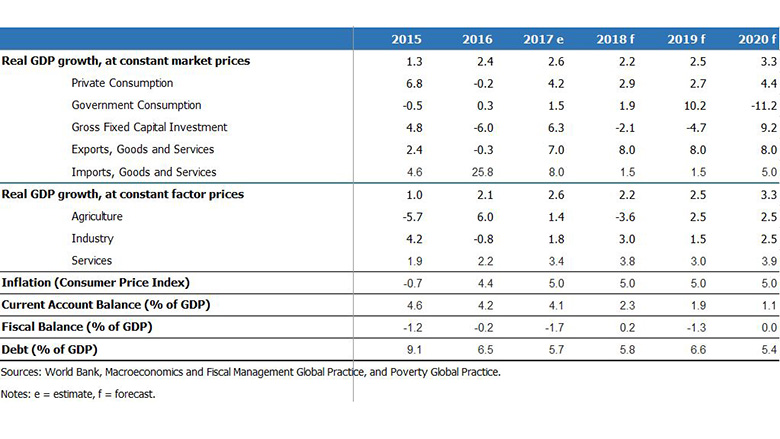 Growth is projected to slow to 2.2 percent in 2018, increasing slightly to 2.5 percent in 2019. Slow growth in 2018 reflects low rainfall and higher temperatures over the recent wet season, which will adversely impact snow accumulation, which is vital for agricultural production. Output will also be adversely impacted by weak confidence and potential disruptions amid upcoming parliamentary elections (scheduled for June 2018). With an average annual population growth rate of 3 percent and 400,000 Afghans entering the labor market each year, living conditions may further deteriorate.
The fiscal deficit in 2018 is expected to be approximately 2 percent of GDP, and to be financed from cash reserves and limited concessional borrowing. Expenditures will increase by about 1 percent of GDP, driven by increased on-budget civilian expenditures, financed by a combination of on-budget grants and tax revenues, reflecting ongoing improvements in compliance. Development spending needs and security costs are expected to increase, yet resources will remain tight. Any delay or shortfall in the disbursement of pledged aid would also strain fiscal positions.
Long-term, sustained economic growth requires a structural economic transformation and new sources of growth. Increased human capital investment and improved agriculture productivity could provide significant opportunities. Development of the extractives sector could help generate domestic revenues and foreign exchange earnings against a possible decline in future aid flows.
Last Updated: Apr 10, 2018