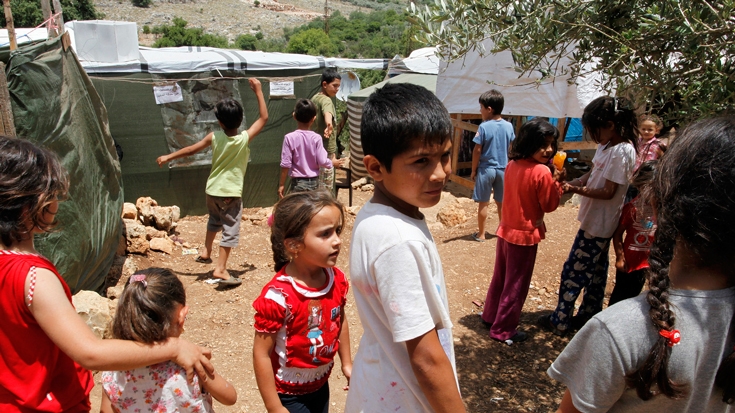 Globally, there are an estimated 60 million people who have fled their homes either as refugees (19.5 million), internally displaced persons (38.2 million), or asylum seekers as a result of conflict and persecution. This population is about as large as that of the United Kingdom or Italy. The situation may worsen still without a clear end in sight of conflicts that are the main drivers of displacement.
The arrival of large numbers of asylum seekers at Europe's borders in 2015 galvanized attention on this issue, but this is part of a larger global crisis. The majority of the forcibly displaced are concentrated in developing countries in Africa, the Middle East, and South Asia. Over half of the world's refugees originate from Syria, Afghanistan and Somalia, hosted mostly in neighboring countries such as Turkey, Lebanon, Jordan, Pakistan, Iran, Ethiopia and Kenya. Internally displaced persons are concentrated in Syria, Colombia, Iraq, Sudan, Democratic Republic of Congo, and Pakistan.
Forced displacement also tends to be protracted, with its duration measured in years and decades, not weeks or months. In 2014, only 126,800 refugees were able to return to their home countries—the lowest such figure in 31 years. There is now clear recognition that this is not only a humanitarian concern but a development challenge as well, requiring close coordination between humanitarian and development partners from the outset of the crisis.
Under its mandate to reduce poverty, the World Bank Group is concerned about the welfare of the displaced as well as their host communities. Forced displacement causes enormous human suffering, particularly for the extreme poor and vulnerable including youth, women and children. Economic and social impacts are significant: the displaced have limited social capital and few assets, unable to make plans or find livelihoods with poor access to basic services. They are often traumatized, facing considerable uncertainty and at times discrimination. Host communities and countries, some low-income countries themselves, also face challenges such as fiscal shocks and increased demand on services and infrastructure. Countries of origin are affected by a dramatic decline in working-age population.
Building on its growing work in conflict-sensitive development, the Bank is strengthening collaboration with governments and partners including UNHCR to address this urgent challenge—increasing its focus on the development needs of internally displaced persons or refugees in situations of protracted displacement. At the World Humanitarian Summit in May 2016, the Bank, with six other multi-lateral development banks, announced a joint approach to address forced displacement.
Experience and research suggests that when the displaced are offered solutions to restore some normality and self-reliance to their lives, they are better able to make positive economic and social contributions to the communities that host them.
Support is being provided at the global, regional, sub-regional and country levels through data and analytics, operations and innovative financing approaches.
Globally, the Global Program on Forced Displacement housed in the Bank's Fragility, Conflict and Violence Group, has produced analytical work and provided operational support to drive the Bank's work forward in this area.
Regionally, the United Nations, World Bank Group and Islamic Development Bank Group announced a joint initiative in October 2015 to scale up financing in the Middle East and Near Africa. The initiative aims to help countries hosting significant refugee populations, countries impacted by conflict, and countries that have significant investment needs to achieve economic recovery.
Building resilience including among refugees and internally displaced persons is an important pillar under the Bank's new strategy for this region. For example in Lebanon, the Bank is supporting urgent community priorities at the municipal level that are affected by the influx of Syrian refugees, such as service delivery and rehabilitation of community infrastructure. In Jordan, Bank support was provided to mitigate the impact of the Syrian conflict and help the country maintain access to essential healthcare and education as well as the household needs for the Jordanian population.
Displacement is also a key focus in Africa, where sub-regional initiatives in the Great Lakes, the Horn, and the Sahel are addressing livelihoods, socio-economic services, and local integration of refugees among others. Taking a coordinated regional approach, the World Bank provided credits totaling almost $250 million in the past year to support refugees, Internally Displaced Persons, returnees, and their host communities in the Democratic Republic of Congo in the Great Lakes Region, as well as in Ethiopia, Djibouti, and Uganda in the Horn of Africa, and Zambia.
Support has also been provided in countries including Azerbaijan, Georgia, the Philippines, and Sri Lanka among others.
Last Updated: Jun 07, 2016