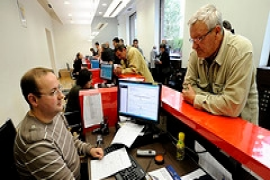 Western Balkans Activation and Smart Safety Nets Workshop
March 4-5, 2014
Vienna, Austria
As part of its ongoing efforts to support countries in the Western Balkans develop policies and initiatives designed to create social safety nets that are compatible with incentives, the World Bank is conducting the Western Balkans Activation and Smart Safety Nets Workshop in Vienna, Austria on March 4-5 2014.
Event Information
Location:

Hotel Melia: Donau-City Strasse 7, 1220 Vienna Telephone No.: 43 1 190104

Dates:

Tuesday, March 4 - Wednesday March 5, 2014

Registration:

Tuesday, March 4 - 8:30 - 9:15
This workshop is designed as a policy dialogue and peer learning event aimed at exposing policy makers from the Western Balkans who are working in the spheres of employment and social policy to innovative ideas. The workshop will feature discussions around an emerging report on safety nets. The event will also feature speakers familiar with the activation models in Organization for Economic and Co-operation and Development (OECD) and European Union countries - specifically Ireland and Germany - who will present the newest trends in integrated employment and social welfare policy design and implementation, as well as new methods for identifying and addressing multiple constraints to labor market participation. This workshop will also include a short study tour for the participants to an employment office in Vienna, to see how the Austrian service model for active job seekers works.
The objectives of the workshop are threefold:
(i) Enhance policy dialogue by providing a venue for joint discussion of findings from the project and next steps in policy development and implementation aimed at activation of different categories of inactive and unemployed - including social assistance beneficiaries, and understanding and reducing of the multiple barriers to their employment and active inclusion;
(ii) Stimulate peer learning and intra-regional exchange of evidence on good practices of institutional arrangements, financial incentives, mutual responsibility arrangements or specific projects that promote activation;
(iii) Provide an opportunity for exposing policy makers from the Western Balkan countries to the newest international trends in this filed (with a particular focus on EU and OECD countries) on how to enhance the 'promotion' function of the safety net during times wherein increased demand for protection and prevention of poverty and vulnerability need to be met more efficiently under increasing fiscal constraints.
Tuesday, March 4, 2014
8:30 Registration
9:15 – 10:45 Plenary session
9:15 Welcome / opening remarks by Ellen Goldstein, Country Director, South Eastern Europe Countries, The World Bank
9:30 Activation in Western Balkans - Key Messages by Boryana Gotcheva and Aylin Isik-Dikmelik, World Bank
10:00 Questions and answers
10:30 Coffee break
11:00 - 12:15 Whom to Activate?
11:00 Profiling the Unemployed in Public Employment Services: a critical review of OECD experiences and applications for ECA countries by Artan Loxha, World Bank
11:30 Questions and answers
12:30 - 14:00 Lunch at Café Ansari
14:00 - 15:30 Institutional reforms for activation
14:00 Coordination and Integration of Institutions – Pathways to Work: The Ireland case by Barry Kennedy, Activation and Case Management, Department of Social Protection, Ireland
14:30 Current Challenges in the Joint Delivery of Labor Market Services and Social Assistance in Germany: Institutions, Services and Programs - by Ulrich Hoerning, World Bank
15:00 Questions and answers
15:30 Coffee break
16:00 - 17:15 Reflections from the day and closing remarks
16:00 Reflections from the audience – Panel members: Nenad Rasic - Minister of Labor and Social Welfare of Kosovo; Gentijana Sula - Deputy Minister for Employment and Skills from Albania; Arijana Nikolic - Assistant Minister/Director, Employment, Ministry of Labor and Social Welfare, Montenegro; and Frédérique Rychener, European Commission, DG Employment Social Affairs and Inclusion
17:15 Closing remarks by Andrew Mason, Sector Manager, Social Protection, World Bank
18:00 Dinner at 5Senses Restaurant
Wednesday, March 5, 2014
8:00 Departure from Hotel Melia for employment office visit
8:30 Field visit: Vienna 3rd District Employment Office (1030 Wien, Esteplatz 2)
10:30 Arrival to Hotel Melia from Employment Office
Lunch individual arrangements
Departure from Vienna based on itineraries