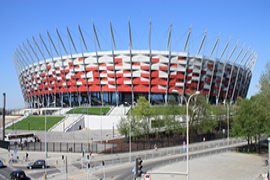 Updates from COP19 in Warsaw, Poland
November 11-22, 2013
Warsaw, Poland
The 2013 United Nations climate change conference was held November 11- 22 in Warsaw, Poland. The talks were expected to pave the way for a 2015 global deal to cut greenhouse gas emissions.
The World Bank is not a direct party to the United Nations negotiations to reduce greenhouse gas emissions and prepare for climate change. As a major development organization, however, it plays a critical role in many of the finance programs that support transformative climate action. The Bank also provides financial support and climate expertise to many of the developing countries that will be at the negotiating table in Warsaw.
Below you can find information about the Bank's participation at the 19th Session of the Conference of the Parties to the United Nations Framework Convention on Climate Change (COP19).
Blog
Treading Water While Sea Levels Rise (Nov. 26, 2013)
Negotiators did not make firm finance commitments or promise ambitious climate action at the U.N. talks that just ended in Warsaw. But they kept hope alive for a 2015 agreement, World Bank's vice president of sustainable development, Rachel Kyte, writes in her final report from COP19. Read More
Blog
One Bloc Moving Climate Progress Forward at Warsaw (Nov. 22, 2013)
Rachel Kyte, Vice President for Sustainable Development at the World Bank, blogs about the meeting of the Climate and Clean Air Coalition held during COP19 in Warsaw. Read More
Blog
Green Buildings Offer Lasting Development Impact (Nov. 21, 2013)
"Urban planning and policies can help encourage a shift to low-carbon development on a wide scale," writes Stephanie Miller, Director of Climate Business of International Finance Corporation, the private-sector arm of the World Bank. Read More
Feature
Sustainable Landscapes Get Boost from New Funding (Nov. 20, 2013)
A new, $280-million BioCarbon Fund initiative will scale up land management and climate-smart agriculture in Africa, Asia and Latin America. Read More | What is the BioCarbon Fund? | Q&A about the BioCarbon Fund | Blog | Press Release
Feature
Weather-Related Loss & Damage Rising as Climate Warms (Nov. 18, 2013)
Helping developing nations cope with natural disasters is critical for the Bank's goals to end extreme poverty and build shared prosperity, a new report says. Read More | Full Report
Blog
One Investment that Can Make Unhealthy Cities Livable & Fight Climate Change (Nov. 17, 2013)
The more the world urbanizes – and we're forecast to be 70 percent urban-dwellers by 2050 – the more critical clean, efficient, safe transportation becomes, Rachel Kyte writes. Read More
Blog
Plump Goats and Pawpaws: A Story of Climate-Smart Farming in Kenya (Nov. 15, 2013)
Climate-smart approaches are giving farmers better options, writes Rachel Kyte in her latest blog post. It helps them increase their farms' production, their incomes, and resilience to climate change – while at the same time reducing greenhouse gas emissions. Read More | Speech Transcript
Blog
Mobilizing Climate Finance to Build a Low-Carbon, Resilient Future (Nov. 14, 2013)
The success of the climate negotiations rests heavily on climate finance pledges coming through and finance flowing to where it is needed most, writes Rachel Kyte. Read More
Feature
Joint Multilateral Development Banks' Report on Climate Finance 2012 (Nov. 14, 2013)
The World Bank and other multilateral development banks dedicated more than $21 billion to climate change mitigation and nearly $6 billion to adaptation projects last year, the banks write in an annual report. Read More
Feature
U.N. Climate Talks: Keeping Our Eyes on the Ball (Nov. 11, 2013)
As governments gather in Warsaw Nov. 11 – 22 for another round of climate negotiations, it's down to politics and finance to keep global temperatures from rising further. Read More
Pre-COP19
Feature
Protecting Snow and Ice Critical for Development, Climate (Nov. 3, 2013)
Cutting common pollutants like soot and methane will not only slow global warming, but also save millions of lives, says a new World Bank report. Read More | Animation Video
Report
On Thin Ice: How Cutting Pollution Can Slow Warming and Save Lives (Nov. 3, 2013)
This scientific report shows that by moving rapidly to reduce such short-lived climate pollutants (SLCP), we could slow the warming in critical snow and ice-covered regions with multiple benefits as a result. Read More
Report
This report highlights good practices and innovative solutions for protecting lives and livelihoods, and for decreasing losses and damages to private property and critical infrastructure. Read More »