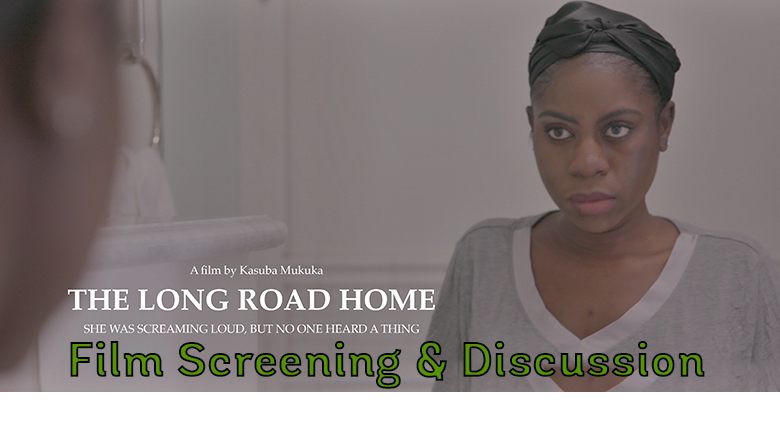 DAPP & DVAM Event: The Long Road Home, Film Screening & Discussion
In recognition of Domestic Violence Awareness Month, the WBG Domestic Abuse Prevention Program (DAPP) and co-sponsoring units are pleased to present "The Long Road Home." This film is a fictionalized account of a young Zambian woman whose life is turned upside down after her husband becomes severely abusive in their marriage. The 20 minute film will be followed by a discussion with the filmmaker Kasuba Mukuka, and representatives from the Tahirih Justice Center (www.tahirih.org) and Ayuda (www.ayuda.com). The World Bank Group's Manuel Contreras-Urbina will moderate the discussion.
Opening Remarks: Sandie Okoro, Senior Vice President & Group General Counsel
Presentation: "Compendium on International and National Legal Frameworks on Domestic Violence": Isabella Micali Drossos, Senior Counsel, LEGLE
Panelists:
Moderator: Manuel Contreras-Urbina, Senior Social Development Specialist, SLCSO
Josh Doherty, Esq., Supervising Attorney, Ayuda
Anuscè Sanai, Esq., Supervising Attorney, Tahirih Justice Center
THU: Oct 29, 2020: 12:00 pm (Noon) Wash DC, 7:00 pm Nairobi, 9:30 pm Delhi, 11:00 pm Bangkok
Video Available (Note: the actual film is not included in the recording of this session).
Open to: WBG, IMF, and IDB staff, spouses, domestic partners and family members.
In Partnership with: WBG/IMF Health & Safety Directorate (HSD), Domestic Abuse Prevention Program (DAPP), Legal (LEG), and Global Themes Department - Gender Unit (HGNDR).
Bios:
Anusce Sanai joined Tahirih in 2012. As the immigration and family law supervising attorney, she represents clients in matters related to immigration remedies based on gender-based violence as well as cases involving domestic relations issues. She has experience with petition under the Violence Against Women Act (VAWA), U-Visa and Asylum. In addition, her family law portfolio includes divorce and custody proceedings as well as spousal and child support petitions. Prior to joining Tahirih, she was an associate at Redmon, Peyton & Braswell, LLP and was handling high value real estate settlements while also maintaining her own sole practice as the Owner and Principal of the law office of Anusce Sanai, Attorney at law, PLLC. Before coming to the United States from Italy, Anusce lived in Israel for one year while volunteering at the Bahá'í World Center. She lives in Alexandria with her husband and two daughters. Education: New England School of Law, JD; University of Colorado at Boulder, BA; Languages: Italian and Farsi; Hometown: Lucca, Italy.
Josh Doherty is the Managing Attorney of Ayuda's D.C. Immigration program, where he supervises a team of attorneys, BIA Accredited Representatives, Paralegals and Legal Assistants who assist immigrants in the greater D.C. area seeking a variety of humanitarian and family-based immigration remedies. Prior to becoming Managing Attorney, Josh was previously at Ayuda as a Supervising Attorney, Staff Attorney, Law Clerk, and Legal Intern. Josh has developed particular expertise in assisting immigrant survivors of domestic violence and sexual assault. Josh received his J.D. with honors from the George Washington University Law School and an M.A. in International Affairs from the Elliott School of International Affairs. He received his B.A. in International Studies magna cum laude from the University of Richmond. He is admitted to the Virginia and District of Columbia bars. Josh is fluent in French and Spanish
Kasuba Mukuka, the writer, director and producer of "The Long Road Home," is a socially conscious filmmaker born in Zambia and based in Los Angeles, California. She has a strong passion for women's rights, diversity, equal representation, behind and in front of the camera, and telling universally relatable stories. Kasuba holds a bachelor's degree in Mass Communication from the University of Zambia and a Master of Fine Arts in Producing for Film & TV from USC's School of Cinematic Arts. She worked as part of the development team for an award-winning Zambian TV series, "Love Games", which was part of the safe love campaign, supported by the United States Agency for International Development. She has also worked as a producer for short films and worked on a number of independent films in the U.S.
Manuel Contreras-Urbina works at the World Bank Group as a Senior Social Development Specialist for the Latin America and Caribbean on gender-based violence (GBV). He has almost 25 years of experience in gender and GBV research and programs. Before joining the WBG, he served as the Director of Research of the Global Women's Institute at the George Washington University, as the Programme Officer at UN Women in Mexico and Central America and as the coordinator of the Gender, Violence and Rights portfolio at the International Center for Research on Women (ICRW). Manuel earned a PhD in Population and Gender Studies from the London School of Hygiene and Tropical Medicine.