Download the Full Report (*NEW)
From Waste to Resource: Shifting Paradigms for Smarter Wastewater Interventions in Latin America and the Caribbean

Click on the banners below to jump to a specific section or continue scrolling to explore all the material created by the initiative.

Learn about the initiative and its global vision toward circular economy principles in wastewater management.

Understand the challenge, context, and purpose of the initiative and its main report.

Read the key messages of the report.

Understand the participatory process that took place to prepare the main report.

Explore case studies highlighting best practices in wastewater and resource recovery.

Explore the technical reports and other background material that inform the main report.

Read Blogs and Country Stories and watch videos from Bolivia, Brazil, Colombia and Ecuador.

Other Communications Materials

Review the infographics.
Wastewater? From Waste to Resource
An important paradigm shift is necessary at multiple levels to advance sustainable sanitation services toward a circular economy in which wastewater is considered a valuable resource rather than a liability. Energy, clean water, fertilizers, and nutrients can be extracted from wastewater—and used to help achieve the SDGs.
In 2018 the World Bank launched the "Wastewater: From Waste to Resource" initiative in the LAC region, to address the wastewater challenge and raise awareness among decision makers about the potential of wastewater as a resource. The initiative also provides guidance on improving the planning, management, and financing of wastewater treatment and resource recovery and promoting the measures needed to make the shift a reality. The initiative has involved a participatory process, including multiple consultations and workshops with stakeholders working on wastewater management projects in the LAC region. The initiative's findings have been presented and validated at several international conferences, raising awareness of the issue and promoting dialogue among governments, international organizations, and the private sector.
The challenges faced in the LAC region are not unique. The initiative's final report is published so that countries in the region and around the world can learn from best practices in the sector and promote the paradigm shift toward a circular economy, fostering resource reuse and recovery and ensuring sustainable wastewater management.
Given the increasing interest in and importance of the issue, the World Bank aims to expand this regional initiative into a global one, providing on-demand solutions to implement circular economy principles in wastewater projects worldwide.
Population and economic growth have driven a rapid rise in demand for water resources. As a result, 36 percent of the world's population already lives in water-scarce regions. Especially in low- and middle-income countries, rapid urbanization has created various water-related challenges, including degraded water quality and inadequate water supply and sanitation infrastructure, particularly in expanding peri-urban and informal settlements.
Only about 60 percent of LAC's population is connected to a sewerage system, and only about 30–40 percent of the region's wastewater that is collected is treated. These percentages are surprising given the region's levels of income and urbanization. They have significant implications for public health, environmental sustainability, and social equity.
By focusing on sustainability, the SDGs are adding a new dimension to the challenges faced in the water supply and sanitation sector. SDG targets for water include improving water quality, implementing integrated water resource management, achieving water use efficiency across sectors, reducing the number of people suffering from water scarcity, and restoring water-related ecosystems. If the LAC region is to achieve the SDGs, the region's governments will need to significantly increase levels of wastewater treatment.
To improve the wastewater situation in the region, countries are embarking on massive programs to collect and treat wastewater. The investment needs in the water supply and sanitation sector are significant. As cities continue to grow, there is an opportunity to ensure that investments are made in the most sustainable and efficient way possible. Future urban development requires approaches that minimize resource consumption and focus on resource recovery, following principles of the circular economy. Wastewater is and should be considered a valuable resource from which energy and nutrients can be extracted, as well as an additional source of water.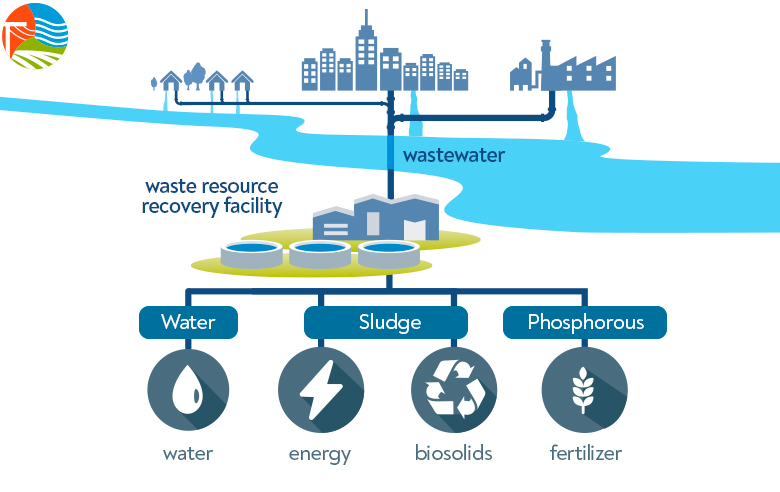 Wastewater can be treated up to different qualities to satisfy demand from different sectors, including industry and agriculture. It can be processed in ways that support the environment—and can even be reused as drinking water. Wastewater treatment frees scarce freshwater resources for other uses or preservation. In addition, by-products of wastewater treatment can become valuable for agriculture and energy generation, making wastewater treatment plants more environmentally and financially sustainable.
Resource recovery from wastewater facilities in the form of energy, reusable water, biosolids, and other resources, such as nutrients, represents an economic and financial benefit that contributes to the sustainability of water supply and sanitation systems and the water utilities operating them. One of the key advantages of adopting circular economy principles in the processing of wastewater is that resource recovery and reuse can transform sanitation from a costly service to one that is self-sustaining and adds value to the economy. Indeed, if financial returns can cover operation and maintenance costs partially or fully, improved wastewater management offers a double value proposition.
The report From Waste to Resource: Shifting Paradigms for Smarter Wastewater Interventions in Latin America and the Caribbean summarizes the work of the World Bank's initiative "Wastewater: From Waste to Resource," launched in 2018 to raise awareness among decision makers regarding the potential of wastewater as a resource. The report highlights the findings and conclusions from technical background reports, from in-depth analysis of several case studies, and from the feedback received during workshops and seminars with main stakeholders.
The purpose of the report is to share the knowledge created and the conclusions from the initiative with stakeholders and practitioners involved in wastewater planning, financing, and management (including water utilities, policy makers, basin organizations, and ministries of planning and finance) to encourage a paradigm shift in which the value proposition of wastewater in a circular economy is recognized. The report focuses on the LAC region, but many of its findings can be applied to other regions.
---------------------------------------------------------------------
The case studies analyzed, workshops with key stakeholders, and lessons learned in the LAC region suggest that four main actions are needed to achieve a paradigm shift in the sector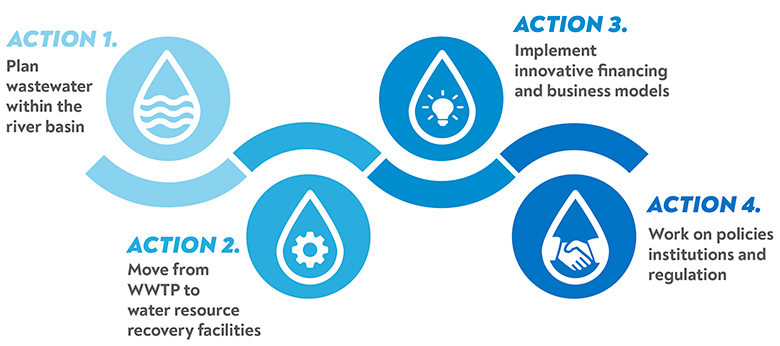 ACTION 1: Develop wastewater initiatives as part of a basin planning framework to maximize benefits, improve efficiency and resource allocation, and engage stakeholders. There is a need to move from ad hoc and isolated wastewater solutions (such as one treatment plant per municipality) to fully integrated river basin planning approaches, which yield more sustainable and resilient systems. Planning and analyzing water quality and quantity at the basin level makes possible integrated solutions that are more financially, socially, economically, and environmentally sustainable. Basin planning allows for the optimal deployment of facilities and sanitation programs, including the location, timing, and phasing of treatment infrastructure. It enables decision makers to set priorities for investment planning and action. The basin planning framework also allows for more efficient investments, through the design of effluent standards based on the specific contexts of particular water bodies and ecosystems instead of uniform or arbitrary water pollution control standards. Moreover, including wastewater in the hydrological system as a potential water source makes it possible to account and plan for wastewater reuse, limiting incidental and unplanned water reuse that can have negative health and environmental consequences.

ACTION 2: Build the utility of the future by shifting away from wastewater treatment plants to water resource recovery facilities, thereby realizing wastewater's value. Traditionally, treatment focused on removing contaminants and pathogens to recover water and safely discharge it into the environment. To improve sustainability, treatment plants should be viewed as water resource recovery facilities that recover elements of wastewater and use them for beneficial purposes. This process starts with the water itself (which can be used for agriculture, industry, and even human consumption), followed by nutrients (nitrogen and phosphorus) and energy generation. These resources can generate revenue streams for the utility, which can potentially transform the wastewater process from a heavily subsidized one to one that generates revenues and is self-sustainable. To move toward the ideal utility of the future, facilities must be designed, planned, managed, and operated effectively and efficiently. Countries need to recognize the real value of wastewater and the potential resources that can be extracted from it, incorporating resource recovery and circular economy principles in their strategy and investment planning and infrastructure design. Infrastructure is a long-term investment that can lock countries into inefficient and unsustainable solutions. To avoid undesirable lock-in, policy makers need to keep resource recovery in mind when planning wastewater investments.

ACTION 3: Explore and support the development of innovative financing and sustainable business models in the sector. Financing sanitation infrastructure and recovering its costs is a challenge throughout the region. Many utilities do not collect sanitation tariffs that cover the costs of operation and maintenance, not to mention capital investment or future expansion. More efficient subsidies are needed for sanitation, at least during a transition period. The existence of subsidies, however, does not mean that the sector must rely on conventional financing without taking advantage of market conditions and incentives to enhance sustainability. The sector should pursue innovative financial and business models that leverage the potential extra revenue streams from reuse and recovery at wastewater treatment plants.

ACTION 4: Implement the necessary policy, institutional, and regulatory frameworks to promote the paradigm shift. For the paradigm shift to happen, incentives are needed to encourage sustainable wastewater investments that consider reuse and resource recovery and promote circular economy principles. The case studies analyzed show that wastewater projects usually happen in an ad hoc fashion, with no national or regional planning; the enabling factors (including water scarcity and distance to the nearest water source) are often physical and local. To enable the development of these innovative projects, changes in the policy, institutional, and regulatory environment and the proper valuing of water resources are needed. Basin planning efforts in the region need to be strengthened, and governments need to support basin organizations, so that they can improve their technical expertise and exert oversight powers to enforce the implementation of planning instruments. Regulations and standards need to be tailored to the needs of the region and trends in the sector. They need to embrace and promote gradual compliance and foster reuse and resource recovery. Countries in the region need to ensure that they have the required institutional capacity to enforce environmental regulations such as water pollution control standards.
Read the full report to find out more about the four key actions.
The initiative included multiple consultations and workshops with stakeholders working on wastewater management projects in the LAC region. The initiative's findings were presented at several international conferences, raising awareness of the issue and promoting dialogue among governments, international organizations, and the private sector. Feedback from these events informed the main report and enabled the team to shape the main messages of the initiative into more practical recommendations.
Brasilia, Brazil: World Water Forum, March 2018 .To kick-start the initiative, an event was co-organized with the Development Bank for Latin America (CAF) at the 2018 World Water Forum, on "Planning and Financing Wastewater Treatment under A Circular Economy: Perspective for Achieving the SDGs in LAC." Panelists included ministers and deputy ministers from several countries in the region and representatives of the private sector. A preliminary report, Shifting Paradigms: From Waste to Resource: Preliminary Insights for the Latin America and Caribbean Region for the World Water Forum 2018, was prepared for and shared during the event and feedback solicited from participants.
Lima, Peru: Workshop, September 2018. An internal workshop with task team leaders working on wastewater in the region was held to share findings from the background technical reports and identify potential case studies.
Buenos Aires, Argentina: Workshop, November 2018. A regional workshop was organized in Buenos Aires in November 2018. Stakeholders from Argentina, Bolivia, Brazil, Colombia, the Dominican Republic, Ecuador, Honduras, Paraguay, Peru, and Uruguay participated. The main results and key messages of the initiative were presented and validated, and participants presented success stories from the region. The organizing team convened panels of experts and roundtables at which counterparts shared their ideas on and discussed the challenges of promoting the paradigm shift. The agenda and links to the presentations can be found here.
Montevideo, Uruguay: Workshop, November 2018. A workshop with key government officials and other local stakeholders was held in Montevideo to present the findings of the initiative, discuss their experiences and talk about resource recovery ideas to implement.
Antigua, Guatemala: XIX Ibero-America Water Directors Conference (CODIA in Spanish), November 2018. The main preliminary findings of the initiative were presented to representatives of the LAC region at this conference, organized by the Spanish government. As part of the conference's "agreements" (point 14), all members agreed to recognize the value of wastewater, to include wastewater resource recovery as part of CODIA's future work program, and to further the exchange of knowledge on the issue.
São Paolo, Brazil: Water Scarcity and Water Reuse Seminar, November 2018. Results of the initiative were presented at this seminar organized by the state government of São Paulo, with the support of the 2030 Water Resources Group.
San Jose, Costa Rica: Latinosan , April 2019. Two sessions on wastewater—"Public Private Partnerships in Wastewater" and "Business Models to Foster Wastewater Reuse and Resource Recovery in Wastewater Treatment Plants"—were co-convened with CAF, to facilitate discussions with governments and the private sector on the challenges and opportunities associated with promoting wastewater reuse and recovery. At both sessions, findings of the initiative were presented and feedback from participants provided.
Stockholm, Sweden: World Water Week, August 2019. A session on circular economy approaches was convened on Wednesday August 28th. A preliminary report—Wastewater? From Waste to Resource in a Circular Economy Context. Latin America and the Caribbean Region. Insights for World Water Week 2019—was prepared for and shared during the event. Participants provided feedback.
The case studies illustrate best practices and provide examples of projects and programs that promote the implementation of one or several circular economy principles. They analyze the context and challenges, solutions, contract agreements and financial structure, benefits, enabling factors, and conclusions.
Bolivia
• Santa Cruz de la Sierra: Covered Anaerobic Ponds and Their Potential for Energy Generation in Wastewater Treatment Plants
Brazil
• PRODES: Output-Based Financing in Brazil to Increase Wastewater Coverage and Improve Water Quality
Chile
• Santiago: Generation and Sale of Biogas
Egypt
• New Cairo: Successful PPP to Increase Wastewater Coverage and Foster Wastewater Reuse
India
• Nagpur: Wastewater Reuse in Thermal Power Generation
Mexico
• Atotonilco de Tula: Reuse of Treated Wastewater for Agriculture, Energy Generation, and Transfer of Value to Stakeholders in the Valley of Mexico
• San Luis de Potosí: Integrated Wastewater Management Plan and Water Reuse
Peru
• Arequipa: Wastewater Reuse for Industrial Purposes
South Africa
• Durban: Wastewater Reuse for Industrial Purposes
United States
• Ridgewood, New Jersey: Achieving Energy Neutrality in Wastewater Treatment Plants

Efficient and effective management of water resource recovery facilities |The first requisite to embrace circular economy principles and implement waste-to-resource projects is to ensure that wastewater treatment facilities are managed in an efficient and effective way. Adequate planning, design, and operation of wastewater treatment plants entails a series of actions that are summarized in this technical background report.
River basin planning background papers | Explore this background report "Showcasing the River Basin Planning Process through a Concrete Example: The Rio Bogota Cleanup Project" to understand the river basin planning process; or read "The Role of Modeling in Decision-Making in the Basin Approach" for an overview of the main types of models used in basin-wide water quality assessments and their data requirements.
Market potential and business models for resource recovery products | Discover the potential for resource recovery products and explore the different business models and financial structures and tools to develop waste-to-resource projects.
Policy, institutional, regulatory and financial incentives for the development of waste-to-resource projects | Many reuse and resource recovery initiatives happen ad hoc, rather than in a systematic way at the regional or country level, because they are triggered by local conditions. The right policies, institutions, and regulations are crucial to ensure that a paradigm shift occurs in a systematic and planned way. Understand the political, institutional and regulatory incentives as well as the financial frameworks required to scale up the development of waste-to-resource initiatives reading these background materials.
Case studies | Explore the case studies developed by the initiative showcasing best practices examples of projects and programs that promote the implementation of one or several circular economy principles.
Other relevant case studies and reports | Explore previously published material by the World Bank relevant to wastewater reuse and resource recovery, including case studies and reports on blended finance, energy management and innovative business models in wastewater planning and management.