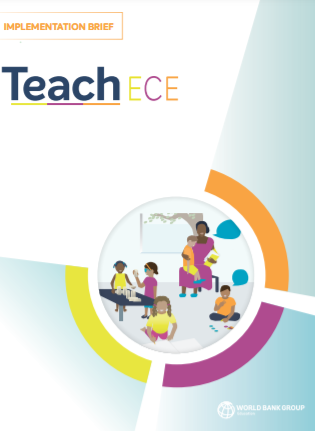 Teach ECE is a free classroom observation tool that provides a window into one of the less explored and more important aspects of a child's education: what goes on in the classroom. The tool is intended to be used in early childhood education (ECE) for children ages 3–6 and was designed to help countries, in particular low- and middle-income countries (LMICs), monitor and improve teaching quality following the Teach Primary framework. >> Read more
Brief: English | Español | Arabic l Français | Português
Manual: English | Español | Arabic l Français | Português | Bulgarian
Field Tool: English | Español | Arabic l Français | Português | Bulgarian
See More: Teach Primary
About Teach ECE
Teach ECE holistically measures what happens in the ECE classroom. It does so by considering not just time spent on learning but, more importantly, the quality of ECE teaching practices.
Teach ECE captures practices that nurture children's cognitive and language skills, socioemotional competencies, and executive functioning abilities. High-quality teacher-child interactions include opportunities that allow young children to learn and explore in meaningful ways. The tool provides developmentally-appropriate descriptions and examples for children 3–6 years of age. It captures quality across a range of educational settings, including teacher-directed, child-centered, and play-based activities.
Teach ECE was developed with LMICs in mind and can be contextualized for different settings. Teach ECE includes a checklist that captures aspects of structural quality, which can also contribute to improved process quality or teaching practices. Local video footage is used to train observers on the tool and additional elements can be added to further contextualize the tool at the request of the government.
Teach ECE includes a complementary toolkit that helps teams conduct the training, data collection, analysis, and reporting. Resources include a detailed script and training guide; a data collection app; automatized programs that clean, analyze and assess the validity of Teach ECE scores; and Terms of References for key roles. A template report to communicate the results is also available.
Teach ECE is designed to align with Teach Primary for ease of implementation and to facilitate continuity of measurement in countries. Teach ECE maintains 2 Areas from Teach Primary — Classroom Culture and Socioemotional Skills — but changes Instruction to Guided Learning, reflecting the increased amount of teacher-child interaction and scaffolding that occurs in ECE classrooms.
What does Teach ECE measure?
Teach ECE differs from other classroom observation tools in that it captures (i) the time ECE teachers spend on learning activities and the extent to which children are on task, and (ii) the quality of ECE teaching practices that help develop children´s cognitive and socioemotional skills. It also includes a checklist measuring aspects of structural quality.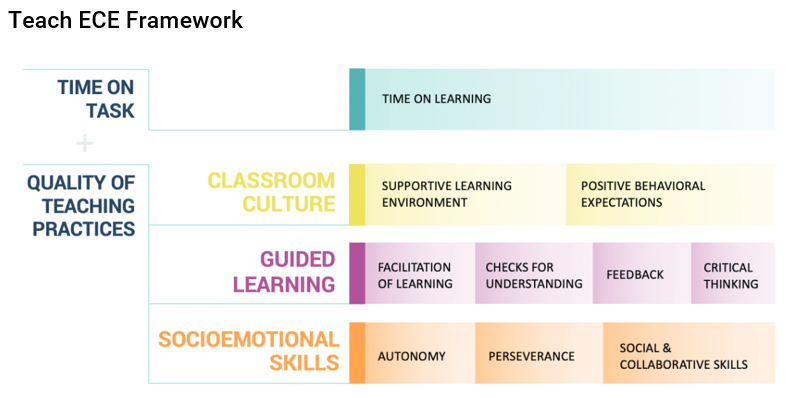 As part of the Time on Task component, 3 snapshots of 1–10 seconds are used to record both the teacher's actions and the proportion of children who are on task throughout the observation. The Quality of Teaching Practices component, on the other hand, is organized into 3 primary Areas as shown below: Classroom Culture, Guided Learning, and Socioemotional Skills. These areas have 9 corresponding Elements that map on to 28 behaviors. The behaviors are characterized as Low, Medium, or High, based on the evidence collected during the observation. The behavior scores are then translated into a 5-point scale that quantifies teaching practices as captured in a series of two, 15-minute classroom observations.
CLASSROOM CULTURE:
The ECE teacher creates a culture that is conducive to learning. The focus is on the extent to which the teacher creates a supportive learning environment and sets positive behavioral expectations, rather than on correcting children's negative behaviors.
GUIDED LEARNING:
The ECE teacher facilitates learning to promote comprehension by explicitly stating what children will do and the objective of the activity, providing clear explanations of concepts and connecting what is being learned to other learning activities or children's experiences.
SOCIOEMOTIONAL SKILLS:
The ECE teacher fosters socioemotional skills that encourage children to succeed both inside and outside the classroom. To develop children's socioemotional skills, the teacher instills autonomy, promotes perseverance, and fosters social and collaborative skills among peers.
Cross-cutting themes
Teach ECE measures a number of cross-cutting themes throughout its behaviors that are shown below: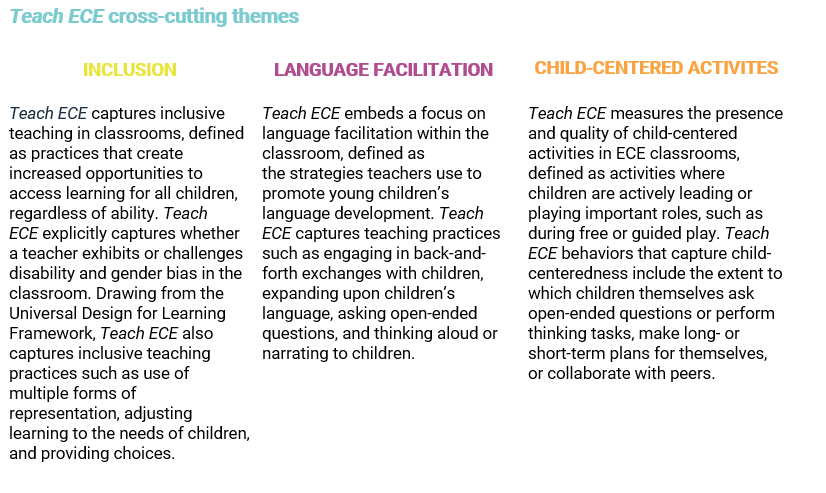 How does Teach ECE differ from Teach Primary?
Differences between the 2 tools respond primarily to the different age ranges and educational environments being observed. The main changes made to Teach Primary and reflected in Teach ECE are:
Developmental level
Modified descriptions and examples to be appropriate for children 3–6 years of age and to reflect quality across a range of cultural contexts and differing ECE teaching practices, from teacher-centered to child-centered learning activities.
Guided Learning criteria
Changed Area of "Instruction" to "Guided Learning", reflecting the greater amount of teacher-child interaction and mediation or scaffolding that occurs in ECE.
Measurement of cross-cutting themes
Teach ECE measures cross-cutting themes of language facilitation and child-centered activities in its behaviors.
Checklist component
Teach ECE captures aspects of structural quality in ECE classrooms.
How to implement Teach ECE?
Teach ECE can be implemented by any user hoping to capture the quality of instruction in their country. Although the tool is open access, there are several protocols the Teach ECE team recommends stakeholders follow to ensure those chosen to conduct classroom observations do so reliably. In addition to recommendations regarding reliability, the Teach ECE team provides guidelines for sourcing local videos for the training, training local implementors and observers on the tool, collecting high-quality data, and analyzing findings.
For more information on how to apply Teach ECE in your setting, check out the Brief and Implementation Guide, and stay tuned for more complementary resources launching soon.