All children should be able to read by age 10. Reading is a gateway for learning as the child progresses through school—and conversely, an inability to read slams that gate shut. Beyond this, when children cannot read, it's usually a clear indication that school systems aren't well organized to help children learn in other areas such as math, science, and the humanities. And although it is possible to learn later in life with enough effort, children who don't read by age 10—or at the latest, by the end of primary school—usually fail to master reading later in their schooling career.
In recent years, it has become clear that many children around the world are not learning to read proficiently. Even though most children are in school, a large proportion are not acquiring fundamental skills. Moreover, 260 million children are not even in school. This is the leading edge of a learning crisis that threatens countries' efforts to build human capital and achieve the Sustainable Development Goals (SDGs). Without foundational learning, students often fail to thrive later in school or when they join the workforce. They don't acquire the human capital they need to power their careers and economies once they leave school, or the skills that will help them become engaged citizens and nurture healthy, prosperous families. As a major contributor to human capital deficits, the learning crisis undermines sustainable growth and poverty reduction.
To spotlight this crisis, we are introducing the concept of Learning Poverty, drawing on new data developed in coordination with the UNESCO Institute for Statistics. Learning poverty means being unable to read and understand a simple text by age 10. This indicator brings together schooling and learning indicators: it begins with the share of children who haven't achieved minimum reading proficiency (as measured in schools) and is adjusted by the proportion of children who are out of school (and are assumed not able to read proficiently).
Using a measure developed jointly by the World Bank and UNESCO's Institute of Statistics, we have determined that 53 percent of children in low- and middle-income countries cannot read and understand a simple story by the end of primary school. In poor countries, the level is as high as 80 percent. Such high levels of illiteracy are an early warning sign that all global educational goals and other related sustainable development goals are in jeopardy.
Progress in reducing learning poverty is far too slow to meet the SDG aspirations: at the current rate of improvement, in 2030 about 43% of children will still be learning-poor. Even if countries reduce their learning poverty at the fastest rates we have seen so far in this century, the goal of ending it will not be attained by 2030.
There is an urgent need for a society-wide commitment to invest more and better in people. If children cannot read, all education SDGs are at risk. Eliminating learning poverty is as important as eliminating extreme monetary poverty, stunting, or hunger. To achieve it in the foreseeable future requires far more rapid progress at scale than we have yet seen.
The learning poverty indicator focuses on reading for three reasons:
Reading proficiency is an easily understood learning measure
Reading is a student's gateway to learning in other areas
Reading proficiency can serve as a proxy for foundational learning in other subjects
The learning poverty indicator allows us to illustrate progress toward SDG 4's broader goal to ensure inclusive and equitable quality education for all. It particularly highlights progress towards SDG 4.1.1(b), which specifies that all children at the end of primary reach at least a minimum proficiency level in reading.
Methodology
The indicator combines the share of primary-aged children out-of-school who are schooling deprived (SD), and the share of pupils below a minimum proficiency in reading, who are learning deprived (LD). By combining schooling and learning, the indicator brings into focus both "more schooling", which by itself serves a variety of critical functions, as well as "better learning" which is important to ensure that time spent in school translates into acquisition of skills and capabilities.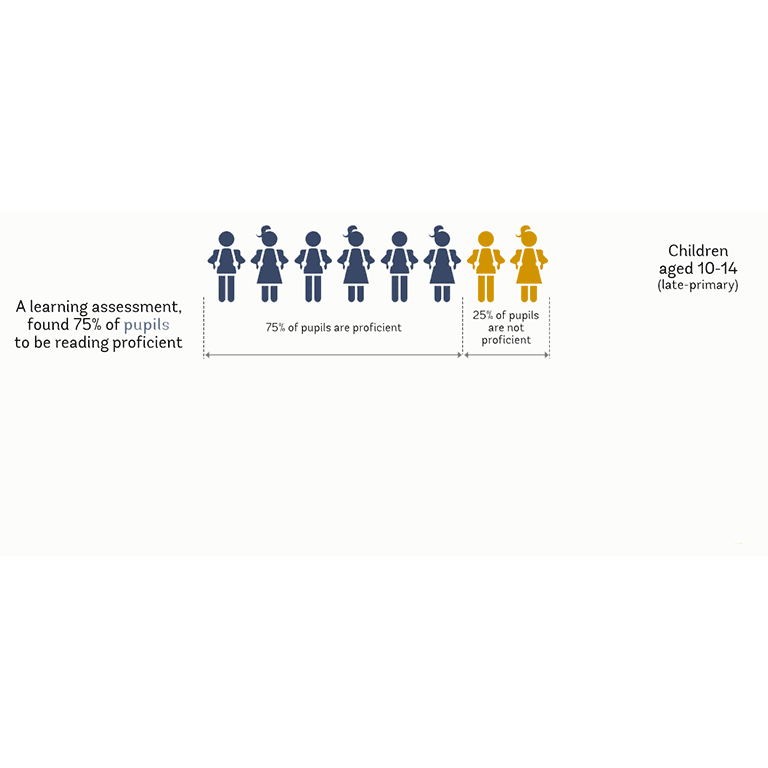 How Learning Poverty is defined
The learning poverty indicator is calculated as follows:
LP = [LD x (1-SD)] + [1 x SD]
LP = Learning poverty
LD = Learning deprivation, defined as share of children at the end of primary who read at below the minimum proficiency level, as defined by the Global Alliance to Monitor Learning (GAML) in the context of the SDG 4.1.1 monitoring
SD = Schooling deprivation, defined as the share of primary aged children who are out-of-school. All out-of-school children are assumed to be below the minimum proficiency level in reading.
Learning poverty can be improved in two ways: (i) by reducing learning deprivation as countries raise proficiency levels for children below the minimum proficiency threshold, or (ii) by reducing schooling deprivation as countries expand coverage and bringing out-of-school population into the system.
While schooling deprivation can be directly observed depending on whether the child is enrolled or not enrolled in school, learning deprivation cannot be directly observed, and is measured through standardized assessments using SDG's definition of minimum proficiency level, where reading proficiency is defined as: