The tourism sector provides opportunities for developing countries to create productive and inclusive jobs, grow innovative firms, finance the conservation of natural and cultural assets, and increase economic empowerment, especially for women, who comprise the majority of the tourism sector's workforce. Before the COVID-19 pandemic, tourism was the world's largest service sector—providing one in ten jobs worldwide, almost seven percent of all international trade and 25 percent of the world's service exports—a critical foreign exchange generator. In 2019 the sector was valued at more than US$9 trillion and accounted for 10.4 percent of global GDP.
Tourism offers opportunities for economic diversification and market-creation. When effectively managed, its deep local value chains can expand demand for existing and new products and services that directly and positively impact the poor and rural/isolated communities. The sector can also be a force for biodiversity conservation, heritage protection, and climate-friendly livelihoods, making up a key pillar of the blue/green economy. This potential is also associated with social and environmental risks, which need to be managed and mitigated to maximize the sector's net-positive benefits.
The impact of the COVID-19 pandemic has been devastating for tourism service providers, with a loss of 20 percent of all tourism jobs (62 million), and US$1.3 trillion in export revenue, leading to a reduction of 50 percent of its contribution to GDP in 2020 alone. The collapse of demand has severely impacted the livelihoods of tourism-dependent communities, small businesses and women-run enterprises. It has also reduced government tax revenues and constrained the availability of resources for destination management and site conservation.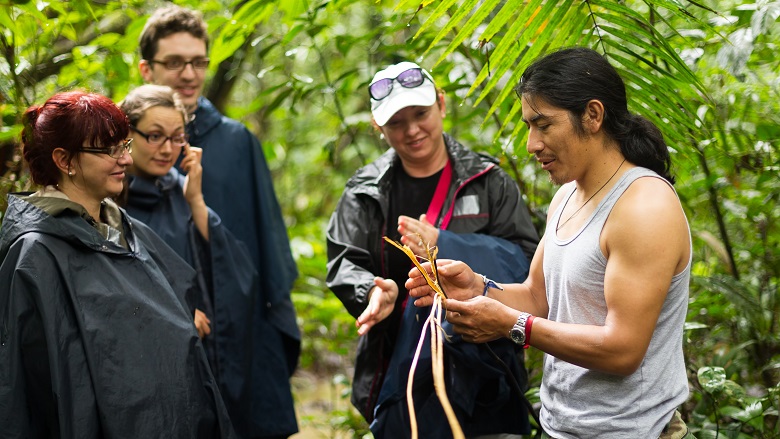 Naturalist local guide with group of tourist in Cuyabeno Wildlife Reserve Ecuador. Photo: Ammit Jack/Shutterstock