In Nashik, Maharashtra the first of its kind initiative supported by SIMO helped transform the lives of 20 transgender people, equipping them as beauticians with their enterprises. The District Social Welfare Department provided beauty toolkits to beneficiaries to help set up the businesses. Tanaji, one of the beneficiaries, took advantage of negotiation and communication skills training that enabled her to secure good bridal makeup orders. She now enjoys financial stability and professional relevance, reflecting the transformative power of SIMO's skilling initiatives.
"The training gave me the confidence to start my own business as a beautician," said Tanaji. "And now I have a steady income through the mehandi application, party and bridal makeup orders."
Challenge
Sixty-five percent of India's fast-growing population is under 35 and many lack skills needed by a modern economy. The skill development system has traditionally been driven by centrally allocated targets and finances. A new short-term skilling approach aims to provide skills that are relevant to the changing market needs and recognized by industry. Institutional mechanisms that govern skill qualification frameworks, training of trainer standards, data/information portals, and decentralized planning needed to be strengthened to transform from a supply-driven system to a demand-driven model. This is especially important as the country recovers from the economic impacts of the COVID-19 pandemic.
Approach
Skill India Mission Operation (SIMO) is a collaboration between the Ministry of Skill Development (MSDE) and the World Bank, which extended a $250 million loan to provide technical and financial support. SIMO focuses on creating institutional mechanisms for skill development and enhancing access to quality, market-relevant training. It focuses strategically on emerging areas like logistics, banking, finance, insurance, and green jobs. It aims to revamp the short-term skilling system by improving policies for skill development and strengthening national qualification frameworks and quality assurance mechanisms. It also focuses on building national and state capacities to finance, deliver, evaluate, and accredit programs that lead to certification of trainees—especially women and disadvantaged groups—in the labor force.
SIMO has introduced the State Incentive Grant (SIG) mechanism to reward state-level outcomes in quality assurance, market linkage, and inclusion. In response to the COVID-19 crisis and mass migrations, SIMO established an institutional framework at the Gram Panchayat (village) level linking skilling and employment with identified services, including recognized prior learning (RPL) and formal certification. Decentralized service delivery is supported through District Skill Committees (DSC), improving stakeholder engagement and market connections. Mahatma Gandhi National Fellows (MGNF)—graduates from Indian Institutes of Management—work at the district level, where skill development training is provided through several ministries in various trades, to facilitate new market connections for these trainees in local micro, medium and small enterprises.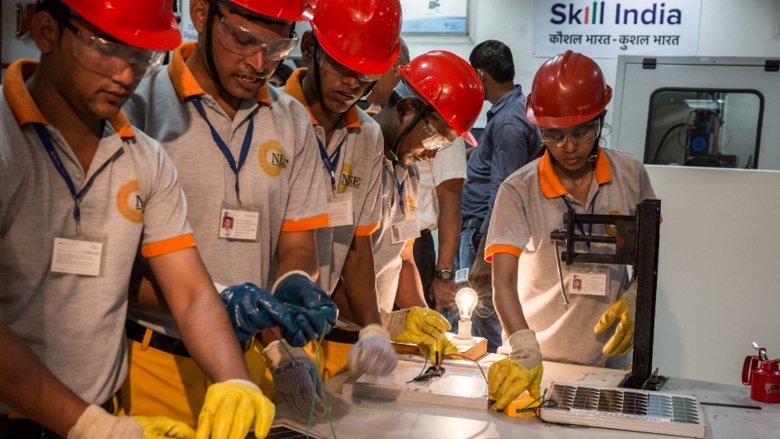 Results (Between 2018 and 2022)
Short-term skill development was enhanced in priority sectors to address the growing labor market demand—especially from the micro, medium and small enterprises (MSME), targeting the most disadvantaged youth.
Around 6 million young people have been trained, of whom 34 percent are women, and 40 percent of all trainees under SIMO found paid employment within six months of completing the training.
More than 700 District Skill Committees were set up across all the country's districts to facilitate decentralized planning for market-relevant skill development.
The project supported the training and certification of nearly 33,000 Trainers and 19,000 Assessors.
More than 160 Market Aligned Qualification Packs were developed and aligned with the National Skill Qualification Framework (NSQF). These qualification packs include teaching and learning materials, training manuals and other relevant information needed to be trained to perform a particular job role.
SIMO supported the development of the Skill India Portal, a one-stop database that captures the training life cycle of candidates, accreditation and affiliation of the training centers, onboarding of the awarding bodies for industry standards, and other quality assurance mechanisms like data on trained trainers, assessors, assessment, and certification.
Bank Group Contribution
The World Bank loan of $250 million to the Ministry of Skill Development and Entrepreneurship agreed in 2017 leveraged $3.8 billion of Indian government funds for this enterprise.
Partners
SIMO has fostered global partnerships for exchanging knowledge with Korea, Ethiopia, Ghana, Nigeria, Rwanda, Senegal, and Tanzania on the best way to develop skills in the workforce, positioning itself as a leader in international collaboration.
SIMO also benefited from a $750,000 grant from the Korea-World Bank Partnership Facility (KWPF), which primarily supported the knowledge exchange between the Human Resource Services of Korea and the Ministry of Skill Development in India.
Additional partners include the Ministry of Skill Development and Entrepreneurship, the National Skill Development Corporation and 38 industry-specific Sector Skill Councils.
Looking Ahead
SIMO has supported the MSDE in strengthening the institutional set-up through the District Skill Committees (DSC). At the district level, DSCs are critical in bringing together several ministries and stakeholders to generate estimates of the skill gap and demand. The DSCs will continue to support the districts beyond the program's life to respond to the local skill demand from the micro and small enterprises at the district level.
The project has supported the critical consolidation of the central and state scheme's management information systems through the Skill India portal. This has become the one-stop database for all short-term skill development information. The streamlined and readily available data will continue to aid the MSDE's data-driven approach toward decision-making.