Bangladesh is located at the tail end of the fragile delta formed by the Ganges, Brahmaputra, and Meghna Rivers and more exposed to tropical cyclones than any other country. It also experiences about two-fifths of the world's storm surges every year.
According to the 2015 Climate Change Vulnerability Index, Bangladesh's economy is more at risk to climate change than any country. With a per capita gross domestic product, or GDP, of about $1,220, the economic losses in Bangladesh over the past 40 years were at an estimated $12 billion, depressing GDP annually by 0.5 to 1 percent. Especially devastating storms that come along every few years have an outsized impact – such as the 2007 cyclone Sidr, which wrought an estimated $1.7 billion in damages, or about 2.6 percent of the GDP on top of $1.1 billion losses due to monsoon flooding in the previous 12 months. In May 2009, 3.9 million Bangladeshis directly suffered from the impact of Cyclone Aila, which caused an estimated $270 million in asset damage.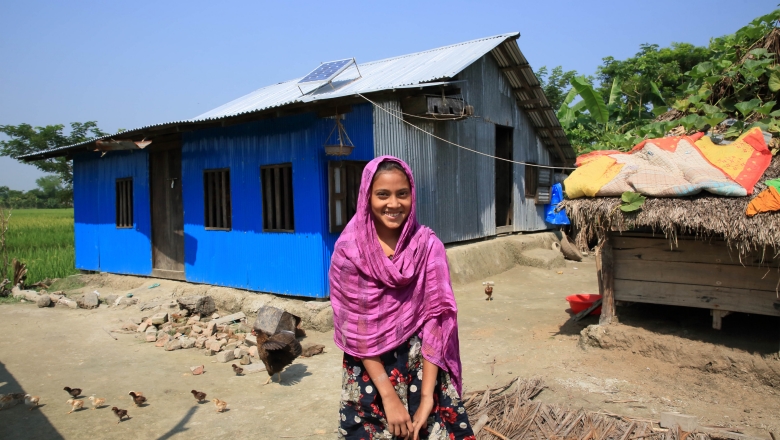 Due to the effects of climate change, an increase in the frequency and severity of cyclones and other natural disasters is likely, making it essential for Bangladesh to adapt to increased uncertainty and be prepared to ride out even the worst storms. The Multipurpose Disaster Shelter Project (MDSP) will benefit nearly 14 million coastal people who are more vulnerable to natural disasters.
Two-thirds of the country is less than five meters above sea level, and floods increasingly inundate homes, destroy farm production, close businesses, and shut down public infrastructure. Erosion leads to an annual loss of about 10,000 hectares of land and weakens natural coastal defenses and aquatic ecosystems.
Fresh water has become scarcer in in Bangladesh's drought-prone northwest and in southwest coastal areas where about 2.5 million profoundly poor residents regularly suffer from shortages of drinking water and water for irrigation. Further, their coastal aquatic ecosystems have been severely compromised.
Salt water intrusion from sea level rise in low-lying plains has intensified the risk of food insecurity, the disappearance of employment opportunities for agricultural workers, and the spread of water-related diseases.