Local roads knit a country together. Good roads mean farmers can get their produce to market in good condition more quickly, kids can get to school more easily, and those who need doctors can get to hospitals. Fast, safe, efficient roads are a person's physical link with the rest of the world. Without good roads, people feel trapped, according to Tamar Chubinidze, a teacher from the village of Sazano in western Georgia.
"The bad road here used to be a major problem," says Tamar. "One couldn't move around in the town. Also, when there would be a medical emergency, ambulances were not able to arrive quickly."
Reducing the Time It Takes to Go Places
Georgia plans to improve 200 kilometers of local roads, which will reduce travel time by about 20 percent on average. About 150,000 Georgians are regular users of these improved roads, which are also designed to be safer for both drivers and pedestrians.
Rural Georgians say they appreciate the upgrades, and they notice a difference in the traffic that moves through their villages and towns. Tsotne Nebieridze is an elementary school student. "Nice roads are very good," he says. "Vehicles also move well. I remember before the cars would trudge to and fro."
Milena Kobakhidze, also a student, agrees. "Traffic signs have been installed, too, which make us feel more safe. There's a school nearby and when we come out of the school we feel more protected."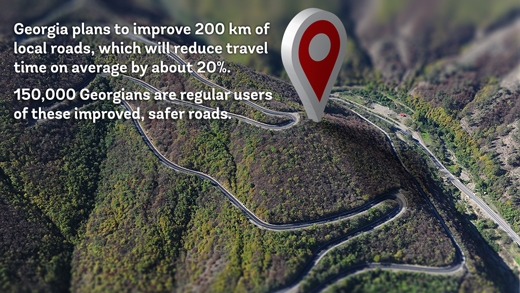 Improving Road Safety
Though road safety across Georgia is improving, the country lags behind its more developed neighbors. Georgia's roads-related death rate is four times higher than in the best performing countries. Laws requiring front seat belt use, stricter laws on drink driving, and improvements to roads and engineering standards have helped, but traffic volume is growing. Experts say deaths on the road are likely to increase.